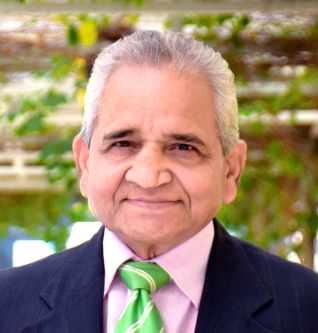 Air Commodore Kamal Singh (Retd) AVSM
Air Commodore Kamal Singh (Retd) entered the corporate world in 2006 after having served in the Indian Air Force (IAF) for over three decades. He joined NIIT as Senior Vice-President to lead its commercial functions that year and has been a member of the Corporate Family Group of the NIIT Group ever since.

At NU, he has been associated with the master planning and building of NU's Neemrana campus from the outset and is currently its Advisor, Infra Services.

Air Cmde Singh is an electrical and electronics engineer with a specialisation in aeronautical engineering and has served across various geographies and assignments. He pioneered the induction of the country's first digital radar, led a training contingent for six months at the erstwhile Soviet Union, and was later assigned to the Embassy of India in Washington DC as a member of the Defence Attaché corps for half a decade. His role at the Indian embassy in Washington DC included, among other things, providing nodal support to the Defence Research & Development Organisation (DRDO) for the transfer of technology for India's light combat aircraft (LCA) programme.

During his lengthy career in the IAF, Air Cmde Singh held various positions such as the post of Director of Engineering in Air Headquarters followed by Air Officer Commanding of an MRO Depot engaged in the overhaul of missiles and radar systems for the Indian army and air force. His innovations in the management of this key establishment were recognised when the President of India awarded him the Ati Vishisht Seva Medal at the Republic Day celebrations in 2004.

His final post in the IAF was as Commandant of the Air Force Technical College, (AFTC) in Bengaluru, which is the alma mater of aeronautical engineers from the armed services and leading defence public sector undertakings in India as well as of aeronautical engineers from over a dozen friendly countries. Air Cmde Singh was particularly successful in getting Hindustan Aeronautics Ltd to avail of AFTC's residential programmes and he also got its curricula recognised for a post-graduate degree from Visvesvaraya Technological University, Belgaum. In addition, he collaborated with IIT Madras to set up an offsite campus of the prestigious institute in Bengaluru in strategic alliance with the AFTC.

Apart from his professional accomplishments, Air Cmde Singh is also a progressive farmer, who has been promoting wasteland development for over 30 years. He has propagated the concept of unconventional farming on arid lands by adopting it in his ancestral village in xxx. He also helped launch the UNDP IDA programmes on tree farms and energy farms in North India. In fact, he was one of the first farmers in North India to avail of a commercial bank loan for an energy farm in 1983.

Air Cmde Singh believes, practises and preaches holistic living, driven by his desire to learn in the lap of nature. He is an avid practitioner of yoga, golf and music and indulges in and recommends adventure sports.