Undergraduate and Integrated Programmes
Laying a strong foundation
Students can customise 31 per cent of the curriculum as they have the freedom to choose electives and decide which projects they wish to work on.
Just as strong trees need strong roots, our core Undergraduate and Integrated Programmes lay the foundation for flourishing careers at the cutting-edge of engineering technology and business by leading students to a path of self-discovery and transformation. It is a legacy that our parent, NIIT Ltd, sowed over four decades ago when the Indian information technology sector was still to bear fruit.
Today, technology is transforming the world at a faster pace and in more fundamental ways than ever before. The business world is accordingly evolving, especially as young startups explore sunrise sectors and create new opportunities. Job trends indicate that the skills of the future would be Big Data Analytics, Cloud & Cyber Security, IoT, Artificial Intelligence and other such digital technologies.
Our industry-linked and research-driven programmes ensure that NUtons are up to speed with the challenges of the digital age. All programmes follow a multi-disciplinary approach comprising Engineering, Basic Sciences, Humanities & Social Sciences,
R&D and Capstone Projects
, laboratory experience,
Activity-Oriented Courses
and
Industry Practice
. Students can customise the curriculum to match their interests and also specialise in a stream of their choice.
Current students at NU say they have "got the stream of my choice".
At the same time, we promote the seamless and all-round development of our students by encouraging creative thinking and by nurturing their problem-solving capabilities. This is supported by our robust
Placements
programme.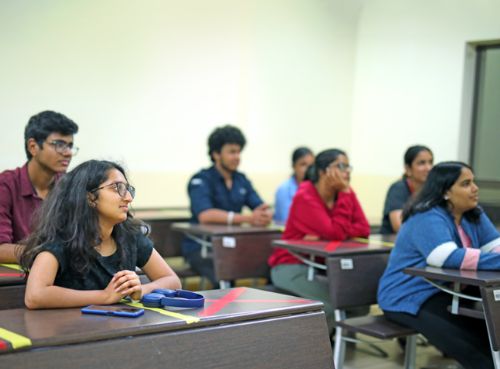 Marketing & Marketing Analytics
Entrepreneurship
Finance, Banking & FinTech
Business Analytics
Communication & Media Studies
Digital & Social Media Marketing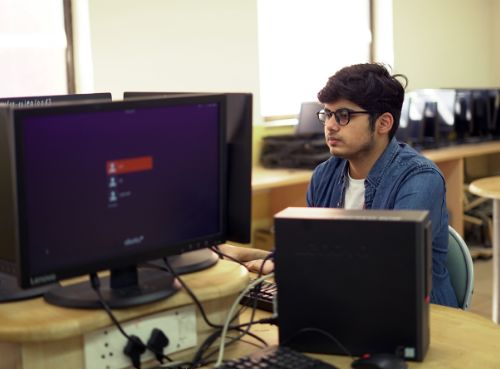 Big Data Engineering
Data Science
Cyber Security
Cloud Computing
Computational Biology
Bioinformatics
The 4-year BTech programme comprises eight semesters.
1.

Core Foundation courses

Basic Sciences and Mathematics
Engineering Science and Technical Arts
Humanities and Social Sciences; Management
2.

Professional Core courses

Classroom courses
Projects (R&D Projects, Capstone Projects)
3.

Elective courses

Professional Electives
Open Electives
4.

Industry Internship

Industry Practice
Summer internship (Optional)
5.

Mandated courses (by regulation)
Integrated MTech (iMTech)
NU offers direct admission to its 5-year Integrated MTech programme.
The 4-year iMBA programme comprises eight semesters and offers comprehensive management education combined with in-depth domain-specific specialisation. It includes:
All BTech students will take foundational courses in Mathematics and Basic Sciences, Engineering Science and Technical Arts for their first three semesters. This will include both theoretical and hands-on laboratory training. Professional core courses are spread over the fourth and fifth semesters. Students can customise their curriculum in the sixth and seventh semesters by taking the electives of their choice, whether it is a professional elective or open elective. Students will also choose one course from Humanities, Social Sciences or Management disciplines for each semester in their first three years. These Activity-Oriented Courses allow students to collect six credits as part of the total programme credits. The final semester focuses on Industry Practice where students get to work on real-life projects outside the university for six months leading to the completion of their BTech programme.
Current students say that NU's work-integrated learning opportunities help them
"to successfully step out into the real world"
All undergraduate students at NU get to work on research projects of their choice undertaken by a faculty member from the first year onwards. Past students have worked on a variety of projects from developing an e-tutor for the Java language to creating a hand gesture interface for specific computer operations.
In addition to the BTech programme, interested students can opt for a Minor programme from the fourth semester onwards.
NU's iMBA programme includes analytical and functional courses from diverse areas such as mathematics, statistics, business ethics and business law as well as courses from psychology, sociology and economics to promote an understanding of humanities and social sciences.
The first five semesters comprise foundation, management core, and humanities and social sciences courses. The first semester also includes an additional practicum course on contemporary business issues.
Students take their specialisation courses and open electives in the sixth and seventh semesters. They can take open electives from any other programme or area of their choice.
The eighth and final semester focuses on practicum or experiential learning through a six-month Industry Practice
The Minor programme at NU is a separate optional certificate programme for BTech students that comprises areas of study other than the main degree programme and runs parallel to the degree programme. It allows a student to acquire expertise in complementary disciplines, expanding their horizons and giving them an edge at the time of placement.
Starting in the third semester of the BTech programme, a Minor programme must be completed within the duration of the degree programme. Currently, minor programmes are offered in Finance, Business Analytics and Entrepreneurship.
A student undertaking a minor programme will take 3-5 additional courses, one course every semester over and above their prescribed courses of the degree programme. They must complete 12-16 additional credits over and above the credits mandated by the BTech degree programme. Students will receive a separate certificate and transcript on successful completion of the Minor programme.