Want to know what's new at NU? You've come to the right place!

Get all your updates about NU and find out how our teachers and students are making waves across national and international platforms.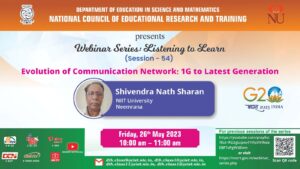 Prof S N Sharan, Area Director of Electronics and Communications Engineering (ECE) delivers at webinar on 'Evolution of Communication Network: 1G to Latest Generation'. Communication Networks have evolved from pure analog systems to digital and now being integrated with Internet of Things (IoT).
Read More