Want to know what's new at NU? You've come to the right place!

Get all your updates about NU and find out how our teachers and students are making waves across national and international platforms.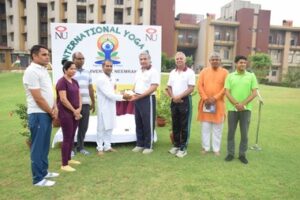 International Day of Yoga was proposed by India's Prime Minister Shri Narendra Modi at the United Nations. On December 11 2014, the United Nations proclaimed 21 June as the International Day of Yoga. It has been celebrated globally since 2015, honouring the ancient practice of yoga that brings about a radical transformation in humans at both the individual and collective levels as yoga is 'the journey of the self, to the self, through the self'. This year, NIIT University joined hands with the world to celebrate the 9th International Day of Yoga on June 21, 2023. The theme of the 9th International Day of Yoga is 'Yoga for Vasudhaiva Kutumbakam' – The World is One Family. This special occasion brought together over 140 participants, including students, faculty, staff, members of the local civil administration, and the local community from Neemrana, to embrace health and wellness through the power of yoga.
Read More