Knowledge and fun – at your fingertips
NIIT University (NU) is a thriving intellectually vibrant community that welcomes students from diverse backgrounds. The residential campus is a microcosm of the world outside forged together by a shared love of learning.

As students, you are stepping into this campus, leaving a more structured world behind you. Ahead lies an uncertain future, shaped only by your dreams and aspirations. But college life is indeed about learning, making mistakes, and picking yourselves up. It is about equipping yourself with the requisite skills needed to achieve your goals.

But, at NU, there is so much more to college life than books and classrooms.

It is about taking your first trek to Camel's Back and marvelling at your shifting perspective. It is about chatting with friends over a kulhad wali chai, or building new friendships over a shared love for a hot bowl of Maggi. It is about winding down with a guitar and a song under the shade trees or exploring the open amphitheatre that was shaped out of a natural depression. Finally, it is all about opening yourself to new experiences.

You will engage with your peers and participate in activities which test your potential and hone your personalities. Curating the college newsletter or working as a 'karyakarta' at college fest will open your eyes to the responsibilities that come with positions.
A day in the life of a NUton
A typical day for a NUton starts at nine in the morning when they stumble into their classrooms, ready for classes which continue till five in the evening. But the day is yet young. Discover what's in store for NUtons inside and outside the classroom.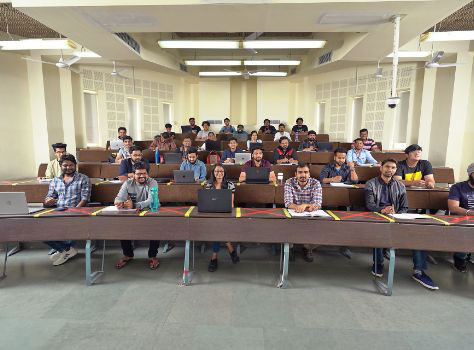 When I get breaks between lectures, I complete my assignments or sit in my favourite place – 'Hamare NU ki shaan, sab se shaant, hamari library, hamari jaan'. Coffee and Maggi sessions mostly happen at the Nescafe counter." — Ladli Jain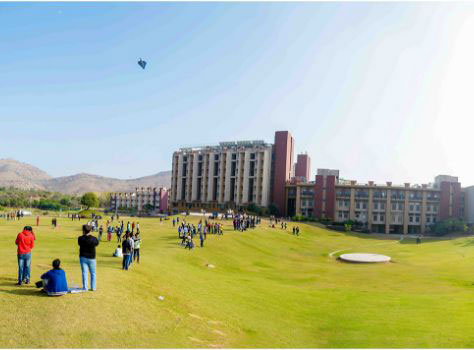 At NU, our vision was to become one with nature. From buildings that were shaped to the contours of the land to actively reforesting not only the campus but also the surrounding Aravali range, we have consciously striven to be ecologically sensitive. Our on-campus nursery is preserving the Jal Pilu, a native tree that was in danger of extinction, and our walk-only campus is planted with shade trees on either side of the winding paths to make taking a promenade a very pleasant experience.
The entire trek seemed like heaven, with trees, rocks and soil so alive and vibrant, they all resonate with a different level of energy. I was totally taken aback by the place."

— Taufique Sekh
Want to see what it's like to be on campus? Explore the campus virtually – all it takes is a single click!
A picture is worth a thousand words, and here, we have curated a collage of snapshots to show you what it's like to be a NUton.