Discover the ways in which you can explore and collaborate
What's it like to be a student at NIIT University (NU)? NU students (NUtons) are problem solvers, not merely rote learners. They chart their own learning journeys and dare to dream the impossible. Therefore, NU places great emphasis on research and learning which is driven from curiosity and a hunger for knowledge.
One of NU's
core principles
is to instil a culture of research in students; every student undertakes research from the first year onwards, no matter what programme they join. Under the tutelage of their teachers, NUtons get a chance to explore, discover and have fun on the playground of science. Because the world needs problem-solvers and not simply tech degree holders!
Read More
NU's culture of research and collaboration is facilitated by the pioneering use of cutting-edge technology. NUtons can explore the frontiers of their learning in the well-equipped teaching labs and library.
Science labs

Electronics
Computer
Biotechnology
Physics
Chemistry

Educational Technology Lab
Library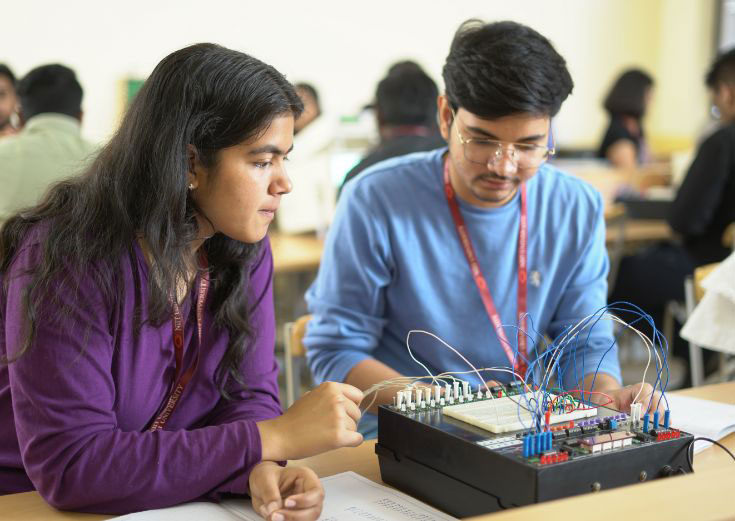 At NU we want students to learn to 'do'. So, we encourage students to build their own circuits from scratch to sharpen their assembling, testing, and debugging skills with respect to analogue and digital circuits.
The electronics lab has a well-stocked store of discrete components and integrated circuits, both analogue and digital, micro-controllers, etc.
Read More
The labs are also stocked with the following:
Cathode ray oscilloscopes
Storage oscilloscopes
Function generators
Power supplies
Multimeters
Digital trainers
Spectrum analyser
Mechatronics board with programmers
Experimental kits for analogue and digital communication and digital signal processing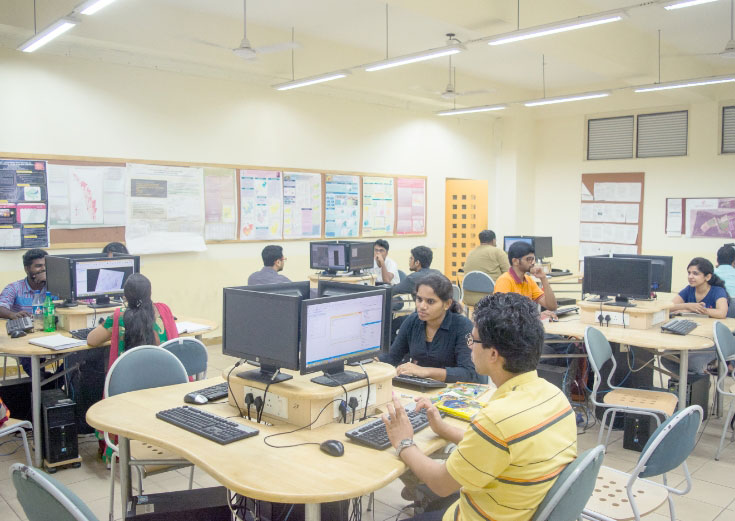 NU has several computer labs centrally controlled through Gigabit Lan for excellent internet connectivity, including:
Read More
Information Technology Lab:
A 60-seater lab based on Windows OS, is equipped with Synchronous Learning technique which enables students to be exposed to a real-time learning environment.
Software Engineering Lab:
Like the IT Lab, this 30-seater lab also operates on NU's Imperia Network making it easier for industry experts and academia to interact online. Equipped with Synchronous Learning technique, the software engineering lab is Windows-based.
Interactive classroom (ICR):
ICR labs are Linux-based, giving students a chance to familiarise themselves with both operating systems.
Network Lab:
Equipped with wireless sensor network nodes that give practical insight to students on the various aspects of wireless sensor network.
The labs are all equipped with software packages like StarUML, a crucial facet for the teaching-learning process. Through these labs, students can also connect with applications like the Prowess database for MBA, etc, that are hosted centrally on the Data Centre servers.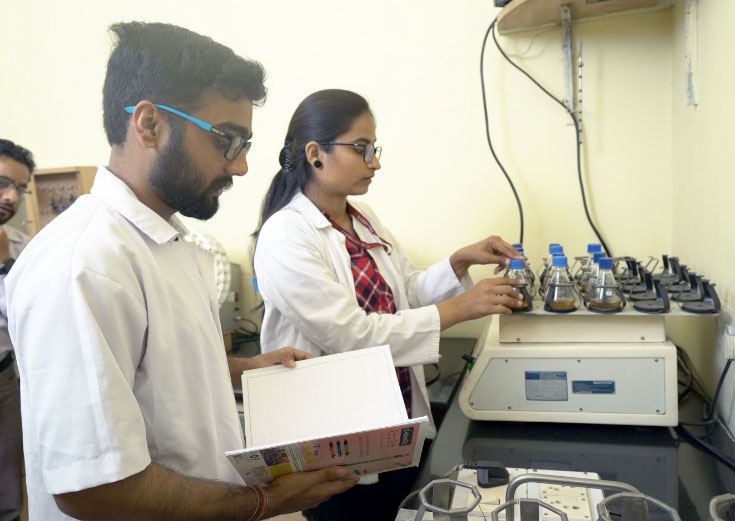 Environmental Biotechnology
constitutes one of the key areas of research at NU. The biotechnology courses at NU include hands-on training for each and every student. This makes the biotechnology lab a crucial part of their curriculum. Equipped with state-of-the-art infrastructure for research and laboratory work, the labs contains all facilities pertaining to experiments needed to be conducted in this area.
Read more
The labs also include:
Cold room:
For storing microbial cultures and housing equipment like fast performance liquid chromatography (FPLC) for protein purification
Constant temperature room:
Maintained at 37°C and housed with shakers (Kuhner) to incubate a large number of variable volume flasks
Shakers and BOD incubators (New Brunswick):
Housed in common laboratories
Laminar Air Flow Cabinets (Toshiba, India):
For the cultivation of microbes under sterile conditions
Anaerobic chamber (Shel Lab):
For the cultivation of obligate anaerobes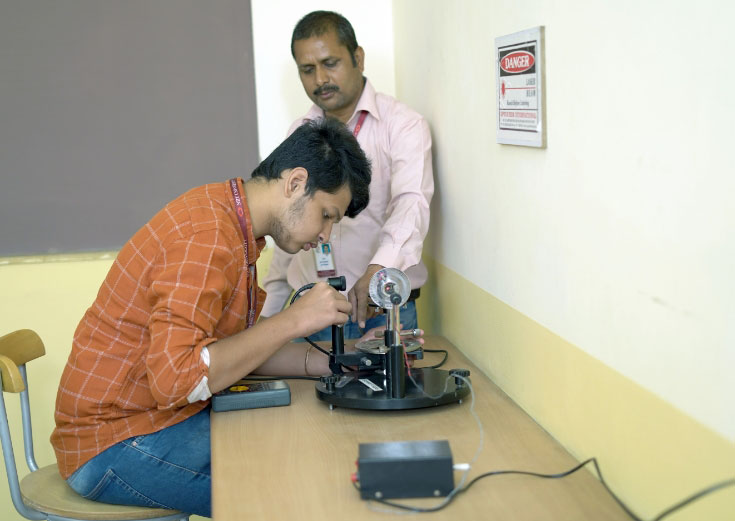 The Physics laboratory is equipped with modern equipment to carry out a wide range of experiments in almost all branches of physics.
Read More
Students can learn new concepts by conducting experiments such as:
Measurement of Magnetic Susceptibility
Hall Effect
Ultrasonic Diffraction
Brewster's Angle
Single and Double Slit Diffraction
Melde's Experiment
Diffraction Grating
Measurement of e/m for electrons
Normal modes of a Coupled Pendulum
Electromagnetic Induction
LCR Circuit
Newton's Rings
Diffraction Grating
Polarimeter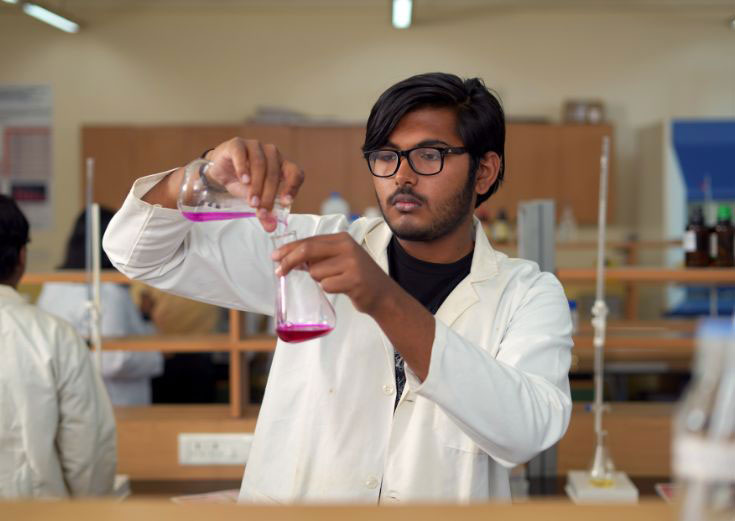 Equipped to cater to both BTech Chemistry and PhD courses, the chemistry lab provides facilities for heating, refluxing, weighing, freezing, washing and filtration to be used in Preparative and Analytical Chemistry.
Read More
Lab equipment includes (but is not limited to):
Polarimeter
Beckmann's apparatus
Stalagmometer
Ostwald viscometer
M.P. apparatus
pH meter
Chromatography equipment
High-pressure autoclave
High-pressure vacuum
Spectrophotometer
Educational Technology lab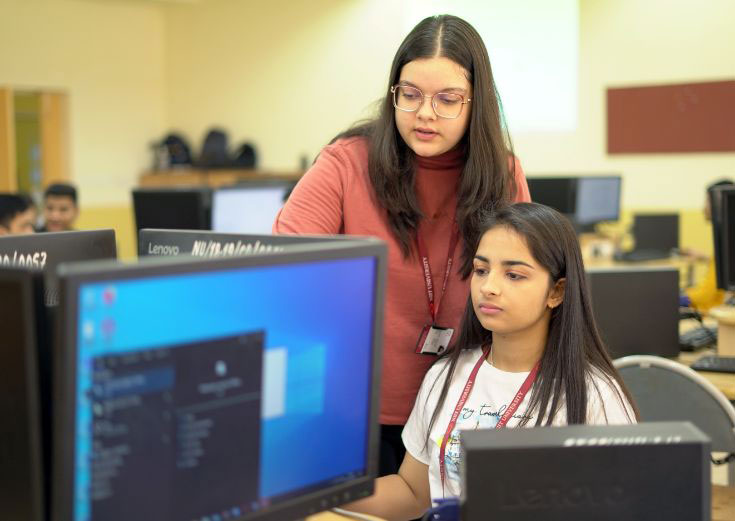 NU's Educational Technology courses prepare students to take charge of their learning process. It makes them self-directed independent learners. Using educational technology as the delivery system, students learn to process information in a new way and learn through "research and discovery" mode to solve the real problems of industry. Teachers assume the role of facilitators.
Read More
The lab provides a space for collaboration and experimentation for the students as they examine cutting-edge technologies that bridge distance and time, highlight the research behind them and the design that goes into their making, amongst other learning goals. The lab also serves as the planning ground for the creation of meaningful interactive educational products and content for a variety of media including Web, TV, PDAs, etc.

Some educational paradigms have been invented by our very own NUtons!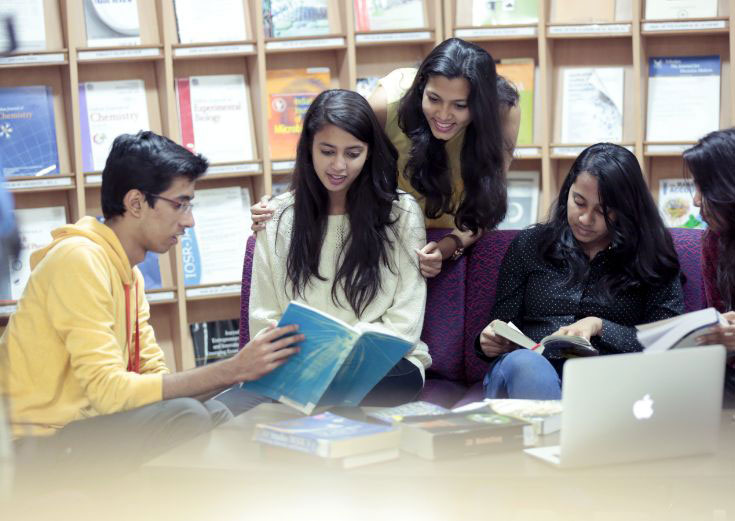 No university is complete without a library that provides both online and offline environments that promote thought and collaboration. The NU Library and Information Resource Centre provides multiple sources for learning, teaching and research – books, e-books, journals, e-journals, videos and access to digital libraries. The library also houses a wide variety of books, magazines and newspapers of general interest.
Read More
Check out the various resources we offer:
Students can access over 100 national and international journals in print, supporting their research needs across varied disciplines.
Our association with EBSCO, the leading provider of research databases and e-journals, enables students to access finance and management journals online.
Browse the library on the intranet from anywhere in the campus.
An online public access catalogue (OPAC) on the NU intranet.