An international platform for sharing ideas and solutions
Organised by the departments of CSE, ECE and GIS at NIIT University (NU), NUclearCSE 2022 was the first international three-day conference organised by the university in the areas of neural networks; unsupervised machine learning; cloud computing and hyperscale multi-cloud technology; edge computing and 5G and beyond; AI-powered automation; remote sensing imagery and applications, cyber threat intelligence, statistical inference, and electronic devices on intelligent IoT applications.

The aim of this pioneering conference was to bring together leading academicians, scientists, researchers and doctoral scholars from different fields to discuss the advancements and trends in their respective fields and to share their experiences and research outcomes. This interdisciplinary platform allowed researchers, practitioners and educators to discuss concerns and practical challenges involved in their fields of research, and the solutions they adopted to resolve these issues.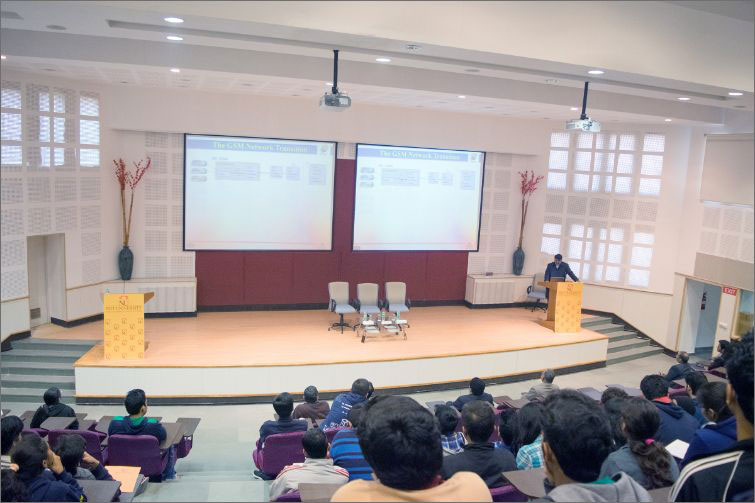 Students who wished to participate were asked to submit their original research papers in .pdf format by 10/01/2022. Each paper was reviewed blind, and the final submission took place after modifications, as suggested by the reviewers. The three best papers – one each from the areas of CSE (Computer Science and Engineering), ECE (Electronics & Communications Engineering), and GIS (Geospatial Information System), were given cash awards by nuvepro, a leading hands-on labs provider.
The three prize-winning papers
Comparison of satellite image-based vegetation indices for extraction and mapping of litchi (Litchi Chinensis) cultivation area in Muzaffarpur district, Bihar, India
Bhartendu Sajan1, Varun Narayan Mishra1
1Centre for Climate Change and Water Research, Suresh Gyan Vihar University, Jaipur-302017, Rajasthan, India
Graph based extractive summarisation with anaphora resolution
Abhilash Bhowmik1, Siddhant Sharma1 and Ratna Sanyal1
1NIIT University, Neemrana, Rajasthan, India
Renewable energy from living plants to power IoT sensor for remote sensing
P.L.Chong1,2,3, A.K. Singh4, F.Y.Kong2
1Department of Computer Engineering and Computer Science, School of Engineering and Computing, Manipal International University, No 1, MIU Boulevard, Putra Nilai, 71800 Nilai, Negeri Sembilan, Malaysia

2Center for Sustainable Communication and IoT, Faculty of Engineering and Technology, Multimedia University, Jalan Ayer Keroh Lama, 75450 Bukit Beruang, Melaka, Malaysia

3Department of Electrical Engineering, Faculty of Engineering, University Malaya, Jin Profesor Diraja Ungku Aziz, 50603 Kuala Lumpur, Wilayah Persekutuan Kuala Lumpur, Malaysia

4Faculty of Electronics and Communication Engineering, NIIT University, NH 8, Delhi – Jaipur Expy, Neemrana, Rajasthan 301705, India
The selected papers are under AJET review and will soon be published as a special issue of AJET (UGC Care.)
Keynote speakers at the conference included Prof Sugata Mitra, Chief Scientist, Newcastle University and Professor Emeritus of NIIT University ; Prof Rajeev Shorey, CEO, University of Queensland, IIT Delhi Academy of Research (UQIDAR) and former President of NIIT University; Dr Rathi Dasgupta, Senior Vice President, Intelliswift, Chicago, USA; Prof (Dr) Koo Voon Chet, Professor, Engineering and Technology, Multimedia University, Malaysia; Dr Hari Shanker Srivastava, Scientist/Engineer – SG, & Group Head, PPEG, IIRS (Indian Space Research Organisation, Dehradun and Dr MB Rajani, Professor, National Institute of Advanced Studies (NIAS), Bangalore, Founder member of NU GIS team, Fellow of Nalanda University, Guest Faculty of IIT Gandhinagar. There were in-depth lectures, presentations and discussions on AI and ML, Cyber security, NextGen networks, geospatial information, IoT and other important areas. With interesting topics and the high quality of lectures, NUclearCSE 2022 provided exceptional value to students and educators, researchers and industry alike.
Research papers were accepted from the following universities and institutions
NIIT University
Suresh Gyan Vihar University, Jaipur
AKS University, Satna
Sharda University, Greater Noida
CSIR-National Botanical Research Institute, Lucknow
Rajeev Gandhi Memorial College of Engg. & Tech. Andhra Pradesh
Central University of Karnataka
The Gandhigram Rural Institute
Galgotias University
Manipal University, Jaipur
Independent Researcher, India
Dept. of Geography Shivaji University, Kolhapur Maharashtra
National Commodities management services limited, Hyderabad
Lendi Institute of Engineering and Technology
Indian Institute of Technology , Roorkee
National Institute of Hydrology, Andhra Pradesh
University of Allahabad
Iranian Space Research Center, Iran
Multimedia University, Malaysia
Eminent professors and scientists were present as Chair and Co-Chair of the three-day session
Dr Heng-Siong Lim, Deputy Director | Research Management Centre, Professor | Multimedia University, Malaysia.
Prof Debashis Ghosh, IIT Roorkee, India
Dr George Philip, Retd. Scientist-G (Group Head), Wadia Institute of Himalayan Geology, India
Dr Abhrankash Kanungo, Scientist-SD, Andhra Pradesh Space Applications Centre, Andhra Pradesh, India
Dr Hari Shanker Srivastava, Scientist-SG & Group Head, Indian Institute of Remote Sensing (IIRS), ISRO, India
Dr Mustafa Üstüner, Assistant Professor, Department of Architecture and City Planning , Artvin Coruh University, Turkey
Dr Parimala N, Professor, School of Computer & Systems Sciences, Jawaharlal Nehru University, India
Prof Prosenjit Gupta, Founder, Elahe Technologies, Former Bell Labs| Yahoo! | Max-Planck | Professor of CSE, Heritage Institute of Technology and NU
Prof Shivendra Nath Sharan, Area Director ECE, NU
Prof Ajay Kumar Singh, ECE, NU