Fully-equipped. State-of-the-art.
NU students, scholars, and the faculty conduct their research and development activities in fully-equipped and state-of-the-art laboratories. These advanced experiment hubs offer researchers an opportunity to take a 360- degree examination of any problem domain. The researchers get extensive hands-on experience in devising robust solutions after a thorough examination of the problem. They can then battle-harden their solutions with the ultra-modern tools available in the labs.
Computer Science & Engineering (CSE)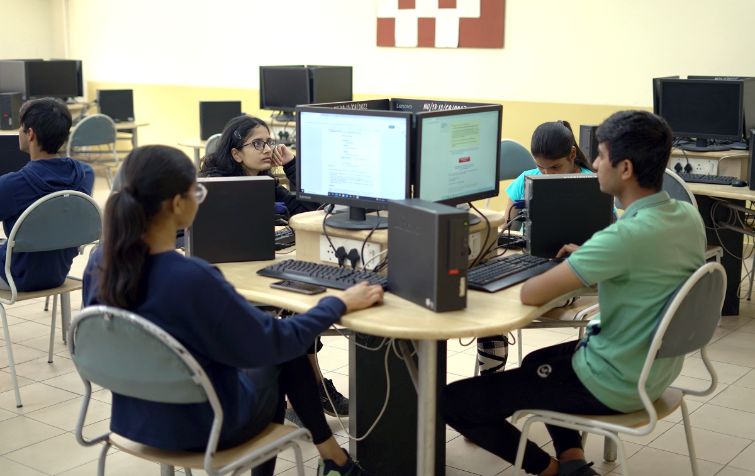 NU's  CSE has seven specialised computer labs equipped with 300 systems with internet connectivity: CSE Lab-I with 70 systems and CSE Lab-II with 40 systems are in AC-1; CSE Lab-III with 30 systems; CSE Lab-IV (FRL) with 65+ systems; CSE Lab-V with 30+ systems. In addition to these labs, there is a Simulation Lab with 30 systems and a Cybersecurity UG Lab with 25 systems in AC-2.

The IT and Software Engineering Labs are on NIIT's Imperia network and equipped with the synchronous learning technique through which our students are exposed to a real-time learning environment. It gives a fantastic opportunity for industry and academia experts to interact online, thus reducing the constraints of time and space.

The entire computing infrastructure is connected by a high-speed network. Not only that, the entire campus, including the hostel rooms and faculty residences are connected to the campus-wide, wireless network with high-speed internet access for use by faculty members and students.

NU CSE students can confidently use JAVA, R, Python, MATLAB, and different simulators, Windows and Linux Operating Systems, ORACLE database, NoSQL databases like MongoDB, Neo4j, Cassandra, etc., for their Lab work. In the CSE Capstone project lab, students use DevOps Tools, Git & GitHub, MAVEN, JENKINS, Docker, Angular, API-Microservices and other CI/CD tools for their assigned project work.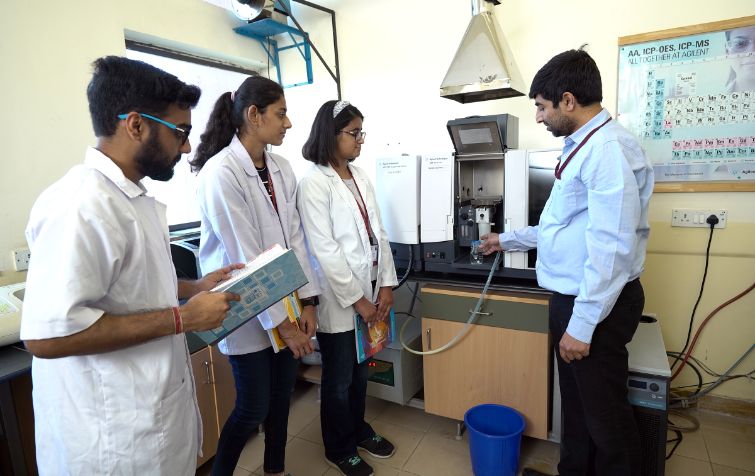 NU's Biotechnology labs are equipped with state-of-the-art infrastructure to carry out research and laboratory courses for students. It ensures that each student of Biotechnology undergoes extensive hands-on training on modern-day biotechnology concepts. Each student is provided with ample space and resources needed to carry out individual experiments. Adequate stocks of consumable chemicals and equipment like microscopes, etc., are provided to each student.

The BT lab contains all facilities pertaining to experiments pertaining to this domain. Apart from labs where practical classes and routine research work is carried out, a separate cold room is available for storing microbial cultures. The cold room houses equipment such as fast performance liquid chromatography (FPLC) for protein purification. Shakers and BOD incubators (New Brunswick) are housed in common laboratories. Besides, students can use a constant temperature room (maintained at 37°C) housed with shakers (Kuhner) to incubate a large number of variable volume flasks.
The well- equipped lab with instruments and other facilities is used by the students to carry out their experiments during each course. The lab has separate rooms for chemicals and reagents, where the students can prepare their media, buffers, and other solutions used for their experiments. There are two laminar airflow rooms used for the inoculation of microbial species. This lab also houses -20°C, 4°C freezers for storage of enzymes, chemicals, and daily used microbial cultures. BOD and Shaking incubators are in place for growing microbial cultures.

There are seven compound microscopes with high magnification zoom lenses available in the lab for visualisation of microbes. Refrigerated and table-top centrifuges available in the lab are used by the students for the harvesting of cells during the experiments. Circulating and temperature-controlled water-baths present are used for controlled experiments. Electrophoresis instruments are available in the lab which helps to run the DNA and Protein molecules for their qualitative and quantitative analysis.
This lab houses all the facilities required for performing research activities by undergraduate, postgraduate, and doctoral students, during thesis work. It is also used by undergraduate students to complete their project work during Capstone or R&D projects. The lab is equipped with freezers that can operate at -80°C and -20°C, used for long-term storage of the microbial cultures and other temperature sensitive reagents. An anaerobic chamber which is required for culturing anaerobic microbes is also available.

The lab also has a dark room with a Gel documentation instrument, used for visualisation of DNA and Protein molecules after electrophoresis. There are two well-equipped Fermenters of 5 and 7 L capacity used for large-scale operations. The lab also has sophisticated instruments like Electroporator, Gradient PCR, Real-Time PCR, Differential gradient gel, electrophoresis, Inverted microscope, and 2 variable scanning spectrophotometers.

There is a separate room used for the Mammalian cell culture facility, with laminar airflow and a CO2 incubator. Instruments like Ultra sonicator helps in the processing of various cells and the products isolated can be dried in a temperature- controlled Lyophilizer. The shaking incubator with lighting is available for the growth of any photosynthetic organisms. The deionised water required for various lab experiments is supplied by the MiliQ system present in the lab.
This room houses the high-end and sophisticated instruments, including UV-Visible and Fluorescent microplate readers used for reading any kind of ELISA plate for qualitative and quantitative analysis. Protein purification can be efficiently handled by a Fast Pressure Liquid Chromatography 2 system (AKTA Prime, GE) with associated columns and a wide range of stationary phases. A High-Pressure Liquid Chromatography system (Shimadzu) with autosampler and diode array detectors that help for the analysis of small molecules is widely used in bio-pharmaceutical industries.

Students are trained to operate this equipment. They can carry out metal analysis from any sample — biological or chemical, in the Atomic Absorption Spectroscopy (Spectrachrom). Volatile compounds like alcohol produced by yeast cells in a culture media can be estimated by the Gas Chromatography system (Perkin Elmer). FID or ECD detectors enable the flawless detection of the presence of organic compounds including hydrocarbons and volatile organic compounds.
Constant Temperature Room
The temperature in this room can be controlled. The room hosts shakers for the growth of microbial cultures. The facility allows the students to place all their cultures on the shaker together.
A well-insulated room fitted with cooling units for regulating temperature at a constant 4°C is used for the storage of heat-sensitive chemicals, chromatography columns, mammalian cell culture media, and immunology kits. Students conduct temperature-sensitive experiments, mainly with proteins, in the cold room.
Distillation & Autoclaving Room
The chamber houses large distillation units to fulfil the double distilled water requirement of all the labs. Medium and large autoclave units, operated automatically, sterilise the media before culturing.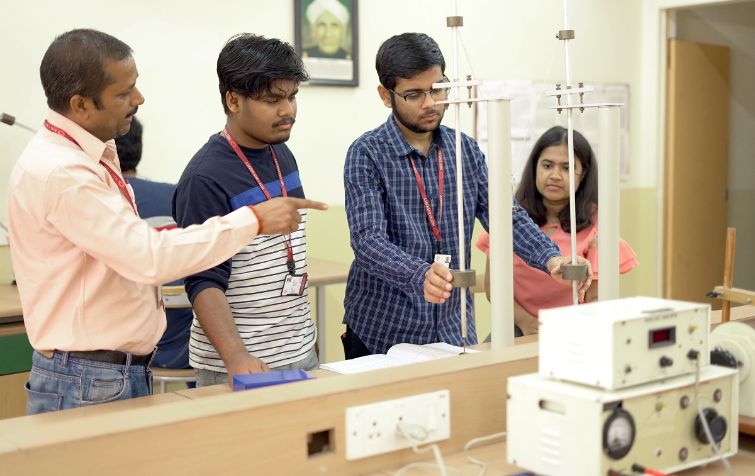 The Physics laboratory is equipped with modern equipment to carry out a wide range of experiments in almost all branches of Physics. The lab has the capabilities to allow experiments such as:
The Measurement of Magnetic Susceptibility
Hall Effect
Ultrasonic Diffraction
Brewster's Angle
Single and Double Slit Diffraction Study using He-Ne Laser
Normal Modes of a Coupled Pendulum
Electromagnetic Induction
Newton's Rings
Diffraction Grating
Polarimeter
Melde's Experiment
Diffraction Grating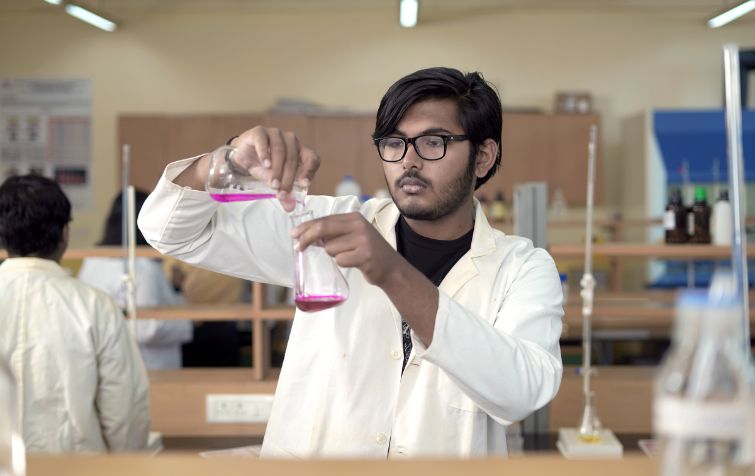 The Chemistry laboratory in NU is well furnished with modern equipment including glassware, fume hoods, a muffle furnace, centrifuge, fume hood, electronic balance, bench water bath, polarimeter, Beckmann's apparatus, Stalagmometer, Ostwald viscometer, M.P. apparatus, pH meter, chromatography equipment, high-pressure autoclave, and high-pressure vacuum oven. The Chemistry lab has all the resources to execute the following experiments including:
Titration- Acid-base/ Oxidation-reduction (redox)
Functional group determination
Adulteration in food articles
Synthesis of organic and inorganic compounds
Quantitative estimations of metals
Viscosity/surface tension determination
Chemical kinetics
Melting and boiling point determination
pH measurement
Chromatography
Polarimetry experiments – Specific rotation
High Pressure reaction
Educational Technology (ET)
The last decade has seen a major growth in development and deployment of computer and web-based learning material, facilitated by major improvements in performance/price ratio of computing platforms and availability of communication bandwidth. It has led to a renewed research interest in both pedagogy (how children learn) and andragogy (how adults learn), which is the specialisation area of Educational Technology. Educational Technology prepares students to contribute to the thoughtful design, implementation and assessment of educational media and technology initiatives, while maintaining the emphasis on higher order thinking skills.

NU keeps the focus on learning and teaching with technology as the means and not the mission, through interactions and experiments. NU examines cutting-edge technologies that bridge distance and time, highlight the research behind them and the design that goes into their making — while continuing to focus on the cognitive, affective and social dimensions of learning. Major pedagogical and andragogical paradigms (including some which were invented at the university's research centre) and their connections with technology are explored in-depth. On the job they help create meaningful and interactive educational products and content for a variety of media such as web, TV, PDAs, etc.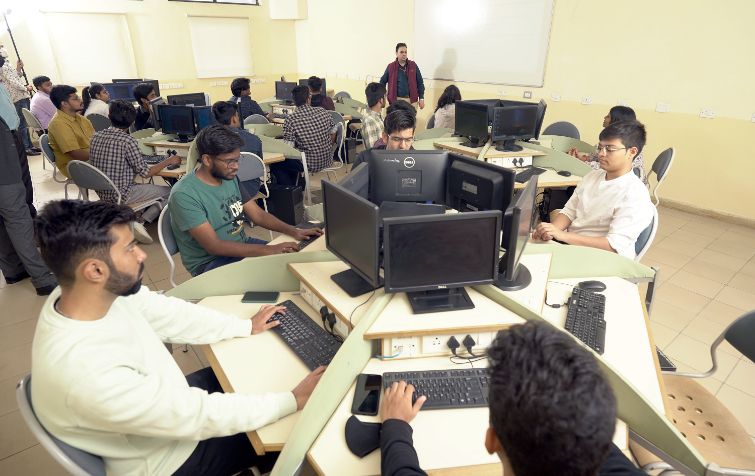 An indispensable component of cyber security education is hands-on activities carried out in a lab to enable students to understand different cyber-attacks and cyber-defense aspects of cyberspace. The infrastructure, tools and technologies are used in cyber security labs for efficient cybersecurity exercises. The BTech Cyber Security laboratory is equipped with high specification computers with multiple operating systems, including Fedora Linux, Kali Linux, Ubuntu, Windows, and important cyber security tools to carry out a wide range of experiments in almost all areas of cyber security. NU students focus on the most common cybersecurity attack vectors like: Phishing, DOS/DDOS, Malware, Misconfiguration, Poor Encryption, Social Engineering, MITM, ARP Poisoning, Zero-Day Vulnerabilities, Password Attacks Techniques, SQL Injection, XSS, etc.
The systems are preconfigured with a list of tools like:
Cisco Packet Tracer: To understand the working process of the devices and network topology
Oracle Virtual Box: To create a virtual environment for the practical
Nmap/Zenmap: Perform network scanning by CLI and GUI
Wireshark: For the packets capturing and analysing
Hping3: Packet crafting and arbitrary packet body and size
Google Hacking: Use google hacking technique to gather the information
Metasploit Framework: To exploit modules and used for penetration testing
Acunetix: To find web vulnerabilities
Nikto: For web server vulnerability scanning
Netsparker: Demonstrate web application security needs
Burp Suite: For Web application security
SQLMAP: To find the SQL injection flaws
KFSensor: For honeypot and IDS practice
Snort: For Network Intrusion Detection System
VeraCrypt: For disk encryption
Wapiti: Command-line based vulnerability scanner
Ettercap: Supports active and passive dissection and includes features for network and host analysis
Savvius: Checks performance issues and reduces security risk with the deep visibility provided by Omnipeek. It can diagnose network issues faster and better with Savvius packet intelligence
QualysGuard: Checks the performance vulnerability of cloud systems
Nessus Professional: Check network vulnerability
OWASP Zed: Automated scanners, as well as various tools that allow users to discover security vulnerabilities manually
ProDiscover Forensic: To recover deleted files and access Windows alternate data streams
These tools and modern techniques are at the forefront of cyber security research worldwide.
Along with these NU CSE has dedicated Virtual Labs for the
MTech Cyber Security programme
. The labs are categorised based on different areas of specialisation of the Cybersecurity master's programme. A base machine with Ubuntu, 4vCPU 16 GB RAM 100 GB SSD with root access and In VirtualBox installed Kali, Win x, Metasploitable and administrative access is provided to respective Faculty members.
Lab-1 for Infra security and VM
: Four cloud labs are configured under following subject areas with 25 individual Virtual Machines for individual students with proper access permission and preinstalled OS and tools:
Vulnerability Assessment & Penetration Testing Lab
Advanced Cyber Security Tools for INFRASEC & VM Lab
Advance Network Security Lab
Security Analytics Lab with R and RStudio, Python, Sublime text, D3.js, Git, MongoDB, Radis, Mahout on Ubuntu.
Lab-2 for Cyber Defence Operations
: Two cloud labs are configured under the following subject areas with 25 individual Virtual Machines for individual students with proper access permission and pre-installed OS and tools:
Cyber Security Operations lab
Advanced cyber security tools for Cyber Defence Operations lab
Lab-3 for IOT & Blockchain
: Three cloud labs are configured under the following subject areas with 25 individual Virtual Machines for individual students with proper access permission and pre-installed OS and tools:
IoT Security lab
Threat Intelligence lab
Security Analytics lab with R and RStudio, Python, Sublime text, D3.js, Git, MongoDB, Radis, Mahout on Ubuntu.
Other than these specialised virtual labs, NU CSE has reconfigurable
Virtual Labs
for the MTech Cyber Security programme with 65 individual Virtual Machines that includes:
Analytics and Big Data lab
System and Network Security lab
Platform and Cloud Security lab
Cryptography lab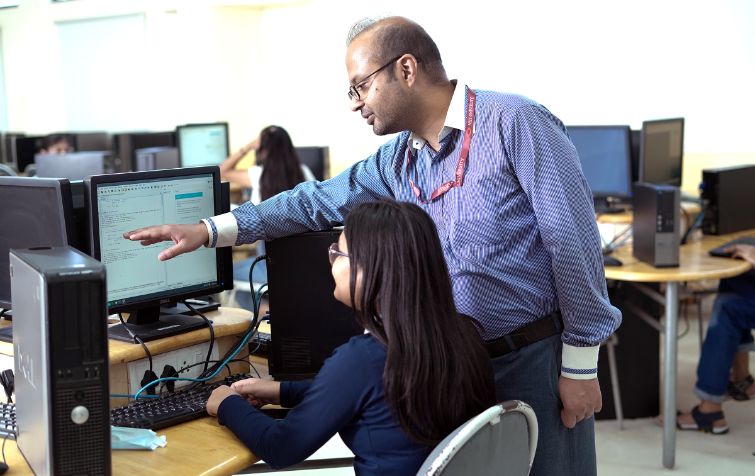 The Data Science Lab and Simulation Lab contains 68 and 32 high specification Lenovo and Dell systems (i7 processor, 16 GB RAM, 1 TB HDD) configured with Windows, Ubuntu operating systems. The entire computing infrastructure is connected by a high-speed network.
NU Data Science students are trained to use JAVA, R, Python, MATLAB, and different simulators, Operating Systems, NoSQL Databases like MongoDB, Neo4j, Cassandra during the course of their lab work.
The Bigdata Lab is enabled with components that collectively form a Hadoop ecosystem for students' lab assignments, projects and research:


HDFS: Hadoop Distributed File System
YARN: Yet Another Resource Negotiator
MapReduce: Programming based Data Processing
Spark: In-Memory data processing
PIG, HIVE: Query based processing of data services
HBase: NoSQL Database
Mahout, Spark MLLib: Machine Learning algorithm libraries
Zookeeper: Managing cluster
Apache Kafka: for high-performance data pipelines, streaming analytics, data integration, and mission-critical applications.
In the Data Science Capstone project lab, students use DevOps Tools, Git & GitHub, MAVEN, JENKINS, Docker, Angular, API-Microservices and other CI/CD tools. The R&D Project Lab is enabled with Deep Learning, Machine Learning, Lateral Language Processing, Computer Vision, Digital Image Processing, Predictive Modelling and optimisation tools and technologies to do research and development in different Data Science areas.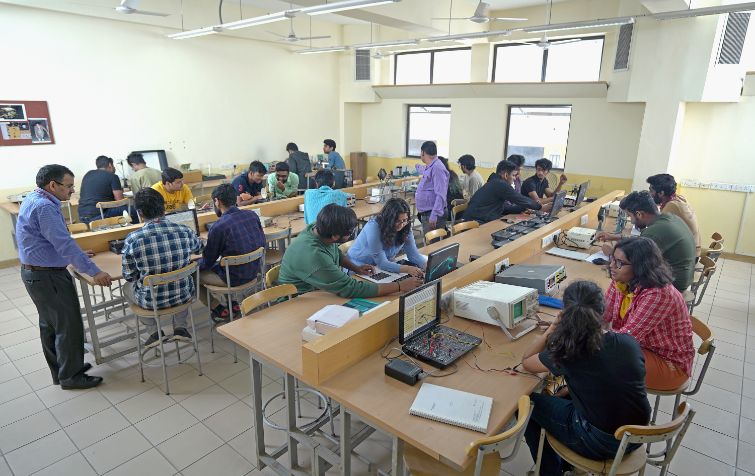 The Advanced VLSI Lab is equipped with 30 PCs and modern FPGA boards for digital IC design and testing. LTSPICE, an open source tool, is used to simulate analog circuits. All PCs are configured with the latest Integrated Development Environment (IDE) for architectural design and testing of ICs.
The lab facilitates low-power, high-frequency and area-optimised architecture design and development. Students and scholars get to work with the latest-in-the-industry tools here.
Digital Signal Processing Lab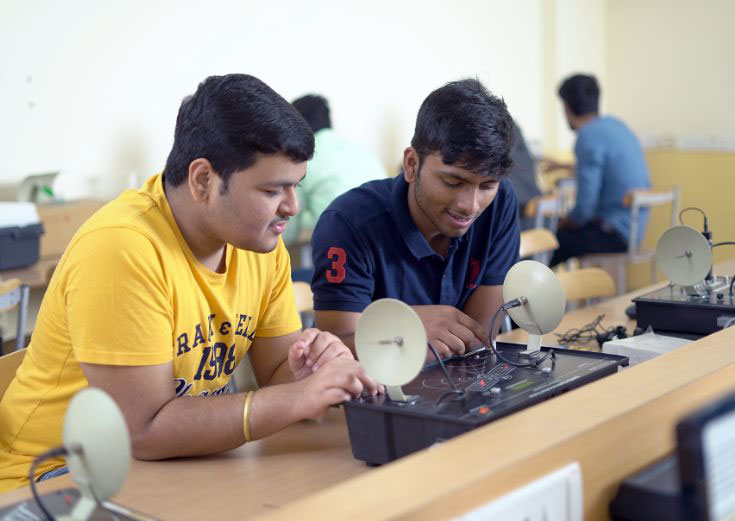 The Digital Signal Processing (DSP) Lab supports teaching and research work in the field of Signal Processing and Communications. The lab is equipped with a DSP Processor Development kit with IDE – Code Composer Studio and an efficient optimising compiler.

The DSP lab exposes students to various Algorithms and Simulation tools for design and realisation of Digital Filters using FFT. Students are given extensive practice on MATLAB using Signal Processing Toolbox. The lab is equipped with testing and measuring instruments like Digital Storage Oscilloscopes, Function/ Pulse Generators, microphones, headphones and speakers.
Microcontroller and Embedded Systems Lab
The Microcontroller and Embedded Lab contains 20 customised PCs configured with multiple operating systems such as Ubuntu 15, Windows 8, etc. Development environments such as MPLAB IDE, MDK 5 -the KEIL embedded tool for ARM are installed on every system.
The lab also contains customised kits for programming in different microcontroller architectures such as 8051, PIC and high-end processors such as ARM. The lab also has electronic equipment such as Logic Analyzers, Digital Storage, oscilloscope, etc., which are commonly used in Embedded Systems Design & Development.
Antenna and Microwave Propagation Lab
The Antenna and Microwave Propagation Lab is equipped with Microwave Benches for students and researchers to work on. Students are exposed to various microwave active devices such as Reflex klystron and Gunn Diode.
The passive devices include
Wave guides
Directional couplers
E–Plane tee
H-Plane Tee
Magic Tee
Isolator
Circulator
Attenuator
Tunable probe
Moveable short
Terminations
In addition, students perform measurements on the radiation pattern of a variety of antennas:
Simple dipole
Folded dipole
Yagi-Uda
Hertz
Zeppelin
Log periodic
Loop
Rhombus
Ground plane
Slot
Helix
Studies are also performed on Impedance and Polarisation behaviour of these antennas. The lab is equipped with signal generators, oscilloscopes, VSWR meters and power meters. The lab is used by researchers working in the area of efficient antenna design.
Wireless Communication Lab
The Wireless Communication Lab contains 15 customised PCs configured with multiple operating systems such as Ubuntu 15, Windows 8, etc. MATLAB is installed on every system. The lab contains tools for wireless networking using protocols such as Bluetooth, ZigBee, 6LoWPAN and BLE to conduct research work. The lab is also equipped with kits to demonstrate CDMA, Digital Modulation Techniques and Spread Spectrum Modulation Technology to students.
The labs are equipped with sufficient numbers of
Cathode Ray Oscilloscopes
Storage Oscilloscopes
Function Generators
Power Supplies
Multimeters
Digital Trainers
Spectrum Analyser
Mechatronics board with Programmer experimental kits for Analog and Digital Communication and Digital Signal processing
It has a well-stocked store of discrete components and integrated circuits including micro-controllers, Analog and Digital ICs and different types of electronics components used under these courses. The students build their circuits from scratch on breadboards and printed circuits boards. It sharpens their assembling, testing and debugging skills with respect to analog and digital circuits.
The Power Electronics Laboratory enables students to study and test the working of SCRs, TRIACs, and IGBTs. Simulation tools such as PSIM are available to construct power circuits such as single-phase half controlled Converter (Semi Converter) and fully-controlled converter.
The lab has oscilloscopes, signal generators, multimeters, soldering stations, LCR meters, and power electronic modules to carry out experiments. Students are given extensive practice on PSIM simulator.
The Control Systems Lab supports teaching and research work to design a system and calculate the transfer function, analyse the stability of the system (both open and closed loop, with positive and negative feedback) with time domain approach and frequency response analysis, using MATLAB.

The lab is equipped with a PID controller kit and Compensator kits. It helps the students to implement the control Algorithms and Simulation tools for the design and realisation of the systems. A Control System Toolbox is installed on 15 customised PCs configured with multiple operating systems such as Ubuntu 15, Windows 10. The lab is equipped with signal generators, oscilloscopes (25 MHz, 2 channels), DSO (50 MHz, 1 G Sa/sec) and logic analysers.
Analog Communications Lab
The Analog Communications Lab is well equipped with state-of-art instruments to understand, develop, and analyse the various analog modulation techniques and related methodologies to optimise communication systems. Linear modulation and non-linear modulation techniques and related experiments have been designed with various component-level system design facilities. This helps students to develop innovative projects in the area of Communications Engineering.
Digital Communications System Lab
The Digital Communications System Lab has been equipped with cutting-edge instruments to perform experiments on various digital modulation techniques and for enabling the understanding of sampling theory. Advanced equipment and high-end system analysers enable the faculty to develop modulation techniques on their own.
Students can develop various digital and pulse modulation techniques and fabricate it at the product level. This lab equips the students to continue their journey towards advanced wireless communication systems and in various research and development work.
Digital Logic and Circuits Lab
The Digital Logic and Circuits Lab enables students to explore the fundamentals of logic gates, Boolean Algebra, Karnaugh maps, etc. It also introduces Combinational and Sequential components, including
Adder
Multiplexer
Encoders
Decoders
Flip-flop
Latches
Registers
Digital Test Kits are used to design, develop and troubleshoot basic digital logic building blocks and the programmable ALU and serial-parallel complex circuits.
Embedded Systems and VLSI Design Lab
The Embedded Systems and VLSI Design Lab is used to provide practical skills to students in VLSI and Embedded System Design. It renders the right blend of classroom teaching & bestowing the knowledge on VLSI and embedded systems using LT spice/μ wind simulator and Keil μ-vision software.

FPGA kits (Spartan 3e and other peripherals) are available for designing the systems. ATMEL based AT89S52 development boards, Microchip based PIC16F877a development boards & ARM based STM32F103RB development boards, logic analyser and Ulink2-Keil ARM JTEG debug adapter are available in the lab. This lab is equipped with 30 high-end computers with updated OS and related software.
Optical Communications Lab
The Optical Communications Lab is equipped to provide an in-depth knowledge of Optical Communication Systems. The laboratory has a state-of-the-art facility to demonstrate properties of fibre optics transmitter and receiver, transmission characteristics of fibre optics cables, different types of Modulation / Demodulation techniques and PC to PC communication via fibre link using RS232 interface. Various digital communication techniques via fibre optic link can also be demonstrated.

Moreover, the lab has the facility to demonstrate the working of key optoelectronic devices like Light Emitting Diodes, LASERs and Photodiodes and to analyse their performance characteristics. The lab also has a fusion splicer where students can learn to splice the fibres for different optical networking applications.
The Power Electronics Lab is used by UG students who study the 'Basics of Power Electronics'. Some of the experiments they conduct are the study of SCR, TRIAC, gate drive circuits of IGBT, and different sensors; how to construct a single-phase half-controlled Converter (semi converter) and the simulation of single-phase fully controlled converter using PSIM. This lab has oscilloscopes, signal generators, milli-meters, soldering stations, LCR meters, and power electronic modules to carry out experiments. Students are given thorough practice on the PSIM simulator.
Satellite Communications lab
NU's Satellite Communication Lab provides students with an in-depth knowledge of a basic satellite communications system. There is a protype Uplink Transmitter, Satellite Link (Transponder) and Downlink Receiver in the laboratory. It can emulate the entire process of a satellite communications system and works on 2.4 GHz band PLL microwave operation. Students learn to transmit and receive three separate signals (Audio, Video, and Tone/ Voice) simultaneously through satellite link and to perform Link Fail Operations. They can also generate signals from the function generator or data from PC and transmit and receive the signal via transponder. They get the opportunity to study about the practical delays involved between transmission and reception. The process of remote controlling of satellites in space through Earth stations can also be demonstrated along with the study of link parameters.
Wireless Communication Lab
NU provides a state-of-the-art Wireless Communication Laboratory facility with cutting edge equipment for students taking the Electronics & Communication Engineering programme. The lab provides a platform for students to explore, study and analyse various advanced wireless communication technology concepts.

The lab is equipped with a high-end Spectrum Analyzer, Digital Storage Oscilloscope, Arbitrary Waveform Generator, DSP board, high gain horn antenna and various types of sensors to help students learn the concepts and scope of futuristic 5G network and its application towards IoT for advanced research.
The Workshop Practice Lab supports students to get practical knowledge of several workshop practices such as PCB Designing Schematic & layouts, filming, etching, drilling, soldering and testing, lathe, sheet metal work, machining, etc., and to learn the safety regulations required to be maintained on a shop floor.

There are additional experimental setups related to CNC machining, PCB development, etc., which helps students to enhance their knowledge. Students also get the opportunity to implement their ideas through various application oriented micro projects.
Geographic Information Systems
Geographic Information Systems (GIS), a rapidly growing educational domain, deals with location-based applications. In NU's GIS lab, you can find High Configuration Systems, open source and commercial software to learn the different aspects of GIS with practical sessions. The GIS lab also offers different survey equipment, and GPS receivers for practical demonstration.
GIS Lab
NU's GIS Lab is equipped with the following hardware, software, surveying instrument, and cloud-based platforms:
Hardware:

High configuration computer workstations for each student equipped with required accessories. The workstations have excellent storage facilities along with high-speed processors.
The GIS lab offers high end computer systems for the students to work on 3D applications with high quality graphics, 3D mouses and 3D Glass kits.

ESRI CityEngine Advanced

ArcGIS Desktop Advanced (ArcGIS Pro and ArcMap):

3D Analyst
Data Interoperability
Data Reviewer
Geostatistical Analyst
Network Analyst
Publisher
Schematics
Spatial Analyst
Tracking Analyst
Workflow Manager

Software

This plays an important role in building 3D models of buildings, road network and utility services.
QGIS

Open-Source software for primary and advanced 2D mapping.
SNAP

Open-Source software from European Space Agency (ESA) plays an important role in working with Sentinel-1 Synthetic Aperture Radar (SAR) datasets and optical datasets.
Surveying and lab instruments:

NU's GIS lab contains a series of advanced GPS receiver devices to carry out field surveys. It is also equipped with photogrammetry instruments including Mirror Stereoscope and other instruments.
Cloud Based platforms


ArcGIS Online Standard and premium applications such as:



ArcGIS Earth
Explorer for ArcGIS
Web Mapping Apps
Collector for ArcGIS
Survey123 for ArcGIS
Operations Dashboard for ArcGIS
Workforce for ArcGIS
ArcGIS Maps for Adobe Creative Cloud
ArcGIS Maps for Office
Esri Maps for SharePoint
Web AppBuilder for ArcGIS
Story Maps and Web App Templates
AppStudio for ArcGIS Basic
Business Analyst web and mobile apps
Community Analyst
GeoPlanner for ArcGIS
Insights for ArcGIS

Google Earth Engine (GEE)

A cloud-based platform where we can access, visualise, analyse and export the Landsat, Sentinel, MODIS satellite datasets, Elevation datasets and many more advanced applications.
Programming languages

Students are trained in the theoretical and practical aspects of Python and JavaScript. Machine learning and Artificial intelligence-based R&D projects using these languages will give students the experience of real-world application of such popular fields.