Nurture. Preserve. Conserve
A sustainable campus is not just one that has a low environmental impact. It is also one that develops and expands in harmony with its surroundings. NIIT University's (NU) Neemrana Campus began as it meant to go on. Not one truckload of earth went in or out of the campus while it was being built. Not one tree was cut during construction.
NU's architecture is an awesome blend of traditional techniques with modern principles. By leveraging conventional Rajasthani architecture and constructing courtyards and buildings in strategic proximity to each other to optimise shade, the University has minimised its carbon footprint.
Read more
NU's green initiatives do not stop there. A revolutionary method of cooling the buildings and dorms using earth-air tunnels reduces the use of electricity. A 'walk-only' ecosystem minimises fossil fuel consumption. A water recycling system with 97% efficiency ensures that the campus is always self-sufficient and water positive. NU has also created a nursery for local trees that ensures the campus' vegetative cover.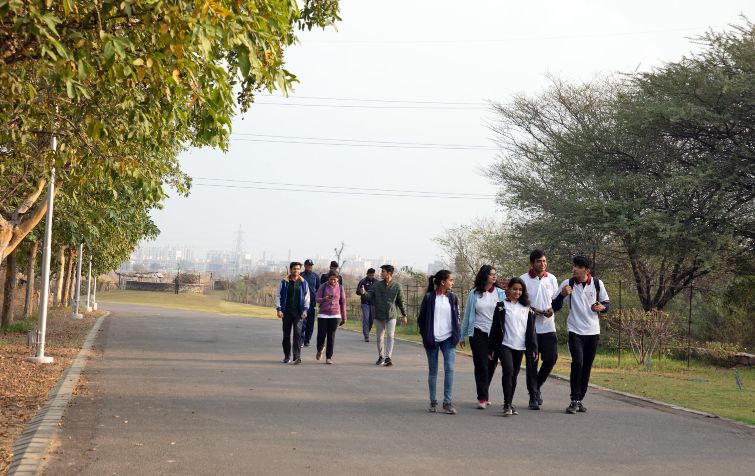 NU is a 'walk-only' campus. Motor vehicles are parked in a dedicated zone near the campus entrance. The no-vehicle policy minimises air pollution and the consumption of fossil fuels. Long, shaded walkways encourage students, faculty and visitors to revel in the fresh air and appreciate nature. A shaded and rain-protected pedestrian 'Spine' links all prominent areas in the university, giving people a chance to engage in informal but fruitful conversations.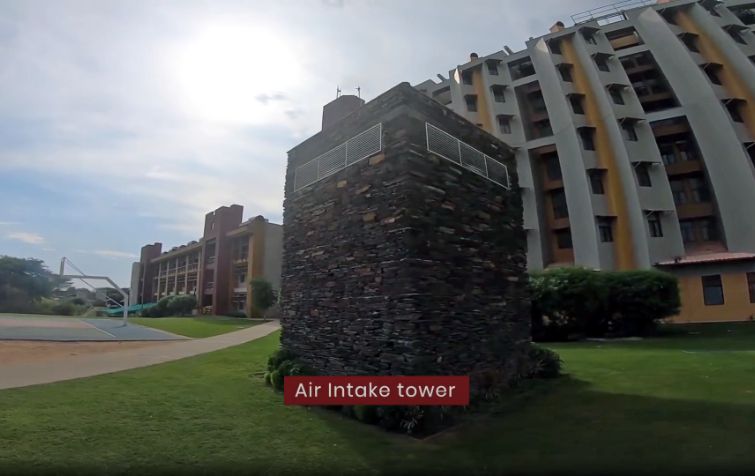 NU has devised an ingenious concept of 'Green air-conditioning' that harnesses the power of nature to build a scientific, cost-effective, and sustainable air-conditioning system. The system customises energy-efficient local traditions to large-scale state-of-the-art buildings in a modern context.

A framework of underground air tunnels, chimneys and heat exchange principles ensures a regular supply of fresh air and a healthy environment within the buildings. Fourteen 100-metre-long tunnels, situated four metres below the earth's surface, draw air to where the temperature at all times is close to 25°C. The thermo-coupled air is transported across humidifiers and water curtains into all classrooms, offices, and hostels. Ducts fitted near the ceiling pull the hot air from the rooms, which is drawn by the vertical shafts in the building by natural convection.

The low-energy cooling system consumes less than 40 per cent of the energy vis-á-vis a normal air conditioning system, saving valuable energy in the process, and most significantly reducing its carbon footprint. Being a fresh air system, it has transformed the university's Indoor Air Quality (IAQ) by drawing air from the oxygen-rich forest.
Other critical aspects of the 'Green air-conditioning' system are: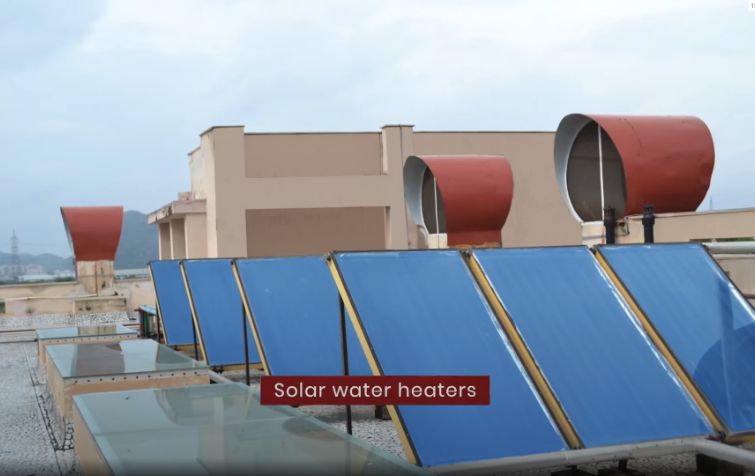 The 'Green air-conditioning' system leverages the area's natural advantages, thereby saving energy. The various campus buildings are designed to allow maximum natural light during daytime, thus minimising the need for artificial lighting. Besides, NU has deployed Variable Frequency Drives (VFDs) and Building Management Systems (BMS) to improve energy conservation.
The use of renewable energy such as solar water heaters used to warm water also reduces the university's dependence on the power grid. Energy efficient fixtures, movement sensors in toilets and staircases and PV solar street lighting further contribute to improve energy efficiency.
Natural resource management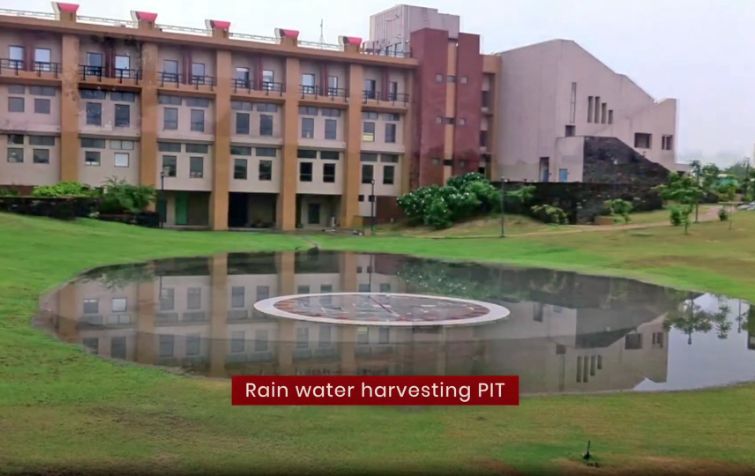 NU has actively contributed to preserving the area's ecology. Desertification caused  by the fury of natural run-offs from the neighbouring Aravalis has been effectively tackled by constructing 15 check-dams at various critical points in the vicinity. These check-dams contain the water run-off during monsoons and prevent soil erosion. They also help in recharging groundwater. NU has also constructed four water recharge wells on the campus to harvest rainwater.
A nursery on the campus nurtures and protects plants of local species. NU has systematically afforested the slopes of the Aravali range by planting over 1.5 lakh trees. This helps check soil erosion. Moreover, NU's efforts have resulted in reducing illegal sand mining in the region. NU is also actively partnering with local organisations to revive and rejuvenate the neighbouring Sabi River.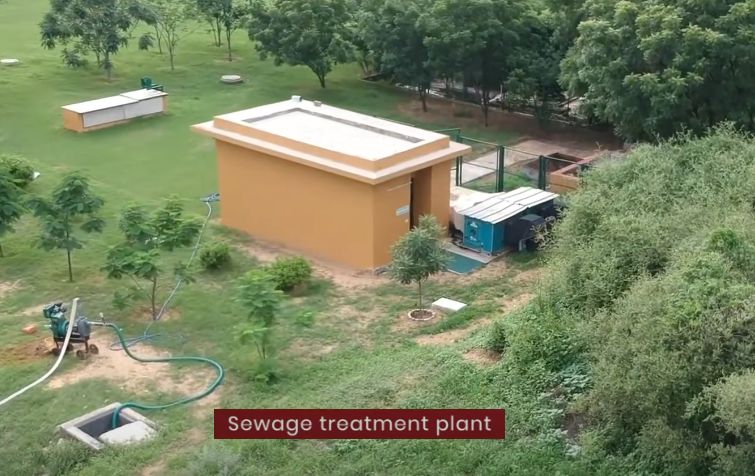 NU's waste management efforts ensure the productive use of spent material. A sewage treatment plant on the campus recycles ~95 per cent of used water. The treated recycled water is utilised for horticulture and afforestation. Wastepaper is recycled through local processing units. Kitchen and food waste is recycled to produce manure.