Meet the visionaries behind NIIT University
Leadership is the capacity to translate vision into reality. Meet our leaders.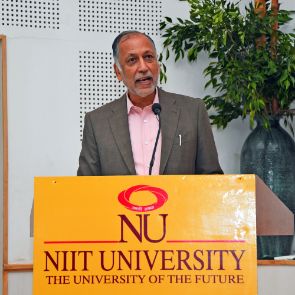 NIIT Group Chairman and Co-founder Rajendra S Pawar's tryst with education began back in 1981, when he revolutionised computer education in India by establishing NIIT Ltd. The Padma Bhushan awardee not only foresaw the growing role of computers in every sphere of life but also realised that it would spur increasing industry demand for people with information technology skills.
Read more
At the same time, by pioneering an innovative franchising model that gave young people an opportunity to create viable businesses around IT learning, he unleashed a wave of entrepreneurship around the world.

Mr Pawar followed this up by foraying into the software and services segment as co-founder of NIIT Technologies in 2004. Today, under his leadership, NIIT Ltd has grown into a leading Global Talent Development Corporation, while NIIT Technologies (now Coforge Ltd.) is an IT solutions major that serves clients across North America, Europe, Asia and Australia.

His fervour for promoting a culture of lifelong learning and his vision to anticipate industry trends have been the inspirational force behind NIIT University, which aims to create globally responsible citizens of the future with its unique approach to higher education.

Mr Pawar is a member of the National Council on Skill Development, chaired by the Prime Minister of India. He is also a member of the Planning Commission's Task Force on Skill Development, and has, in the past, served on the Prime Minister's National Task Force, which aimed at making India an IT superpower by 2008.

As an industry pioneer, Mr Pawar has been a Founder Member of the National Association of Software & Services Companies or NASSCOM. He is currently a member of the International Business Council of the World Economic Forum. He has also played an advocacy role for the information and communications technology (ICT) sector by leading several industry initiatives in India's key chambers of commerce in the past.

Mr Pawar studied at the Scindia School, Gwalior, and completed his BTech (Electrical Engineering) from IIT Delhi, in 1972. As a leading proponent of industry-academia alliances, he works closely with many of the country's foremost educational institutions and is on the Board of Governors of IIT Delhi, the Indian School of Business, and the Scindia School.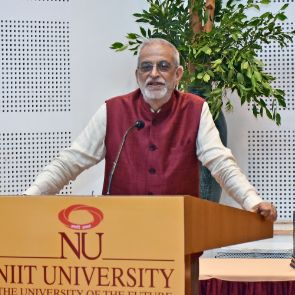 Vijay K Thadani's global vision and vast experience of working across boundaries is helping to turn NIIT University into the University of the Future.
As Vice Chairman and Managing Director of NIIT Ltd and as member of the Board of Directors of NIIT Technologies, Mr Thadani has led the NIIT Group's globalisation efforts since 1991, planting the group's flag in over forty countries.
Read More
He has played a key role in growing NIIT into Asia's leading Global Talent Development Corporation. At NIIT Technologies, he has been serving customers in the USA, Europe, Japan, Asia Pacific and India. He was Chairman of NIIT USA between 1999 and 2003, during which time he mentored NIIT's Strategic Alliance programme resulting in the successful acquisition of cutting-edge technologies.

Mr Thadani is also deeply involved in strengthening and consolidating NIIT's presence in China, where the company began operations in 1998. He was honoured with the position of Economic Consultant to Chongqing, a mega city and key hub in western China.

In addition, he has been a keen votary of the information and communications technology industry. Mr Thadani has headed many industry associations including MAIT, the apex organisation of the Indian IT industry. He has also chaired Government of India's Committee on National Information Infrastructure Policy. In addition, he was Chairman of the IT Committee of the Confederation of Indian Industry (CII) in the US.

Mr Thadani graduated with a BTech (Electrical Engineering) from the IIT Delhi in 1972. Apart from being an entrepreneur, he has also lectured at prestigious institutions including the University of Michigan Business School, the JL Kellogg Graduate School of Management, and the Indian Institutes of Management.


Realising that it takes many hands to build an institution and guide students and the larger NU community at Neemrana, our founders reached out to very senior and highly accomplished professionals from varied specialisations to come on board as Founding Professors. As institution builders and well-wishers of the university, these thought leaders bring with them the passion to inspire youth and guide us on our mission to providing a more holistic education.


Our Founding professors lead and guide the NU community in the following ways:
Lead institutional development and innovation in education
Inspire students, teachers and support staff to be proactive, lifelong learners and facilitators
Instil amongst all concerned, particularly students, a love for their subject/discipline
Offer a historical perspective of their subject/discipline along with a vision of its future
Inculcate a love for professional ethics and the desire to adhere to them
Encourage the holistic development of students and the larger community through participation in music, drama, art, sports, literary activities, debates, etc.
Deliver lectures under NU's 'Founding Professor Lecture Series'