NU's Integrated MBA (iMBA) programme is structured to allow increased choice as it progresses and provides a techno-business route from which students may choose option modules to meet their individual needs and career aspirations. The Integrated MBA programme offers a business education, geared to professional practice, self-employment and to the demands of careers in emerging areas such as Analytics, Digital & Social Media Marketing and Banking, Finance & FinTech. The iMBA programme also offers deep understanding and development of important business skills such as communication skills, interpersonal skills, critical thinking, analytical ability and decision-making.
The normal path taken by students to acquire a Master of Business Administration (MBA) degree is to first obtain a 3-year bachelor's degree (like BA, BSc, BCom, BBA, or BVoc) to become eligible for the MBA programme which is of two years duration. Since the 2-year MBA programme has to cater to students from diverse bachelor's programmes, some courses of the undergraduate programme get included in the MBA curriculum leading to doing repeated coursework. The students also have to spend a minimum of five years after Class XII to complete the MBA degree.
NU's
Integrated MBA
, on the other hand, is a 4-year postgraduate degree programme, undertaken after Class XII. iMBA is an innovatively designed programme meant for young students with managerial and leadership aspirations. The programme offers comprehensive management education combined with in-depth specialisation in a specific domain. Starting with the first semester, the student starts getting prepared for a career in management and business administration. It also provides the foundational grounding offered during bachelor-level studies.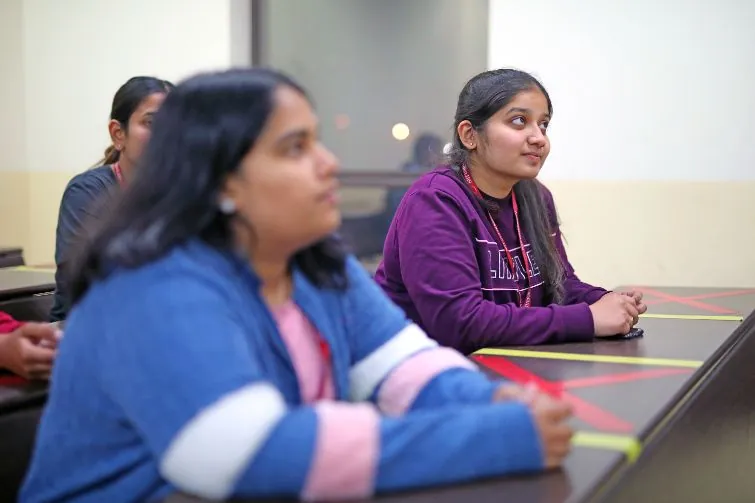 Like all our other flagship programmes, the Integrated MBA porgramme is designed around NU's core principles of providing industry-linked, technology-based, research-driven and seamless education.
NU's integrated MBA programme stands differentiated based on the following salient features:
Industry-linked, industry-relevant curriculum
NU's unique iMBA programme aims to develop young professionals in the emerging fields of business such as Business Analytics, Fintech, Digital Marketing, etc. The pedagogical tools, simulations, case studies, etc., equip students to deal with the business scenarios that they will face in the corporate setup.

To make NU's iMBA programme industry-relevant, we have incorporated rich insights from a multitude of our industry partners into the curriculum design. Many senior professionals from a diverse set of industries and functional areas have been consulted while creating the next-gen iMBA curriculum making it compelling, relevant and fresh.

A 6-month Industry Practice in the last semester makes students job ready. The last semester of the iMBA course has embedded a 6-month long industry practice that makes the programme an immersive experience for students. During the Industry Practice, students work on real-life projects within our industry partner organisations.

The iMBA curriculum is reviewed and updated at least once every year. This review is based on feedback from the industry, recruiting companies and research reports on the nature of jobs that will become important in the future.
6-month immersive Industry Practice
During the last semester of NU's next-gen integrated MBA programme, students undergo a 6-month-long immersive Industry Practice, which enables a smooth transition for students from the world of studies to the world of work and prepares them for the real world. Industry Practice is NU's flagship course of 20 credits in the iMBA programme. Industry Practice opens up students' minds in a way that they are able to search for new problems and find solutions to those problems.

While planning the Industry practice, each student's interest and aptitude are taken into account. The university's Centre for Industry Collaboration (CIC) actively works with students to explore and uncover their interest areas. Based on a match between the interests of a student and the requirements of the participating companies, the organisation and the project for the Industry Practice are finalised for each student.

During the Industry Practice, students are guided by a faculty mentor from the campus, an off-campus resident mentor and an industry mentor from the organisation. Besides management skills, this semester also helps build strong professional skills including planning, problem-solving, time management, written and verbal communication, cost management, teamwork, meeting deadlines, initiative, confidence to complete a task, integrity, customer and professional communication, etc.
"Getting equipped with skills needed for the real world & getting work-related learning opportunities to help me successfully step out in the real world." Top choice for NU students & alumni when we asked them which of their career needs NU fulfills (The NU Brand Survey, 2021).
31% customisable curriculum - specialisations, electives and real-life projects
Yes, you read that right! Students at NU (Nutons) get the unique opportunity to customise 31% of their curriculum. Student centricity is an important belief and value at NU and we encourage our students to explore their uniqueness and strengths. Based on this belief, we give our students the freedom to opt for specialisations in subjects on emerging requirements, e.g. fintech, analytics, digital marketing. In addition, students can take open electives offered by other areas of the university, based on their areas of interests and passion.

Students also get the opportunity to work on two capstone projects during the Integrated iMBA programme. These projects enable them to integrate learnings and applications across courses, based on current industry problems.
Multi-disciplinary approach for holistic development
NU's focus is on helping students become problem-solvers rather than rote-learners. Accordingly, NU's programmes are designed to inculcate problem-solving and critical thinking skills among students. ~13% of the credits in the course are from the courses related to Humanities and Social Sciences. These include courses in professional life skills, problem solving skills, critical thinking, and design thinking. The course also prepares the students adequately from a technology perspective. In addition, students to participate in activity-oriented courses.

The Integrated MBA programme structure includes courses in Mathematics, Statistics and Logic to impart analytical rigour. The programme structure also includes courses in Psychology, Sociology and Economics to provide an understanding of the foundation on which management education is based. The courses from liberal arts provides breadth and perspective. The programme structure lays special emphasis on communication and report writing skills to equip the students all that is required from a business professional. It also includes courses in Business History, Polity, Philosophy and Literature to provide breadth and perspective
Unique mentorship programme
Each Integrated MBA student is mentored by an eminent corporate leader. As the leaders share their rich experience and insights with students through scheduled personalised interactions using technology, students discover the nuances of real-life corporate excellence. It helps them accelerate their own integration into industry. The Mentorship Programme is just one of the many ways in which NU transforms an academically rich management programmes into the management programmes of the future.

During Industry Practice, a student works on a real-time project of an organisation under direct mentoring by an industry professional. This 6-month period enables the transition from a student to a professional with work experience in a seamless manner.

During IP, students are guided by a Faculty Mentor from the campus, an off-campus Resident Mentor and an Industry Mentor from the organisation. Besides management skills, this semester also helps build strong professional skills including planning, problem-solving, time management, written and verbal communication, cost management, teamwork, meeting deadlines, initiative, confidence to complete a task, integrity, customer and professional communication, etc.
Unique combination of academicians & industry practitioners as faculty
A unique blend of accomplished academicians and experienced, competent industry practitioners make up the faculty pool at NU assuring NUtons the best knowledge of both worlds. For the iMBA programme, NU's in-house faculty members are ably supported by senior managers from the industry. In addition, business managers from the industry are invited regularly to take guest lectures and provide real-world knowledge and insights to our students.
Opportunity for internship in social sector
Students who aspire to pursue an internship in the social sector, can easily do so, through the university's Centre for Industry Collaboration (CIC).
Integrated MBA – Placements
NU's iMBA students have found placements at leading organisations in areas as diverse as business analytics, digital and social media marketing, fintech, and marketing & marketing analytics.
per Annum Highest CTC (ongoing)
Integrated MBA – Industry Practice
Industry practice
at NU are a thrilling experience for students. It gives them the opportunity to explore new problems and find solutions. NU has developed strong industry relationships giving NUtons the limitless opportunity to look for new problems and solve them while they are still studying at the university. Such real-life problem solving skills surely holds them in good stead when they step out to the real world.
Company
Project
Genpact
Cost & contact management using blockchain. Creating real-time service that allows transactions based on information, agreements and contracts for the enterprise.
GFK Nielsen
Capturing changing consumer and industry-driven product preferences within the auto industry (tyres). Analysing changing market dynamics in the automotive industry for the passenger car segment
NielsenIQ
Continuous brand track study for Tata Play (formerly Tata Sky), Sector: Media & Telecom
GFK Nielsen
Premium-isation and innovation within the Indian IT industry. Innovation in the IT hardware industry, changing buyer behaviour, factors leading to innovation in products
Tenovia Solutions
Pricing and discount analysis, understanding product's overall performance in correspondence to the relationship with price and discount, identifying product characteristics with price & discount variables, analysing influencing factors on product performance
Mobisy
Aneheuser – Busch: Weekly business review, generating insights from the data which is captured by the Bizom application
AIM India
Bank of Baroda: Sales process of India first life insurance – Mahajeevan Plus plan
Pankhuri
Creating innovative and engaging social media strategies, managing all social media channels such as LinkedIn, Facebook, Twitter, Pinterest, Instagram, and YouTube on a daily basis, adapting content to different channels.
Lifebyte Systems
DPDI – predicting deposits, withdrawals and inactivity
The project is dedicated to building a useful tool for the marketing and sales department, to identify clients at risk of making large withdrawals, deposits or likely to become inactive ahead of time.
Machine Learning tools and AWS infrastructure in Mars UI and Salesforce platforms were used for analysis.
Virtusa
HFS Industry Top 10 – capital markets services 2022, accurate and timely completion of RFI, client references. These reports help prospective clients to understand the market, industry, risks in the field, probable future outcomes, etc. Working with client Gartner.
Benzara
Implementation of various techniques to analyse and create reports
Quale Infotech
Website updating based on new Marketing material & launching of new products in the market
SahiBandhu
Creating a digital presence and a new website of Sahi Bandhu to run online Ad campaign for the Gold Loan Service.
Integrated MBA - Research
The great Neil Armstrong once said that "Research is creating new knowledge." NU's core principle of providing research-driven education, precisely aims to create new knowledge. Our purpose is to provoke our students to see what has been seen and more importantly, to discover what nobody else has discovered.
Although the Integrated MBA at NU is a fairly new programme, NUtons are already establishing new milestones in the field of management research. The following are some of the research papers published by our bright NUtons under faculty guidance.
Ussam Siddiqui, Suyash Bapat, Dr Gyanesh Jain, "Merger induced volatility changes: Evidence from the Indian banking sector," in the Annual Conference for Financial and Banking Perspectives, 2021, Oman.
Anil Bishnoi, Anushree Sarpotdar, Dr Chandan Medatwal, "Training and development at Godrej- A critical analysis for successful employment" in NU's Entente, 2021.
Mounika Thatha, Abhishek Halluvally, Aishi Bhattacharya, Aditya Naik, Prof Abhishek Datta, "Adoption of electric vehicles: An analysis of intention to use and attitude of Indian consumers" at NU's Entente, 2021.
Events, conferences, guest lectures and workshops
The NU campus is always abuzz with events, conferences, guest lectures and workshops to keep our students abreast of the latest trends and developments in the industry and around the world. Here's a look at some of the most recent ones.
A workshop on Guestimation by Ms Ashima Goel, Product Manager, Cars24 .
A session on upcoming blockchain technologies and its future in India by Dr Eshan Ahluwalia, Vice-President, BlackRock.
A session for students on the pitfalls and roadblocks that new traders face in their journey of stock trading by Mr Kuldeep Kewlani, a bright alumnus of NU
A lecture on the role of youth in development of Indian Economy by Mr Hargovind Sachdev, retired General Manager, State Bank of India.
A workshop on sales and marketing by Mr Ranbir Singh, Vice-President, Ernst and Young.
A lecture on entrepreneurship by Prof Arya Kumar, BITS Pilani.
Integrated MBA – Student Achievement
They explore. They discover. They are smart. They are passionate. They are multi-faceted.
Meet our young achievers from the iMBA programme.
Aditi Banawlikar, IMBA 2019
Achievements:
Hosted the Don Bosco Youth Film Festival Of India twice
Worked as media personnel and anchor at the Sindhudurg Live
Face of Goan Varta Magazine Diwali Edition 2019
Winner MOM Online beauty Pageant
Representing India at the Miss Jungle International
Anil Bishnoi, IMBA 2019
Achievements:
First I-MBA University Captain'22
Lead, Sponsorship and PR at CIIE
Plays in the NU Volleyball and Kabbadi teams
Represented NU at E-Summit at IIT Bombay and got Aditya Birla as the Sponsor
Acquired 1st position at presentation and analytics at S.H.V.O.V.
Vaishali Jagwani, IMBA 2019
Achievements:
Vice President of AGRAGA NU Management Society of NU
Social Media Head of AGRAGA NU, Management Society of NIIT University University,
Selected to perform nukkad natak at Rendezvous, IIT Delhi,
Part of Creative team SiNUsoid V3, tech fest of NIIT University
Chahana Mehra, IMBA 2019
Achievements:
Won photography competition: 3rd place
Coordinator of Fashion Society
Team lead at NU-NSS
Awantika Kedia, IMBA 2019
Achievements:
Won the football inter-house match
President of Agraga club
Won Audacity with the team
Ritwika Choubey, IMBA 2019
Achievements:
National Basketball Player (under 16) and won in 4 inter-college tournaments
Elected twice first as vice-captain and then as captain of Orange house
Music Coordinator
Urvish Haria, IMBA 2019
Achievements:
Won the 2nd Prize at ITM Business School, Business Plan competition at Mumbai
Won the 1st prize at Business Plan Idea Pitching competition in Sinusoid
Runner Up in business conclave at Sinusoid
Startup idea selected for Networking Arena and Idea validation Arena at IIT Bombay E-Summit, 2020
Meghna Banerjee, IMBA 2019
Achievements:
Lead the winning team of Audacity'21, the dance fest of NU
Represented NU in the open mic conducted at St. Xavier's, Jaipur
Participated in open mic conducted by Khwahish studio and got featured in their YouTube channel
Integrated MBA - Course Overview & Outline
An Integrated MBA is a study programme comprising a curriculum that is jointly designed by two or more programmes of study and is regulated by a specific set of guidelines. An integrated programme is primarily aimed to blend, harmonise, synthesise, arrange, incorporate, unify, coordinate, and orchestrate two standalone programmes. By unifying the two programmes, the overlaps existing in the two separate undergraduate and postgraduate programmes are removed.
An integrated programme has far-reaching benefits for students than the two programmes, done separately. The biggest advantage of pursuing an integrated programme is saving a year as compared to two separate standalone programmes.
Read more
The other advantage of an MBA integrated course that a student gets an opportunity to enrol in a postgraduate programme immediately after Class XII. The integrated programme helps in increased understanding, retention, and application of general concepts. It also facilitates better overall comprehension of interdependent subjects, and the development of multiple perspectives, points of view and values.
Students get a sound foundational understanding of diverse business functions like marketing, accounting & finance, human resources, ICT, strategic management, and operations. The programme structure includes courses from diverse areas including Mathematics, Statistics, Economics, Sociology, Business Ethics, Business Law, etc., which provide both breadth and depth of knowledge and practices. The iMBA programme focuses on improving and imparting skills like critical thinking, written and oral communication, presentation skills, problem solving, decision making, entrepreneurship, and team collaboration.
The programme structure includes courses in Psychology, Sociology and Economics to provide an understanding of humanities and social sciences. Students can also opt for any two open electives from other programmes offered by the university. The programme design and pedagogy weaves together the four
core principles
of NU – of imparting industry-linked, technology-based, research-driven and seamless education.
| Course category | Credits |
| --- | --- |
| Foundation | 44 |
| Humanities and Social Sciences | 20 |
| Management Core | 60 |
| Practicum | 26 |
| Specialisation Area | 24 |
| Open Electives | 6 |
| Total credits | 180 |
Specialisations ( including open electives) Total credits: 30
Finance, Banking & FinTech
Business Analytics
Digital & Social Media Marketing
Entrepreneurship
Integrated MBA – Programme Structure
*Community Connect is an Audit course.
Finance, Banking & FinTech
Introduction to Banking & Financial Services Industry
Banking Products & Operations
SAPM
Spreadsheet Modelling & Decision Analysis
Designing Financial Products
Introduction to Blockchain Technology
Financial Analytics
Information Security and Risk Management
Data Visualisation
Digital & Social Media Marketing
Introduction to Digital marketing
Integrated Marketing Communication
Social Media Marketing
Spreadsheet Modelling & Decision Analysis
Services Marketing
Consumer Behavior for Digital Marketers
Marketing Analytics
Information Security and Risk Management
Data Visualisation
Business Analytics
Programming for Analytics
Data Science using R
Predictive Analytics
Spreadsheet Modelling & Decision Analysis
Machine Learning
Deep Learning & Neural Networks
Information Security and Risk Management
Data Visualisation
Marketing & Marketing Analytics
Marketing Analytics
Programming for Analytics
Data Visualization
Marketing Research
Services Marketing
Product & Brand Management
Integrated Marketing Communication
Entrepreneurship
Entrepreneurial Finance
Small Enterprises & Family Business
Integrated Marketing Communication
Communicating ideas for entrepreneurs
Spreadsheet Modelling & Decision Analysis
Legal Aspects of Entrepreneurship
Corporate Taxation
Managing Human Resources for Entrepreneurs
Information Security and Risk Management
PO1
The ability to independently carry out research /investigation and development work to solve practical problems.
PO2
The ability to write and present a substantial technical report/document.
PO3
Demonstrate a degree of mastery over the area as per programme specialisation. The mastery should be at a level higher than that required by the appropriate bachelor programme.
PO4
Ability to understand, analyze and communicate global, economic, legal, and ethical aspects of business.
PO5
Ability to lead themselves and others in the achievement of organizational goals, contributing effectively to a team environment.
Programme specific outcomes
All courses are built around Learning Outcomes (divided into three components of Knowledge, Skills and Attitude) which would specify what the learner will know, will be able to perform efficiently and their mental state and predisposition by the end of any course.
PSO 1: Demonstrate and apply knowledge of diverse management areas for operations and growth of an organisation in a global arena.
PSO 2: Demonstrate the ability to work in collaborative manner with individuals and teams of diverse backgrounds, for meeting the complex challenges of doing business in a globally connected world.
PSO 3: Demonstrate capability for learning to learn, creativity, innovation, design thinking and entrepreneurship.
PSO 4: Demonstrate and apply ethical and professional practices in profession and work responsibly towards social welfare and environmental sustainability.