Centre for Innovation, Incubation and Entrepreneurship
Where ideas are nourished, and enterprise is encouraged
Do you have a breakthrough idea and want to start a venture of your own? Would you rather be your own boss than work under someone? Our Centre for Innovation, Incubation and Entrepreneurship (CIIE), which is run entirely by students in coordination with faculty members, can help you do just that.

NU's core principles of making learning industry-linked, technology-based, research-driven and seamless as well as our thrust on holistic development ensure that our students evolve into independent thinkers and innovators. As a result, NU has emerged as a hotbed of innovation and enterprise today.

CIIE plays a key role here in promoting student-owned startups at NU. It builds awareness, manages the university's various entrepreneurial initiatives, and also incubates innovative ideas in all emerging technologies.

In addition, the university's MHRD Innovation Council (MIC) encourages, inspires and mentors young students to work with new ideas from their formative years.
Mission and key objectives
The CIIE's stated mission is "to foster and augment the development of innovative ideas which can translate into new business models, better products and improved services."
NIIT University's students have a spirit of entrepreneurship that helps to infuse fresh new ideas into business and organisation.
Its key objectives are to:
Foster the entrepreneurial spirit
Create technology-based new enterprises
Create value-added jobs and services
Facilitate technology transfers, and
Promote the speedy commercialisation of R&D output
The idea is to encourage innovation-driven entrepreneurship that will strengthen India's entrepreneurial ecosystem. CIIE incubates startups across sectors and domains such as information, communication and entertainment, food, agriculture and allied sectors, augmented reality, big data and analytics, cloud computing, cyber security, renewable energy and green technology as well as bioinformatics and financial technology, among others.
CIIE conducts various activities and offers a host of services to NU's young entrepreneurs. These include:
In addition, the CIIE also fosters the entrepreneurial ecosystem on campus by hosting a number of events, hackathons and other competitions, which provide a platform for students to showcase their ideas and innovations. NUtons also regularly participate in national-level competitions to get their ideas evaluated on a larger platform.

Some of the recent events and competitions hosted by the CIIE included:
HackNU 2.0 (Hackathon)
IdeateNU 2.0 (Ideathon)
Internal hackathon, as a prequel to the Ministry of Human Resource Development's Smart India Hackathon
Workshop on fundamentals of preparing a business plan
Start-up Expo (Inter-university competition)
Idea pitching competition
Case study competition
Business conclave
Elektro Vakbeurs, an exhibition of electronics-based projects
Silicon d'Art
Motivational talks by leading entrepreneurs
The road to success is littered with failure, and it is easy for founders to get disheartened along the way. However, there are plenty of lessons that our young entrepreneurs can draw from the success, and indeed the failures, of others. To this end, CIIE motivates students by organising a series of guest lectures by successful entrepreneurs and business leaders, who share insights from their own entrepreneurial journeys with our young minds.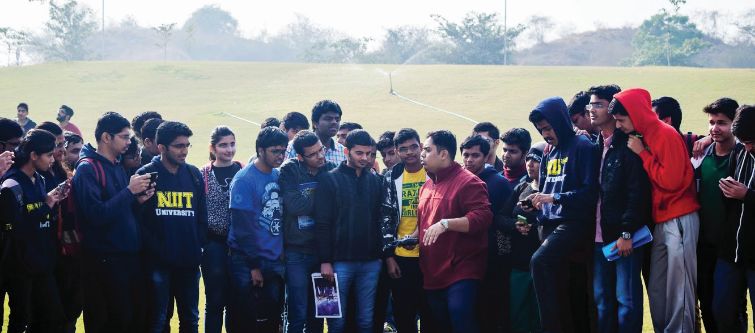 In the past, the CIIE has hosted speakers such as Mr Rajan Anandan, managing director, Sequoia Capital and former head of Google India and Southeast Asia; Mr Raman Roy, chairman and managing director of Quatrro; entrepreneur and investment professional Mr Saurabh Srivastava; and Mr Bikash Barai, founder, iViz Securities. Moreover, successful NU alumni who have founded their own ventures such as Atif Inayat Khan, founder and CEO, AT-Lead Pvt Ltd, whom we call the Drone Man of India, have returned to campus to motivate NUtons to take risks and think out of the box.
Meet our amazing young start-ups
Since 2017 alone, NU has given birth to 29 start-ups in a host of areas.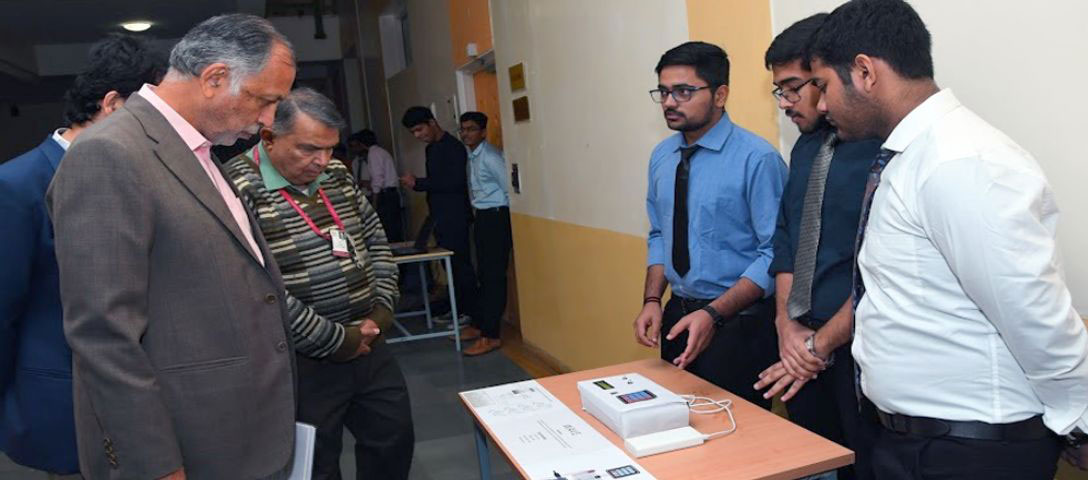 Astra Securities: Founded by NU alumni Shikhil Sharma and Ananda Krishnan (BTech CSE, Class of 2016), Astra Securities is a global leader in web application security. It was listed among the top 100 most innovative companies of 2020 and has won numerous awards over the years including the most innovative security company award, which was presented by Prime Minister Narendra Modi at the 5th Global Conference on Cyber Space (GCCS). It also won a grant from the French government under the French Tech Ticket Program, which was presented by former French President François Hollande.
AT-Lead
: NU alumnus Atif Inayat Khan (BTech CSE, Class of 2016) founded the GIS mapping and drone surveillance and vigilance company, which manufactures quadcopters. AT-Lead is currently working in the fields of precision agriculture and petrochemicals pipeline surveillance along with numerous projects on GIS mapping and entertainment drones.
Read More
RAAV Techlabs, founded by Rahul Kumar, Alphonse Das Antony, Abhinandan Bhargava and Varshnee Raj, is designing a smart watch. It has received funding from the iCreate Spark Up fund for developing a prototype of a wearable technology. Earlier, it received funding from IBM's Global Entrepreneurship programme as well as under the NIDHI-PRAYAS initiative of the Department of Science and Technology, Government of India.

Trackyo, which was founded by Yash Agarwal and Kritika Jain, is working on customised security solutions such as vehicle monitoring and driver assistance systems. The start-up is associated with Carnegie Mellon University, Fly high, t–high and Auto Nebula.

AzukArin, which is founded by Ayushi Goel and Archit Kaila, is working on developing a smart refrigerator that can notify its users about the availability and status of its contents so that they can plan and order groceries accordingly. The venture was adjudged the best student start-up at a student start-up exposure programme organised by the Government of Rajasthan and won a trip to Silicon Valley for the same.

Ragno Electronics is an Internet of Things (IoT) start-up set up by Sachin Reddy, SR Rahul and Rohit Samineni. It is helping industries to conserve resources by achieving energy efficiency, and to use smart automation, IoT and artificial intelligence to collect and analyse data for further efficiency gains.

LIMEWIT: Our alumni aren't only setting up tech-based ventures. Lakshay Dhupar, Rahul Ranjan, Hussain Abbas BW, and Sai Praneeth (Class of 2019) set up LIMEWIT as a platform for untapped talent. They are leveraging their expertise in creative content development and management as well as the power of social media to enable artistees, including writers, photographers and other creative artists to showcase their talent to a wider audience.
Our young entrepreneurs have also brought laurels to their alma mater by winning numerous awards for their start-up products and services ideas.