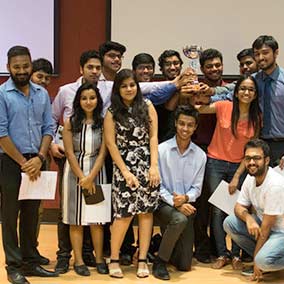 NU students gets selected at E-Yantra, Robotic Competition
The Nanoelectronics Premier League – 2017
The Grand Finale of the Nanoelectronics Premier League was held on 29th April 2017 in the Auditorium.
Team 14 working on their challenge question – Can Nanobots be used for interconnecting Nano-Computers with Human Mind? and Team 20 with their challenge question – Can nanotubes be used in place of copper cables for reducing transmission line losses as they have lower resistance in comparison with copper cables?, were pitted against each other and gave brilliant performances.
Team 20 was lead by Rahul Poddar who gave an amazing performance with crisp and confident responses to a rapid fire round of questions. Their Buddy Mentor and Learning Mentor were Shiv Bajpai and Prof Amritesh Kumar respectively. Team 14 was ably lead by Siddharth Bisht who floored the house with his brilliant pitch on Nanobots. Their Buddy Mentor and Learning Mentor were Shivam Shandil and Prof Meera Datta respectively. At the end of a keenly fought match Team 14 won the first Nanoelectronics Premier League by razor-thin margin. Congratulations to Siddharth Bisht and team!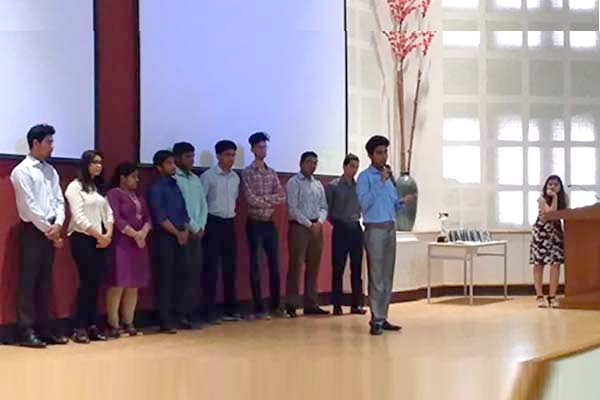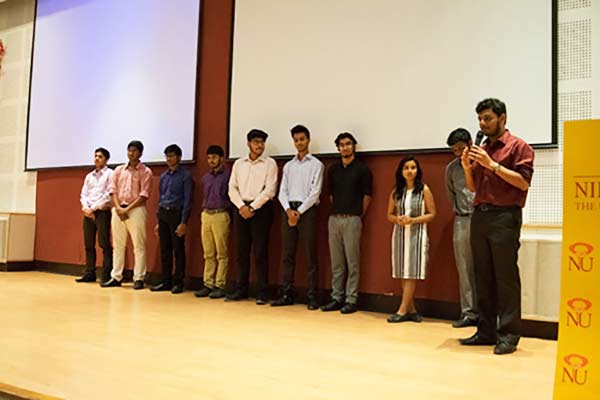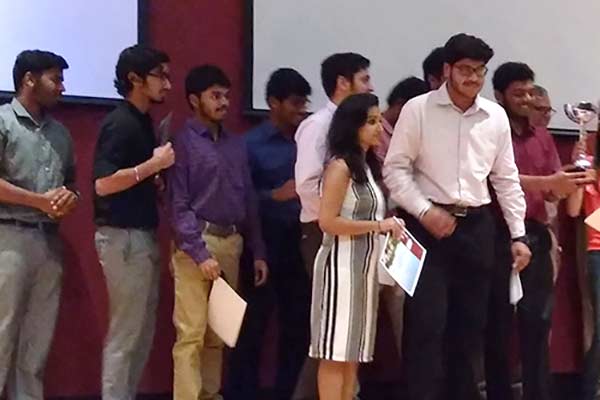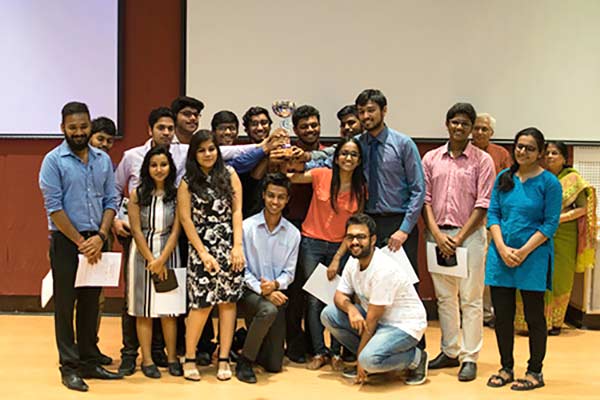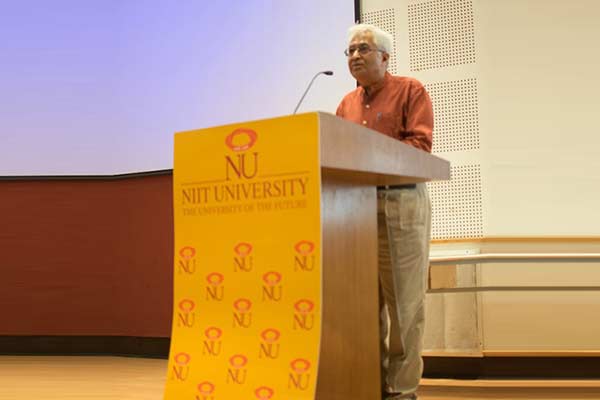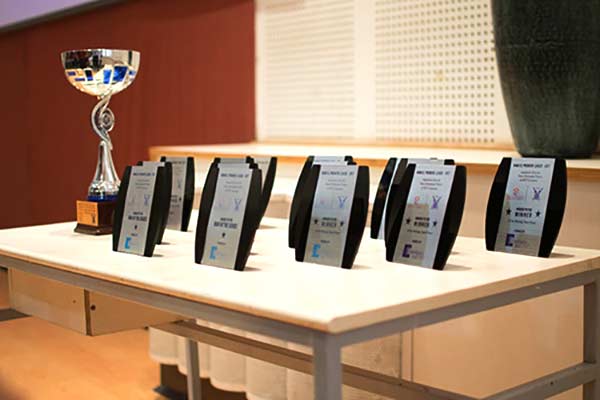 About Nanoelectronics Premier League
NU is continuously engaged in innovations in teaching-learning methodologies. 1st year engineering students to PhD research scholars are exploring and discovering new ways to make learning not only exciting but also valid for the future.
Future technologies are evolving continuously and causing disruption in all spheres of human life. The shelf-life of curricula is decreasing rapidly. Hence new ways of devising learning to handle future technologies becomes imperative.
Why Nanotechnology?
Nanotechnology is one of the many disrupting technologies. Demanding inter-disciplinary knowledge of foundational subjects such as Physics, Chemistry, Biology, Electronics, Materials Science, it is changing the way we do things be it healthcare, automation, food production or pharmaceuticals.
So we asked ourselves – "What does it take to introduce Nanotechnology which is normally taught at the Masters and Doctoral levels in the 1st year of engineering?" The premise being that doing so should make students future ready. And thus began the challenge led by NU's mentor professor, Dr Vijay Mandke.
Our third year engineering students doing their Learning Technologies Project course and doctoral students began to work together to conceive a unique first of its kind teaching-learning experiment that brought nanotechnology into classrooms of 1st year BTech in a project mode.
So what is Nanoelectronics Premier League?
Conceived by Prof Mandke in NU's Educational Technology Innovation Lab (ETIC) and driven by Jharna, Nirali and Rajat doing their Learning Technologies Project, 220 students from 1st Year ECE, CSE and BT streams undertaking different courses – Physics, Chemistry, Electronics – will be working together on industry-relevant nanoelectronics projects such as Nanotubes for bullet-proof jackets, nanosensors for smart homes, etc. which will ensure that by the time they are in their final year, they are already ready for the industry and research of nanotechnology and nanoelectronics. Each member in the team of 11 will perform carefully delineated roles such as Research, Industry Connect, Employability assessment, Identification of Customer benefit and Value Stream, Digital Publishing, Project Management, etc. based on their interests.
To assess the projects, the Premier League format was used in contrast to the normal presentation/demo formats. Named the 'Nano-Electronics Premier League – 2017, the 220 students divide themselves into teams of 11 along the lines of cricket premier leagues.
The league saw the 20 teams contesting. The teams were mentored by Jharna and team who call themselves Buddy mentors and 4 PhD scholars who act as Learning Mentors. Each team played against the other using timed presentations and rapid-fire quizzes with time-outs to strategize. The team that reaches the final round was declared winner of the Nanoelectronics Premier League 2017.
What are we expecting out of this research breakthrough?
To sum up, what are the key outcomes of this leap-into-the-future research breakthrough in teaching-learning methods?
The 220 students will produce mini research papers that will go into an e-journal, in the process gaining firsthand experience in writing and publishing research papers.
Buddy mentors, through their experience of managing large teams, will learn how to identify industry needs, manage teams, managing work pressures, applying theoretical knowledge to solve industry problems thus becoming expert learning technologists themselves as they identify technologies and processes for this.
The 220 students will also develop individual digital portfolios showcasing their research capability through the work done thus charting out their path to the world of work or research in the first year itself instead of waiting for the final year.
The roles performed will also give them an insight into the future paths they might want to explore based on their innate strengths.
List of Challenges and Players
*Team Leader, **Buddy Mentor, ***Learning Mentor
| Team | Challenge | Players |
| --- | --- | --- |
| 1 | Can Carbon Nanotubes (CNT)be used for targeted drug delivery, for cancer therapies? | Aditi Singh* Akshaye Khanna Archana Sanjay Gujar Amanpreet Singh Faaiz Aarzoo Shaik Gaddam Sri Sai Kumar Kushal Muktala Ajinkya Bedekar Chichghare Disha Avinash Gavinson Bashan Kharmalki Vineel Reddy** Satya Veer Singh*** |
| 2 | Nanotechnology and artificial photosynthesis properties. | Cherla Pradyumna Reddy* Eshwar Sai Chintakindi Gourav Thapa Gangam Rushik Reddy Gaurav M Gauri Sinha Rakshith Reddy Gopidi Katyayani Agarwal Priya Chaudhary Aman Garg Ankit Gupta Chalamala Krishna Priya** Satya Veer Singh*** |
| 3 | Can Carbon Nano Tubes (CNT)be used for developing Future Bullet Proof Jackets? | Jammu Prem Kumar Naga Venkata Arun Kumar Nallapu Charles Christopher Gayathri Chandrasekar Gehna Ahuja Gnana Harsha Paruchuri Rishabh Shah Rishabh Gaur Arpita Sejal* Riddhi Modi S Kalith Mohamed Ismail Deepika Tripathy** Satya Veer Singh*** |
| 4 | Can we use Nanomagnets for computer size reduction? | Pandi Koteswara Rao Rahul Panghal Surya Narayana Pasumarthi* Gottumukkala Rithish Verma Harsha Deuri Harshil Sachdeva Ritik Jangir Arshita Batra Ashish Kumar Sreya Chatterjee Sumili Dey Sai Krishna Revanth** Satya Veer Singh*** |
| 5 | Can we use Nanoscale Integrated circuits in future computers? | Vobbilisetty Sai Aravind Yarlagadda Sai Koushik Abdemanaaf Zohair Ghadiali Hitesh Mittal Hridaya Annuncio* Hrithik Raj Prasad Ronak Jain Ronald Tony Sabyasachi Mishra Sachin Kumar Biren Sharma Mahesh Kumar** Satya Veer Singh*** |
| 6 | Can Nano Light Emitting Diodes (NanoLED) be used for colour changing surfaces? | Abhijit Bhupendra Singh Abhinav Reddy Katpally Arshiya Abdul* Ira Mishra Jaini Rutvik Jatin Chandrakant Ninawe Sahil Goyal Saloni Jain Samantak Mitra Javid Akhtar Kattekola Vaishnavi Akash Agarwal** Satya Veer Singh*** |
| 7 | Light weight Electric cars for optimum utilization of battery power using Nano-materials. | Desu Lohith R Komal Rahul Saha Jatin Gupta* Jobin Joseph Kaki Durga Srinivasa Vivek Samir Ahmed Ghouri Sarthak Tripathi Shashank Kawatra Shashwat Manish Shah Kenneth Prabakaran Rama Chidambaram** Vasanta Akondy*** |
| 8 | Can Nano sensors be used for remote health monitoring? | Adya Mahlawat Aetukuri Srinath Ajay Sharma G S Kandepu Naga Ravi Teja Karan Inder Singh Kolli Nethre Sai Sheena Gupta Sheshagoni Adithya Shivam Goel* Manchikanti Ravi Teja Mohit Kumar Apoorva Garg** Vasanta Akondy*** |
| 9 | How Nanotechnology can be used in energy sector? | Aman Khandelwal Animesh Singh Anirudh Sharma* Kushagra Chauhan Lakshmi Narasimham Upadhyayula Mailavarapu Moulika Shivank Pahwa Shivendra Singh Shravan Sridhar Shreya Nigam Muskan Gupta Aditi Dwivedi** Vasanta Akondy*** |
| 10 | How Nanotechnology can be used in Hydrogen battery technology? | Nair Tejas Deepak Nikhil Singh Butola Ankit Kumar Singh Anshit Saxena* Anubhav Paul Majety Mani Midhilesh Mamidi Lokesh Venkata Sai Mannepalli Vishwajeet Shreyans Milind Parab Shreyas Harshant Sanghvi Shruti Varghese Ajeya Kapoor** Vasanta Akondy*** |
| 11 | How Nanotechnology can be used for cosmetic industry? | Nair Tejas Deepak Nikhil Singh Butola Ankit Kumar Singh Anshit Saxena* Anubhav Paul Majety Mani Midhilesh Mamidi Lokesh Venkata Sai Mannepalli Vishwajeet Shreyans Milind Parab Shreyas Harshant Sanghvi Shruti Varghese Anshul Sharma** Vasanta Akondy*** |
| 12 | Can Nano sensors be used in SMART HOMES? | Ashish Dwivedi Ashwin Jawahar Vontivillu Avi Gupta Althaf Mohammed Mayank Mittal Mayank Tola Shubhra Pandey Siddhant Amol Shah Harshit Purandhar Chilukuru* Rinkal Singh Ayushi Jain** Vasanta Akondy*** |
| 13 | Can Nano sensors be used to build SMART INDUSTRIES? | Batchu Naga Mahitha Bollam Sreekar Reddy Mitul Kumar Modepally Sree Manasa Hradyansh Parashar Jami Venkata Datta Kamesam Nizampatnam Mounish Peddamallu Yeshwanth Reddy* Sagnik Mitra Sarayu Kurapati Naved Ahmad** Meera Datta*** |
| 14 | Can Nanobots be used for interconnecting Nano-Computers with Human Mind? | C Rohith Chandanala Siva Naga Praveen Moksh Gupta Mukul Sachdeva Nagabhyru Bhuvanesh Chowdary Shreyash Tiwari Siddharth Bisht* Simran Nitin Wasnik Shantanu Bahuguna Suraj Kande Shivam Shandil** Meera Datta*** |
| 15 | Can Nano-LEDs be used for controlled self-laminating wall paints for energy saving? | Chenna Sankalp Chimakurthi Venkata Naga Sai Koushik Nandini Goyal Nandini Sinha Neeraj Pandey Nikhil Gahlot Simran Singh* Soumyadip Ghosh Sourav Upadhya Sherry Sharma Rajat Sinha** Meera Datta*** |
| 16 | How to ensure green nanotechnology? | Chinju Mary George Chinthalapudi Venkata Sai Vishnuvardhan Nikhil Kumar Guthi Oleti Bhanu Prakash Omkar Vuddanti Pamidimukkala Dheeraj Chandra Sourish Das* Sparsh Singh Gahlot Sravan Rahul Reddy Gunupati Shivashish Prasad Ronak Jain** Meera Datta*** |
| 17 | How to achieve ultra-high definition cinema screens, displays and televisions using quantum dots? | Chirag Jain Dantuluri Sai Gowtham Varma Pattapu Sai Vamsi Peguda Likhitha Pisupati V N S S K Chaitanya* Suragani Teja Smit Sandip Shah Syed Tasleem Tavva G Nagaranga Sai Narasimha Prudhvith V Nihal Vallamreddy Kowshik Reddy** Amritesh Kumar*** |
| 18 | Can nanomembranes be used for flexible, bendable, rollable and stretchable electronics? | Deepak Atreja Deeptonabho Dutta Pothana Nikhil Potlacheruvu Sai Krishna Vamsi* Pradeep Yadav Prakriti Pritmani Subhadip Ghosh Varuni Agarwal Vemulapalli Rishika Chowdary Venkat Ramana Appanaboina** Amritesh Kumar*** |
| 19 | Can nanoparticle copper suspensions replace lead based hazardous materials normally used in electronic assembly processes? | Vintha Sai Vamsi Krishna Reddy Devansh Anhal Dhruva Agarwal* Praneeth Sai Madireddi Preetham Reddy Neelapu Preetham Venkata Paritala Purvi Madhusudhan Vishwas Saini Vonteddu Jashwanth Reddy Yarramraju Janaki Rama Raju Yash Rastogi Vaibhav Vijay Singh** Amritesh Kumar*** |
| 20 | Can nanotubes be used in place of copper cables for reducing transmission line losses as they have lower resistance in comparison with copper cables. Can carbon nanotube wires be used in high frequency transformers and inductors? | Eagala Hari Venkata Durga Prasad Eluri Sriram Raghav Gupta Rahul Ghosh Rahul Poddar* Rajat Srivastava Vibhor Gupta Yash Agrawal Yogesh Sharma Pooja Sreemoyee Nag Shiv Bajpai** Amritesh Kumar*** |