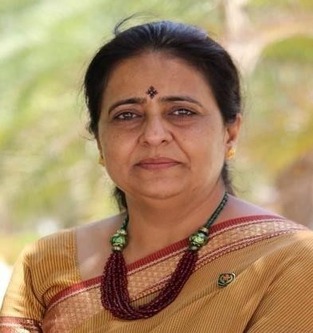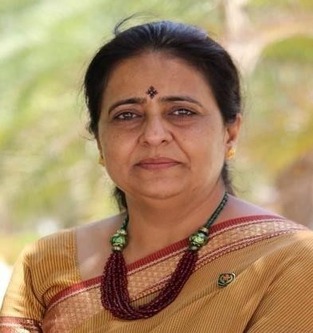 Dr Vandana Suhag, in addition to her post graduate degree in Chemistry, holds MBA and PhD degree. She has excelled in various academic and administrative positions in institutions of higher learning during her career spanning more than two decades.
Right since beginning of her career in 1997, she had been associated with the Manipal Group holding various administrative and academic posts which included those of Registrar, initially at Sikkim Manipal University, later at Manipal University Jaipur and DIT University. She has been the Dean, Education Quality BML Munjal University, Haryana.
Her main forte is conceptualizing new initiatives in teaching-learning and assessment processes, plan implementation, inter-institution collaboration at national and international levels, industry- academia tie-ups, student support services, HR processes and quality assurance measures. With her penchant for cross- functional team management, handling of legal matters, development of internal quality assurance processes, alumni relations and facilitating entrepreneurship initiatives she has been able to add value to overall functioning and progress of institutions she has worked for.
Besides her overall administrative and academic acumen, she brings strong leadership qualities to her position in any higher education institution that she serves. She has been part of NAAC Peer Team for assessments.
She is deeply involved in engagements with regulatory bodies and accreditation agencies for furtherance of institutional interests. Some key roles she has performed are – improving quality in education; planning finalizing national and International partnerships, industry-academic tie-ups, and corporate relations, achieving research outcomes, preparing the institution to participate in various ranking and accreditation processes.
She believes that personal and professional growth is dynamic phenomenon that needs to be pursued relentlessly but with loyalty, honesty and dedication to the job assigned. With her rich experience, capacity to plan ahead, initiative taking ability and leadership qualities Dr Vandana Suhag is committed to contribute positively to any organization that she serves.
Courses taught (UG / PG level)
Publications
View More
Book & Book Chapters – 01
Selected Publications
1.  Hiteshi Tandon, Poonam Yadav, Tanmoy Chakraborty*, Vandana Suhag (2022). Can chemical reactivity descriptors explain catalytic reactivity?, Journal of Organometallic Chemistry, 960; DOI: 10.1016/j.jorganchem.2021.122229
2. Hiteshi Tandon, Prabhat Ranjan, Tanmoy Chakraborty*, Vandana Suhag (2021): Polarizability: a promising descriptor to study chemical–biological interactions; Molecular Diversity, DOI: 10.1007/s11030-020-10062-w
3. Hiteshi Tandon, Tanmoy Chakraborty, Vandana Suhag; (2021); A Scale of Absolute Radii Derived from Electrophilicity Index; Journal of Molecular Physics ISSN 0026- 8976; DOI Link 10.1080/00268976.2020.1820594
4. Hiteshi Tandon, Sandip Kumar Rajak, Tanmoy Chakraborty, Vandana Suhag; (2021); A Relationship Between Magnetizability and Chemical Potential; Journal – Chemical Papers;; ISSN – 2585-7290
5. H Tandon, T Chakraborty, V Suhag (2021); On The Validity of Minimum Magnetizability Principle in Chemical Reactions; Acta Chimica Slovenica 68 (1), 178-184
Awards & Recognition
1. Dr B R Ambedkar National Award -2018 for outstanding contribution in promotion of Social Justice and Olympism through Lifetime Contribution in Education
2. "Vashishta Naari Samman" on International Women's Day, March 08, 2018 by Manipal University Jaipur
3. Honored with "Principals & Teachers Award 2016" by Simply, Jaipur in the year 2016
4. Awarded "Crop Research Award", by Agriculture Research Information Centre for year 2004
5. Awarded Best Research Paper Award during International Conference on "Nature
6. Farming and Ecological Balance" held at Ch. Charan Singh University of Agriculture, Hisar (Haryana) 2001
7. Received "Honor Scroll" during National Symposium on 'Nature Farming for Sustainable Agriculture held at Dalmia Research and Health Care Sansthan, Pilani (Rajasthan)1996
Professional Activities & Achievements
Delivered a keynote address in a one-week symposium (webinar series) at Teerthankar Mahaveer University on "Purpose, Challenges and Implementation of National Education Policy 2020" sub theme "Teacher Education, Governance and Leadership" on 11 Sept 2020
Delivered a talk as one of the panelists at IUCEE Leadership Summit (Virtual) on July 10-12 on Stimulating Research Excellence
Organized a webinar series on Research Assessment for effective Assessment, inviting eminent speakers from academia, industry and policy makers to share their views on creating next generation framework for enhancing research, development, innovation and knowledge creation in July 03, 2020
Chief Organizing Committee Member Chair, a National Conference on "Emerging Trends on Advances in Material Science 2020 (ETAMS2020)", January 16th-17th, 2020
Participated as Delegate at Seventh International Conference on "Transformation in Engineering Education" (ICTIEE-2020) January 5th-8th, 2020
Chaired a session at ISEPD & EXPO 2018, 19th International Symposium on Eco- Materials Processing and Design, February 19- 24, 2018
Chaired a session at ISCB International Conference (ISCBC-2018), Frontier Research in Chemistry & Biology Interface, 11th -13th January, 2018
Chaired a session International conference on Physical Education: Emerging trends in fitness & sports Sciences, January 5-7, 2018
Member Advisory Committee in National Conference on "Recent Trends in Research in Chemical Sciences (SERC & DST sponsored), February 21- 22, 2014
Executive member of the International Conference on Indo-Swiss Bonding held in February 2010
Executive member of Induction Training Programme for the new entrants of the Civil Services – Sikkim Govt. Officials, three months MDP, September 14 to December 19, 2009
Paper presented in Conference on Sewage and Industrial Effluents; Their Impact on Soil Health; 4th International Congress of Chemistry and Environment (ICCE- 2009) held at Thailand from January 21-23, 2010
Committee Chairman in the organizing team of the 14th National Children's Science Congress held during October 27-31, 2006 hosted by Sikkim State Council of Science and Technology, Gangtok. His Excellency the President of India inaugurated the congress.
Member of Organizing Committee in International Society of Biotechnology Conference held at Sikkim Manipal Institute of Technology during December 28- 30, 2008
Participated in International Conference on Sustainable Regional Development at SMIT, February 22 – 24,2007
MDP for North Eastern States with the collaboration of North Eastern Council for the Civil Officials from September 4-9, 2006 in Gangtok
Traditional Bamboo Based Technology: A Study of Lepchas of Sikkim.
Paper Presented in the Conference of 2nd International Congress of Chemistry & Environment at Emerald Height International School, Indore India. (December 24 to 26, 2005)
National seminar on "Productivity and Quality in Higher Education & Training Challenge and Opportunity" on March 10, 2018 at Manipal University Jaipur
Attended a workshop on Professional Development of Women Academicians for Leadership in Higher Education at Manipal University Jaipur (October 06, 2018).
Other interests
Travelling
Reading books
Exploring nature
Listening to music