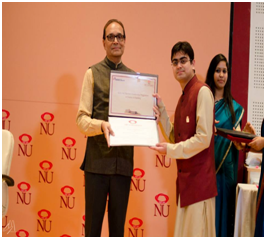 NIIT University Celebrates Fourth Convocation Ceremony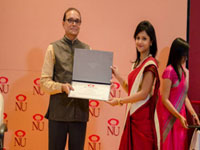 NIIT University (NU), a model of excellence in higher education, recently hosted its fourth Convocation Ceremony on 3rd November 2014 at the NIIT University campus, Neemrana, Rajasthan. On this significant day renowned academicians, industry leaders, parents and students converged at NU to grace the occasion

On this occasion, Mr. K. Ram kumar, Executive Director, ICICI Bank,was the Chief Guest and delivered the Convocation address. Mr. Rajendra Pawar, Padma Bhushan, Founder of NIIT University, Mr. Vijay Thadani, CEO, NIIT Ltd. and Co-founder of NIIT University and Dr. Rajendra Kumar Pandey, President, NIIT University were other notable people present to honor the guests. Distinguished luminaries, guests and parents joined to celebrate the event and it was a privileged moment to hear the progressive thoughts by the invited dignitaries.

Mr. Ram Kumar mesmerized the audience with his Convocation speech on the topic of "Professionalism". His words of wisdom were strong and compelling. Drawing instances from Indian mythology to narrating incidents from his personal life, he urged concept of 'clarity', 'steadfastness' as a pre-requisite for professional. To him, "knowledge which cannot be put at the altar of duty is of no value". He invoked the spirit of perfectionism by linking it with a strong sense of duty and the urge to get a work done just because "it needs to be done". His speech centered round the idea that professionals take ownership of their own work responsibility of what others do. Mr. Ram Kumar's speech was awe-sticking and indeed immensely apt for the fresh graduates, all ready to take on the world of professionals.

After the speech by the chief guest, Dr. Rajendra Kumar Pandey, President NIIT University, a renowned academician, a scientist and an academic writer of repute, awarded degree certificates of MBA, M.Tech and Btech to 236graduating students of the University. The academic toppers in each area were awarded gold medals and the University all-rounder was also felicitated by a gold medal.

In his closing speech, Dr. Rajendra Kumar Pandey congratulated the graduates and the entire NIIT University family, expressed his appreciation for the collaborative effort of making the Convocation Ceremony a success.