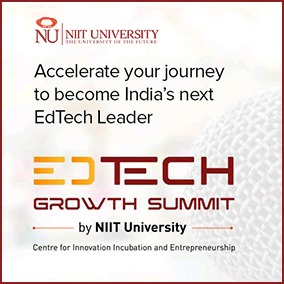 NIIT University (NU) set to organise 'EdTech Growth Summit' on 13 October to build next gen leaders
Drawing upon the legacy of the NIIT Group, the first of its kind Growth Summit for EdTech founders will galvanise industry experts, mentorship and funding opportunities
NIIT University (NU), is organising a virtual EdTech Growth Summit from 2:30pm onwards, on Thursday, 13 October 2022, to chart a growth path for emerging EdTech leaders in the higher education and skilling space.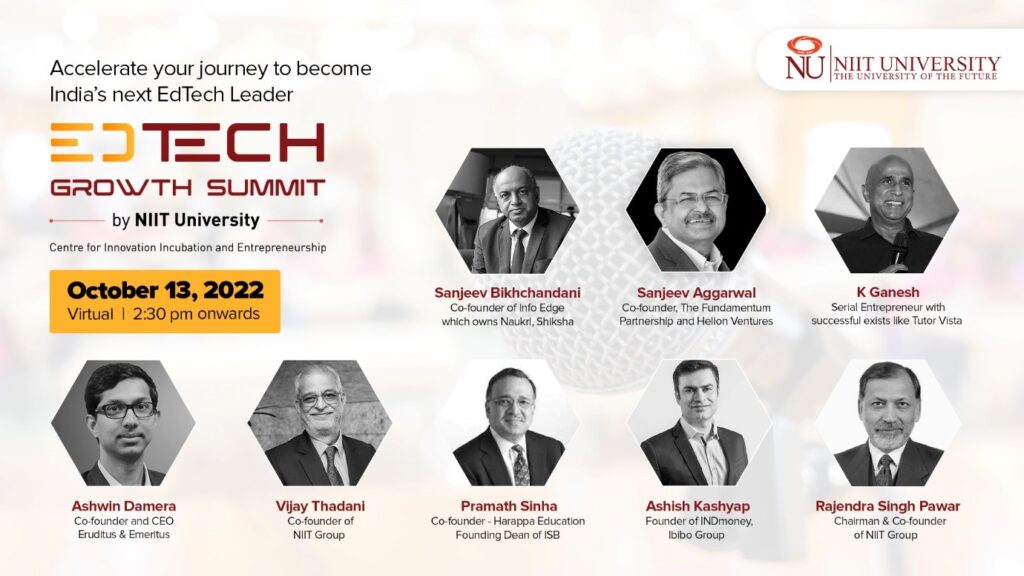 Select start-ups will get an opportunity to participate in the Founders Growthcamp at NU from 16-18 November 2022. They will get a chance to pitch their ideas and raise funds for their start-ups from top VC investors and the NIIT Group.
Drawing upon the legacy of the NIIT Group, the first of its kind Summit has been designed in consultation with industry experts and top investors to support promising Edtech start-ups accelerate growth through knowledge sessions, mentorship, funding opportunities, and more.
Industry experts and successful entrepreneurs such as Sanjeev Bikhchandani, Co-Founder of Info Edge which owns Naukri.com, shiksha.com; K Ganesh, serial entrepreneur with successful exits like TutorVista; Sanjeev Aggarwal, Co-Founder, The Fundamentum Partnership and Helion Ventures; Ashwin Damera, Co-Founder of Emeritus & Eruditus; Pramath Sinha, Founding dean of ISB and Founder of Harappa Education; Ashish Kashyap, Founder of INDMoney & Ibibo Group; Rajendra Pawar, Chairman and Co-Founder of NIIT Group; Vijay K Thadani, Co-Founder of NIIT Group, will share their insights with emerging EdTech founders.
The EdTech Growth Summit will feature a mix of keynotes, fireside chat, and panel discussions led by industry experts with live Q&A to provide guidance to the founders of early-stage start-ups. Apart from that young entrepreneurs will get a networking opportunity with industry experts and peers.
One of the key highlights of the summit is its partnership with Microsoft for Startups, Founders Hub. Select promising startups who are invited to the Founders Growthcamp will get a direct entry into Microsoft's Founders Hub programme. They will also get access to up to $150K in Azure credits, free access to Microsoft productivity tools as well as its extensive mentor network.
To know more and to register for the EdTech Growth Summit, please click here
To read the pre-event press release, please click here