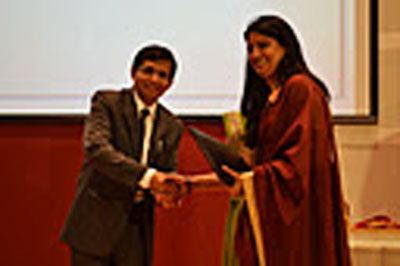 A Historic Day: The First Convocation Ceremony
NIIT University started its journey just a few years back and November 12 was a day to rejoice with the celebrations of the first convocation at University. This day opened a new chapter in the annals of history and a new saga that will be remembered in many many years to come.

9 students of Master of Technology in Educational Technology were conferred with degrees on this day in a somber and traditional Convocation ceremony. With the blessings of the Chairperson, NIIT University, Dr. Karan Singh and the Chief Guest, Mr. Vishwanathan Anand, the students gracefully and ceremonially received the degrees from the Chairperson, Academic Council, NIIT University, Dr. Rajeev Shorey.

The Gold Medal on this occasion was awarded to Sreekala R. for her consistent and outstanding performance in the MTech, Educational Technology Program.

Ready to embark on a new journey of life, the students were seen beaming with pride, nostalgic about moments spent together at the University campus and looking forward to carve a niche for themselves in the future.

NIIT University is proud of the academic achievements of these outstanding students, who are fine examples of the University's vision in developing extraordinary brilliance. We wish them luck and joy to accept the challenges and celebrate the exhilaration of victory.