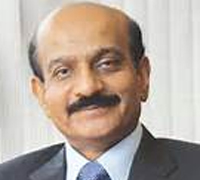 Dr B. V. R. Mohan Reddy's interaction with students
B.V.R. Mohan Reddy is the Founder, Chairman and Managing Director of Infotech Enterprises, an Engineering and R&D (ER&D), network design optimisation and data management solutions company. As a first-generation entrepreneur, Mr Reddy sensed the opportunity and established Infotech Enterprises with a vision to provide engineering services to global markets. Mr Reddy successfully nurtured Infotech into a world-class, sustainable organisation. He built Infotech on a strong foundation of Values FIRST (Fairness, Integrity, Respect, Sincerity and Transparency) and transformed the four stakeholders (customers, employees, investors and society) into pillars of strength. He is passionate about Corporate Social Responsibility. Through its Adopt-a-School initiative, Infotech touches the lives of over 10,000 underprivileged children.


He also undertook several initiatives of inclusiveness viz., to support women empowerment and development centers in Tier II towns. Mr Reddy is a proud recipient of an honorary doctorate from JNTU Hyderabad; Distinguished Alumnus Award from IIT Kanpur and ASME (American Society of Mechanical Engineers) CIE Leadership Award for outstanding leadership in advancing the use of computers in information engineering. Mr Reddy is a member of the NASSCOM Executive Council since 2003. He also served as the Chairman of CII Southern Region. He is currently the Chairman of the Board of Governors, IIT Hyderabad.