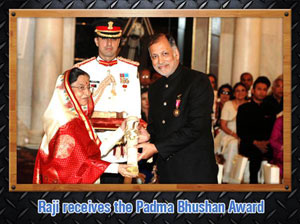 Founder NIIT University awarded the Padma Bhushan Award
April 1, 2011 was a momentous occasion when Founder of NIIT University, Mr. Rajendra S Pawar was awarded the Padma Bhushan by the President Pratibha Devi Singh Patel at a grand event in Rasthrapati Bhawan.

This very prestigious national recognition has been conferred on Raji for revolutionizing the IT landscape in India. His visionary excellence has been exhibited in initiating innovative methods of evolving in a challenging business environment. His leadership and thoughts have not only shaped NIIT but have been instrumental in shaping the industrial policy of the entire nation.

NIIT University's uniqueness as a University of brilliance that aims to nurture extraordinary leaders of the future also stems from Raji's vision and we at NU are immensely proud of this very remarkable achievement of our dear Founder.