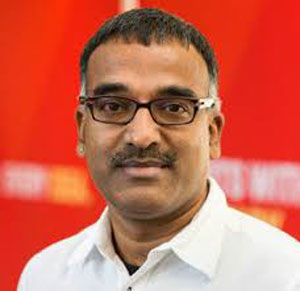 Invited Talk – My Journey with Innovation and Entrepreneurship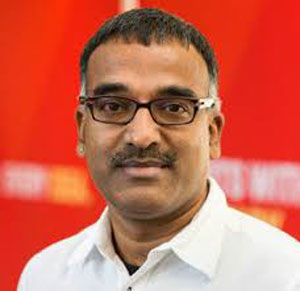 "Research and Innovation" being one of the core principles of NIIT University, we had the privilege to invite Shri Ramesh Loganathan to our University to enlighten the students by sharing some of the valuable experiences from his long journey as an industry leader and entrepreneur. Shri Loganathan is the Managing Director and VP (Products) of PROGRESS SOFTWARE (India). Besides, Shri Loganathan is a regular speaker at tech seminars and conferences and an active member of the IT industry organizations NASSCOM and ITsAP.

He has co-authored a book "SOA Approach to Integration". He is an active in the Hyderabad startup ecosystem – driving early stage startup events for TiE Hyderabad. He is a part of the think-tank group – Hyderabad4Innovation that comprises of 14 key leaders in industry and tech education in Hyderabad who are looking for ways to nurture and develop tech innovation in the city.

The talk began with Shri Loganathan sharing some insights from his school days at 'Space Central School' in Sriharikota. The Indian Space Research Organization (ISRO) being close to his native place, he had a great exposure towards technology right from his childhood. He also talked about his college life while perusing his engineering degree and encouraged the students to learn and experiment with new technologies while studying at the university. Further, he also shared some of his experiences from his work life in Hyderabad.

He motivated the students to think 'outside the box', explore new things and learn to take risks. He said that students should get involved in various events like Hackathons, Startup Weekend, Startup Saturday, etc. to connect with the community of like-minded people and develop new skills. He discussed about creating awareness about entrepreneurship among students and stressed the fact that 'Job Creators' are as important as 'Job seekers' in today's world. He talked about the emerging field of startups in India and the facilities that are being provided by the Government of India through initiatives like "Startup India", and by various other organizations, to nurture and support the startups in the developing stage. In the end, Shri Loganathan encouraged the students to make the best use of the resources available to them, keep exploring new fields and develop new skills so that they can achieve their goals and become successful in their lives!