NIIT University 9th Convocation, 19th October 2019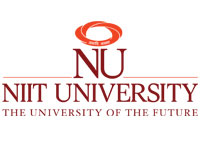 NU held its 9th Convocation ceremony on Saturday, 19th October 2019. 308 students were awarded degree certificates for successful completion of academic programmes in various disciplines.



BTech – 226
MTech – 05
MBA (Business Analytics) – 64
Postgraduate Diploma (Banking & Finance) – 09
PhD – 04

The convocation ceremony began with Saraswati Vandana. This was followed by the Welcome Address delivered by Mr Rajendra S Pawar, Founder, NIIT University. The degrees were awarded by Prof V.S. Rao, President, NIIT University. Mr Vijay K Thadani, Co-Founder, NIIT University introduced the Chief Guest, Prof K VijayRaghavan, Principal Scientific Advisor to Government of India. Prof Rao delivered the Vote of Thanks. Prof K Vijay Raghavan delivered an inspiring Convocation Address in which discussed what the world might look like in 30 years – 2050 – from now and what we can to do shape it. He described at length the four factors that are going to play an important role – Humans, Climate, Environment and Biodiversity. He said that from being a Planet of Apes we have evolved into a Planet of Apps. A great amount of environment degradation has taken place and while we know the path that led us to this state, we do not know the return path.