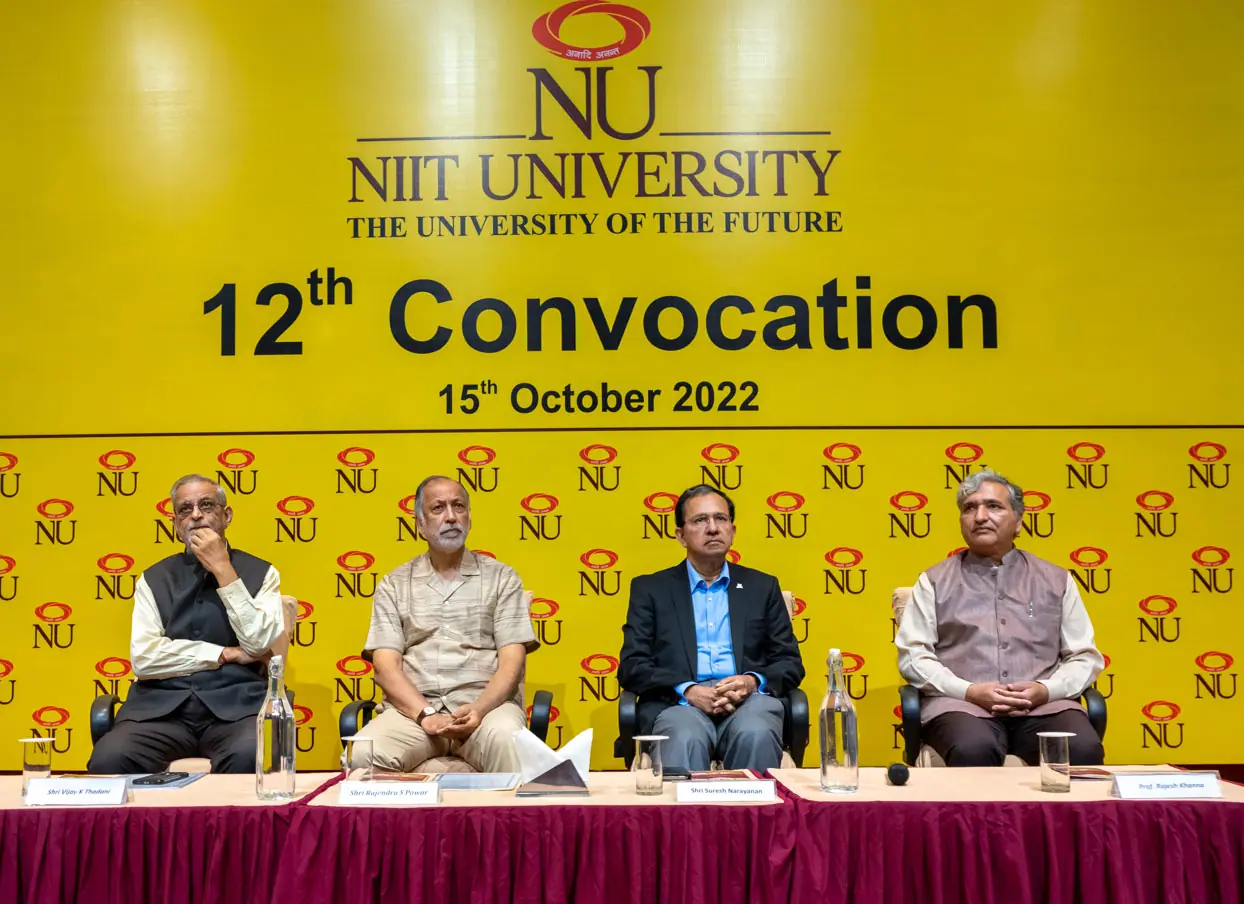 NIIT University holds its 12th Convocation Ceremony
About our Chief Guest, Mr Suresh Narayanan, Chairman & Managing Director, Nestle India Ltd.
Mr. Suresh Narayanan joined the Board of Directors of Nestlé India Limited as Managing Director from 1st August, 2015. Mr. Narayanan has been designated as the Chairman and Managing Director of the Company with effect from 29th October, 2015. He is also member of Corporate Social Responsibility Committee of the Board of Directors of the Company. Mr. Suresh Narayanan holds a Master's Degree in Economics from the Delhi School of Economics. He has a Diploma from the IMD Program for Executive Development and has participated in the Nestlé Leadership Program of the London Business School. He has over 30 years of rich and exhaustive experience in the FMCG Industry and has held senior management and top leadership roles in leading global companies. Mr. Narayanan was Chairman and CEO of Nestlé Philippines prior to joining Nestlé India as Managing Director. Mr. Narayanan joined Nestlé in 1999 as Executive Vice President for Sales in India, where he spearheaded major structural and strategic changes in Sales and Customer Management and set up the chilled dairy business. He moved to Nestlé Indochina in 2003, as Executive Director for Sales, Marketing and Food-Services, covering the countries of Thailand, Cambodia, Myanmar, Laos and Vietnam. Two years later in 2005, he returned to India as Head of Sales for India, Sri Lanka, Bangladesh and Nepal. In 2008, Mr. Narayanan was appointed as Managing Director of Nestlé Singapore Pte. Ltd., and remained there until 2010. During his time the overall business in Singapore witnessed sustained growth amidst the economic downturn. He was awarded the Medal of Commendation by the Government of Singapore in 2010, for excellence in employee relations during this challenging period. He moved to Nestlé Egypt as Chairman and CEO and Head of NEAR, where his initiatives resulted in significant business growth and investments despite the turbulence and volatility faced by the region at this time. Mr. Narayanan began his career as a management trainee with Hindustan Unilever, where he held numerous positions of increasing responsibility in Sales, Marketing and General Management. He has also worked with Colgate Palmolive in India.
Messages
Dr. K. Kasturirangan, Chairperson, NIIT University
Congratulations class of 2022, you have survived the 4 years with grace and passion. I am wishing the best to all graduates during this pivotal time in your lives. Take time to celebrate as your hard work and determination have led you to this point. Now is the time for seizing the future as you venture into a new normal as there are a number of opportunities available to you all. We all look forward to hearing about your future successes and accomplishments. You deserve this day to the fullest. Cheers!!
Mr. Rajendra S Pawar, Chairman & Co-Founder, NIIT Group and Founder, NIIT University
Dear NUtons, In this moment of pure pride and happiness, I want to congratulate all of you for what you have endured and aced through. Like a warrior ship that won't kneel to the high tides, you, my dear Nutons, valiantly fought your way out of this global pandemic and graduated. This is a matter of great pride for NU. Now that this pandemic seems to be nearing its end, the transition is going to be difficult as well. Probably many of you are already working in the pre-pandemic atmosphere. Off one sea, to another, the uncertainty still lingers around. Therefore, I want you to sit down and relax for a moment. The path is far from over. But I believe you will ace that too. Don't forget, your learning doesn't stop here. Work your way in making this world a better place. Take the help of technology and take it as your duty to do so. Learn from the better, teach the ones not so privileged as you. Stay grounded always. I wish you all continued success in this journey that you're about to embark on. Shine all the way through and keep making NU proud!
Mr. Vijay Thadani, Co-Founder, NIIT University, Vice Chairman & Managing Director, NIIT Limited
My dear Graduating NUtons, Heartiest Congratulations to you on this unique milestone that represents a critical achievement in your professional journey. It seems like only yesterday that we interacted with you and your parents on your joining NU. We deliberated on your dreams and aspirations and worked with you to design your future. The world that awaits you in the next phase of your professional life, is experiencing a high degree of volatility, uncertainty, and complexity. While your contemporaries elsewhere would be nervous, I am confident that you are looking at this as an opportunity to display your mettle, by boldly exploring the unknown and solving the new problems that humanity is confronted with. Your companions in this journey will be the diverse competencies that you developed as a NUton; of rich multidisciplinary learning on a strong foundation of human values, and a solid repertoire of professional skills for the 21st Century; agility and adaptivity, curiosity and collaboration, empathy and positive energy. As you cherish the fruits of your hard work, perseverance, and resolve, I wish you all the success in everything that you do. Dream big, embark on who you are, embrace life passionately, and keep reaching for the stars. So, shine on, go for it, and do NU proud!!
Prof. Rajesh Khanna, President, NIIT University
Dear NUtons, As all of you graduating students steer through one of the critical passages of your life, it is a moment of pride, happiness and perhaps even some sadness as you grow into a little less carefree world. It is a great achievement, with the pandemic around, you worked your way through one of the most crucial years of your higher education with flying colors. As this new phase dawns on you with more responsibilities, I want you to keep alive the child within you. What is life without the moments of happiness you create for yourselves and others. Let learning be your tool for growth and your passion be your reason for happiness. Keep exploring new things, find new passions and live life to the fullest. Be grateful for what you have and strive for what you aspire to be. As you head towards this new phase, I want you to walk back the memory lane and relive through some of the sweetest memories of this Campus. I congratulate you on this crucial milestone of your life and wish for you, a life filled with success and happiness. Keep making us proud!
Master of Technology
| | |
| --- | --- |
| Sudipta Kundu | Suyash Khare |
Master of Business Administration
| | | | |
| --- | --- | --- | --- |
| Anup Verma | Karan Singh | Saurabh Kathuria | Himanshi Mehra |
| Mandeep Singh | Nayanjyoti Borkalita | Neeraj Prakash | Payal Chaudhary |
| Sukrit Saxena | | | |
Master of Business Administration (Integrated)
| | | | |
| --- | --- | --- | --- |
| Abhilash Haluvally | Aishi Bhattacharya | Ayushman Rai Shrivastava | Bhargab Deka |
| Gokul Dev Gupta | K Aditya | Mounika Thatha | Naik Aditya Naresh |
| Nehul Choudhary | Parnika Jindal | Pratibha Kumari | Roshan Sinha |
| Sarthak Jain | Sharma Shivani Shravankumar | Sneh Kumar Mishra | Suyash Bapat |
| Ussam Husain Siddiqui | Yadav Govind Suryabhan | | |
Bachelor of Technology
| | | | |
| --- | --- | --- | --- |
| Anmol Sharma | Ayan Kashyap | Hazra Arnav Asim | Kodam Sai Krishna |
| Nimi Vaidya | Nirmit Pokhriyal | Sanskar Agrawal | Sourav Shaw |
| Sundara Kishore Kumar | Yash Jain | Aaditya Gupta | Aayushman Arya |
| Abhinav Gupta | Aditya Abhishek | Aditya Joshi | Ahire Om Kisan |
| Akshat Bhandari | Akshat Jain | Akshay Sharma | Ali Khan |
| Aman Gupta | Aman Kumar Singh | Aman Mehra | Amit Ladha |
| Aniket Chakraborty | Anjan Neema | Ankit Gupta | Ankita Sharma |
| Anoop Gupta | Anup Mishra | Anushree Krishania | Arjun Bakshi |
| Arjun Seth | Arpita Singh | Ashwini Mohapatra | Astha Kumar |
| Avinash Yuvraj Patil | Ayush Gupta | Bhavya Narang | Bhowmik Abhilash Ashim |
| Bora Srikeerthana Reddy | Charitha Chowdary Madala | Darsh Manish Gandhi | Deena Nath Srivastava |
| Deepak Polaram Patel | Deergha Borker | Dishank Kalra | Divtej Singh Bindra |
| Dokku Diwakara Sai Hari Hara Prabhu | Gaonkar Aditya Surendra | Garray Aneesh | Grandy Maddhav |
| Gunturu Sai Prateek Reddy | Gurtejsingh Ahluwalia | Harsh Prashant Bhandari | Hritik Dalal |
| Hritik Minhas | Ish Chaudhary | Jatin Singal | Jitender Reddy Kalli |
| K Harshitha | K Sandeep | K Vivek | Kailash Karthik Sekhar |
| Kanchan Ninad Krishna | Kanishya Mohan | Karwa Ashutosh Narendra | Kashish Chhotaria |
| Kawal Nain Singh Batra | Kesapragada Subramanyam Sai Srivatsav | Kishu Jain | Kolavennu Sai Sri Ganesh |
| Kommineni Monika | Kondra Avinash | Kouthagouni Nikhil Reddy | Kshirsagar Pranav Kishor |
| Madepally Divakar Reddy | Malla Vimal Sanathan | Manasi S Charlu | Mandadi Yamuna Reddy |
| Mayank Garg | Mayank Gubba | Mayuri Mahesh Mane | Md. Zubair Hossain Emon |
| Mohammed Faisal | Mohammed Khaja Inayath | Mohd Hamza Ahsan | Mokilla Rohith Reddy |
| Mousumi Saha | Mudit Dixit | Mundhra Yogesh Pawan | Muskaan Mahindrakar |
| Muskan Goel | N C Mohit | Namburu Eswara Venkata Dhana Naga Sai | Navelli Gupta |
| Nidhi Khemka | Nikhil Khandelwal | Nitish Ranjan | Parmar Harsh Yogeshbhai |
| Pearl Miglani | Pranav Bhardwaj | Pranay Kumar Shrivastava | Prateek Sharma |
| Pratyaksh Mathur | Prerana Manish Bhasein | Priyanshu Joshi | Rajat Kaushik |
| Rajat Sran | Ramaswamy Manikant Reddy | Rangu Sai Kiran | Richard Tony |
| Riona Chakrabarti | Ritav Das | Ritik Chugh | Ritik Sharma |
| Ritu Sihag | Riya Jain | Sachit Pandey | Sagar Makar |
| Sahasrabdi Bhattacherya | Sahil Singh | Sahil Singh Rawat | Sai Praneeth Diddigam |
| Samarth Gangwal | Sandhya Alagarsamy Chettiar | Sarthak Banerjee | Sarthak Khabiya |
| Sarthak Sharma | Sathya Narayana Bhat | Satvik Sharma | Seshadri Dutta |
| Shashwat Kumar | Shefali | Shikhar Dixit | Shravya Gupta |
| Shresth Rana | Shrey Bhardwaj | Shreya Chauhan | Shreyans Jain |
| Shrihari Shukla | Shubham Meher | Siddamreddy Pavan Kumar Reddy | Siddhant Sharma |
| Siddhant Sharma | Siddharth Sharma | Siddhartha Adapa | Siddhi Lad |
| Somanshu Vikram Singh | Somya Gupta | Soumya Shah | Sparsh Kumar |
| Sristi Agrawal | Sudha Chaudhry | Sushmita Nandy | Svayam Krishna Gopal |
| Swattik Chakrabarty | Tammana Karthik | Tanish Gupta | Tanmay Chaturvedi |
| Tanuj Pandey | Thadishetty Somanath Vamshi | Titas Das | Tripti Lamba |
| Trisha Sharma | Tushar Jadli | Vankamamidi Muthya Varshith | Varun Bisht |
| Vidyam Sreevathsav Sarma | Vijendra Raghuwanshi | Virag Sharma | Vishnu Sharma |
| Vyoman Jain | Yash Agarwal | Yash Jain | Yashas Grover |
| Yukta Sharma | Yuvraj Singh | | |
List of Medal Winners - 2022
Dr. Karan Singh Gold Medal-2022
Ram Rajindra Malhotra Medal-2022