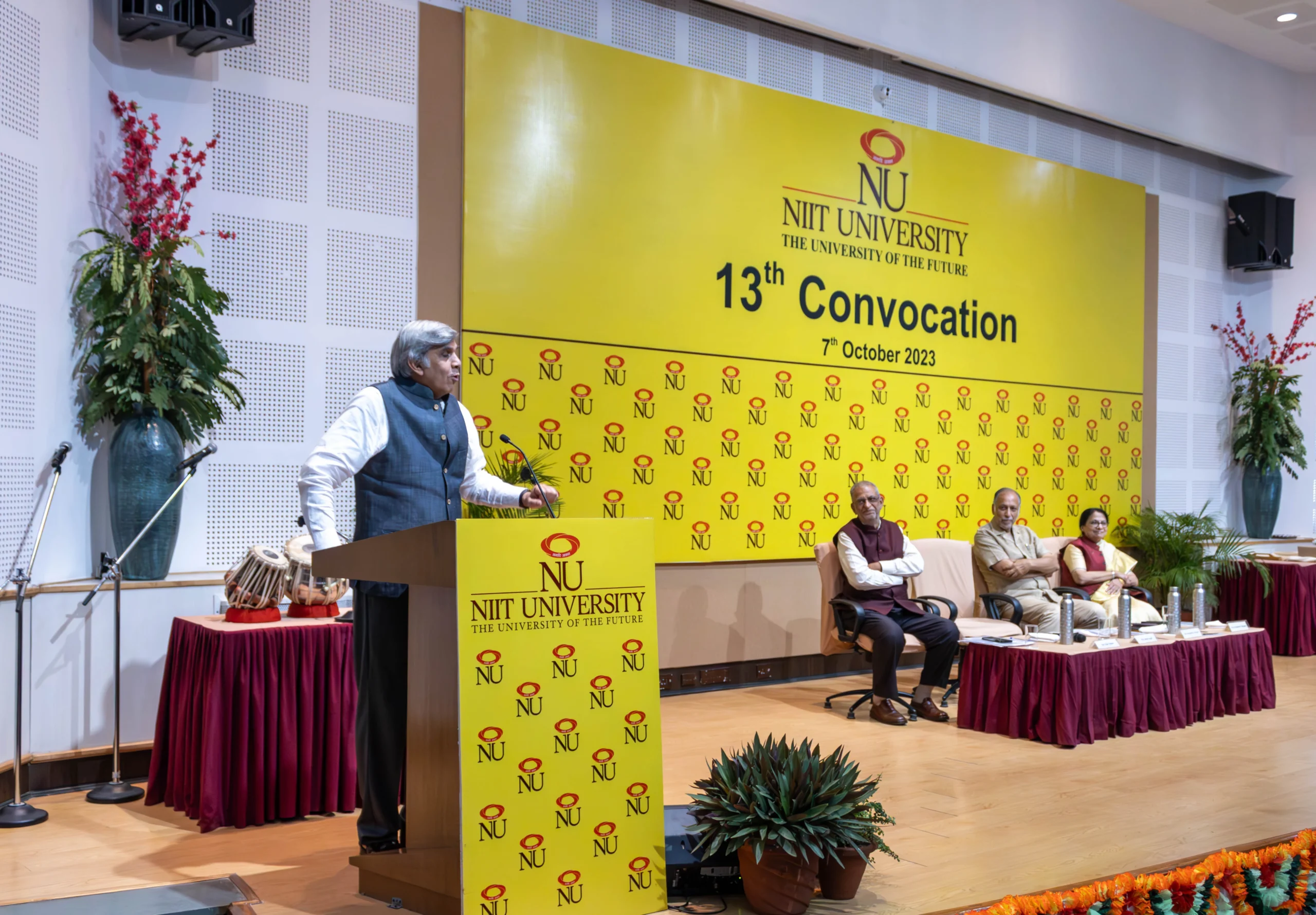 NIIT University holds its 13th Convocation Ceremony
About our Chief Guest, Prof. Dinesh Singh Honoured with Padma Shri, Chancellor, K.R. Mangalam University, Former Vice-Chancellor of the University of Delhi
Prof. Dinesh Singh, Former Vice Chancellor, University of Delhi is a distinguished mathematician and educationist. He has studied at St. Stephen's College and holds a Ph.D. from the Imperial College of Science, Technology and Medicine, London, ranked amongst the top ten universities globally. He is a Distinguished Senior Fellow, Advanced Hackspace, Imperial College as also Adjunct Professor, University of Houston, Houston, U.S.A. He has been awarded the Padma Shri-one of the highest civilian awards of the Government of India-by the President of India in 2014. He has been conferred honorary doctorates-for his work as a mathematician and an educationist-by the University of Edinburgh; the National University of Ireland, Cork; the University of Houston, Houston, USA and the National Institute of Technology, Kurukshetra.
Prof. Singh has been the associated with NU even before its inception. Under his able guidance and leadership, the University discovered its mission and motto. As part of the Founding Professor of NIIT University, he delivered his lecture on "From the Indus Civilization to Srinivasa Ramanujan: A History of Indian Mathematics" in the Year 2010, which is still remembered and referred.
Prof. Singh is internationally known for his out of the box thoughts and innovative ideas. His ideas on project based learning are now being followed across all universities in India and even abroad.
Messages
Dr. K. Kasturirangan, Chairperson, NIIT University
A big applause for the Class of 2023 for successfully navigating through their four years with grace and dedication. At this crucial juncture in your life, I wish all graduates the very best. Take a moment to revel in your achievements, as your hard work has brought you to this point. As you embark on a new normal, countless opportunities await you. Your future triumphs and accomplishments are eagerly anticipated.
This day is well-deserved and calls for a grand celebration. Congratulations, and cheers to a promising future ahead!
Mr. Rajendra S Pawar, Chairman & Co-Founder, NIIT Group and Founder, NIIT University
My Dear NUtons,
As you stand on the cusp of a new chapter in your lives, know that the education and experiences you have gained here at NIIT University will serve as a solid foundation for your future pursuits. Your hard work and determination have not only elevated you as individuals but have also enriched the community around you.
In this moment of pride and happiness, I want to extend my heartiest congratulations to all of you for successfully navigating your academic journey. Like fearless sailors, you have navigated through the challenges and storms, reaching this glorious milestone of graduation. Your dedication and hard work have brought you to this memorable day, and it fills my heart with joy to witness your accomplishments.
As you embark on this new chapter of life, I encourage you to embrace the beauty of the unknown. The future holds a plethora of opportunities and experiences waiting for you to explore and conquer. Remember that learning is a lifelong adventure, and every step you take will lead you closer to greatness.
May you continue to spread your wings and soar high, contributing to your brilliance and kindness to the world. Take the knowledge and wisdom you have gained and let it act as a guiding light for your path ahead. Embrace the challenges with courage and celebrate the successes with humility.
As you pursue your dreams and aspirations, always remember the incredible journey that brought you here. Cherish the memories you have created and the friendships you have forged. And above all, believe in yourself and your potential to make a difference to the lives of others.
Congratulations once again, dear graduates. Your achievements inspire us all, and I have no doubt that you will make your alma matter proud. May your future be as bright as the stars, and may each day be filled with love, laughter, and endless possibilities.
Cheers to your success and to a beautiful future ahead!
Mr. Vijay Thadani, Co-Founder, NIIT University, Vice Chairman & Managing Director, NIIT Limited
My Dear Graduating NUtons,
You are a unique class of graduating NUtons whose resilience was repeatedly tested and strengthened by the adversity and unprecedented global uncertainty of last few years. This was in addition to the demands of academic life and as you learnt to establish your own identity and build your lives beyond the comfort and familiar constructs of your family and home.
You took the many challenges of this journey head-on, overcame obstacles and demonstrated incredible strength, character, courage and conviction. You built strong bonds, supporting each other, and extended a helping hand to those who needed you.
These are the traits that define not just excellent professionals but set the leaders and captains of industry leagues above their peers. We are confident that you will each make your mark in any field of your passion and choosing. And in doing so, you will embrace the grace, dignity and confidence that is so rightfully your own.
The world eagerly awaits the contributions you will make. Your talents, your ideas, and your drive will shape the world in ways one can only imagine. Be bold, be passionate, be compassionate, and be true to yourselves as you forge your unique paths.
We are all extremely proud of all that you have accomplished and will keep cheering for you as you rise to newer and greater heights.
May your future journey be marked by continued success, boundless creativity, and a lasting commitment to making the world a better place.
Prof. Parimal V Mandke, (Acting) President, NIIT University
On this momentous occasion, I extend my most heartfelt wishes to you for the successful completion of your academic journey. You have demonstrated your mettle as you navigated the crests and troughs of your academic journey at NIIT University. As you stand on the threshold of a new future, I hope that brighter opportunities come your way and you achieve success in all of them!  I feel confident that your intelligence, your capacity for hard work, the holistic and wholesome education you have received at NIIT University, have surely given you wings to fly.
At this point, I would also like to remind my dear graduates of this ennobling feeling of great friendships that you have forged during your time at the University. At your graduation, I am sure you are bound by enormous affection, by your shared experience of a time that could never come again and of the everlasting memories of a time well-lived.
So today, I wish that all of you soar high, devoted to your passions and dreams, and tread forth, with great kindness in your hearts, limitless joy, and passion for your goals. And for all your tomorrows, I wish you boundless success, happiness, and a great journey ahead. Congratulations once again on this momentous milestone!
In the end, I leave you with the wise words of Seneca,
"As is a tale, so is life: not how long it is, but how good it is, is what matters."
I wish you all very good lives. Thank you very much.
Doctor of Philosophy
Rahul Shandilya
Prashant Gautam
Supratik Banerjee
Charu Kapoor
Arun Kumar
Jetendra Joshi
Master of Technology
| | | | |
| --- | --- | --- | --- |
| Divya C Senan | Gulroop Kaur | Dhaigude Vinit Dattatray | Abhilash Singh |
| Abhishek Kumar | Abhishek Verma | Aisha | Amit Ranjan Sahoo |
| Ammanola Pramod | Ananthu R Krishnan | Anurag Chowdhury | Anurag Kumar Arora |
| Aparna Rohatgi | Arjun Anil | Aswin Vijay. V. L | Awanish Kumar Sharma |
| Bala Aditya Kota | Bhide Chinmay Pralhad | Burgala Swetha Reddy | Chaugule Amit Ashok |
| Chittari Chitra Rekha Varma | Dhanwate Dnyaneya Kishor | Dheeraj Kumar T C | Dipendra Kushwah |
| Ganesh. V. K | Gnani Chintapalli | Jerald K Philip | Jitendra Kumar |
| Jomy John Mathew | Kiran Raj | Kota Anil Kumar | Kurulla Sabarish |
| M Shiva Phanindra | Mahesh M | Maheswaran Vigneswaran | Mohammad Faheemuddin |
| Mohd Shadab Khan | Naman Sharma | Naresh Kumar | Naveen Sabarish I |
| Neeraj Arora | Nithiyanandam P | Patel Anantkumar Dilipbhai | Pradeesh Kumar R |
| Raj Kumar Sharma | Ravi Amardeep Kucheria | Sangeetha Krishnan R S | Sanjana S Krishnan |
| Sarathkumar M C | Sayan Kanti Mukherjee | Shaik Riyaz Ali | Sharat Vishwanatha |
| Shreyas Raj Biswal | Shuvam Ghosh | Sri Abirami K S | Sruthi P S |
| Subhan Ghosh | Sumedha Gandhi | Tipperti Bharath Reddy | Vaibhav Sharma |
| Vatan Bansal | Vijayabharathi K | Vinay A S | Yogi Kubba |
Master of Business Administration (Integrated)
| | | | |
| --- | --- | --- | --- |
| Abhay Jeet Singh Barar | Abhi Jain | Aman Jain | Amisha Das |
| Ansh Goel | Awantika Kedia | Banawalikar Aditi Prasad | Bhonge Prajit Abhijeet |
| Bhosale Yash Jaysinh | Bibin Savio | Bishnoi Anil Hapuram | Chahana Mehra |
| Chelimela Sirisha | Haria Urvish Mahesh | Harshal Jayant Behere | Meghna Banerjee |
| Nirnoy Datta | Raghav Dutt Pathak | Rashi Srivastava | Ritwika Choubey |
| Ruchir Rajesh Bhutara | Sai Ram Kolaganti | Shonali Dutta | Vaishali Jagwani |
| Kampa Guna Kalyan | Piyush Jamodiya | R Naveen Raj | Solanki Shruti Chandraveer Singh |
Bachelor of Technology
Addagiri Nagarakesh
Gurnaaz Singh
Yash Kejriwal
Dev Vohra
Gaurav Sengar
Harsh Vardhan
Jayant Khanvilkar
P Rushil Prabhakar
Pranay Mokida
Prerak Anand
Shanu Nirwan
Vishal Shukla
Aanya Mittal
Aayan Nayak
Aayush Kumar Mahato
Abhimanyu Kumar
Abhimanyu Singh
Abhinav Singh
Adarsh Kumar
Aditya Choudhari
Aditya Mahajan
Agam Goel
Aishwarya Choorakuzhiyil
Akansha Tomar
Akshada Kulkarni
Akshit Khandelwal
Ananya Khare
Ananya Tripathi
Anayna Nidhi Singh
Antarlina Paul
Anurag Porel
Aparna Anto Raphael
Aparna Sivasailam Ramesh
Archa Dave
Arushi Mittal
Aryan Dhawan
Aryan Raj Shaw
Ashwin Yadav
Avi Apratim Sinha
Avishek Roy
Ayush Jha
Ayush Pandey
Bachu Gopi Sharan
Baddela Sree Yashaswi
Bhoghireddi Venkata Sai Pavan
Boppana Hima Sai Manindra Nag
Chava Divya Teja
Chirag Bhatnagar
Chirag Chawla
Cynthia Banerjee
Deepak
Devanshu Singh
Diksha Dutt
Divyanshi Yadav
Drishti Bahl
G Shalom Sasmitra Shreyan
Gonuguntla Harichandana
Gourav Agrawal
Govind Achyuth Goud
Govind Rajendra Chaurasiya
Harsh Pandey
Harsh Wadhwa
Himanshu Wadhwa
Ishika Shruti
Jaswant Kondur
Jatin Sharma
K V K S Pravallesh
Kalluri Divija
Kapuganti Saketh
Karunesh Rajesh Bamanjogi
Kashish Malhotra
Kaustubh Mahesh
Kerav Nahar
Kesa Nikhith
Keshav Mittal
Kinjal Parate
Komuravelly Ajith Kumar
Kondri Sai Ganesh
Kothapally Kaushik Narayan Reddy
Kumar Aditya Jain
Kushagra Mishra
Laasya Sree Talluru
Lakshay Joshi
Lakshay Saini
M Abhishek
Madhav Mehta
Mahak Faheem
Mallela Lokesh Reddy
Mankaran Singh Bhatia
Manu Gupta
Mayank Gupta
Md Yusuf Khalil
Meenakshi S Reddy
Mehakk Lunkar
Mohd Ibrahim
Mohit Jain
Moturi Maneesh
Mrityunjay Manoj Kumar Sahoo
Neelanjan Mahato
Neha Chopra
Parth Shrivastava
Piyush Mishra
Prabh Simran Singh Sethi
Prabsaran Singh
Pragya Arora
Pranjali Dumbre
Prince Jain
Pulipati Raj Mohan
Raghav Dunga
Rahul Grover
Rajeswari Nanda
Rajita Agrawal
Rochishnu Paliwal
Rosy Chadha
S Sharan
Sahil
Samyak Jain
Sarthak Malik
Sarvesh Mahajan
Satyam Mahajan
Selina Goel
Shailesh Shiroha
Shinde Siddhesh Pratap
Shourya Rohilla
Shruti Vinod Nair
Shubh Sehgal
Siddharth Mehta
Soham Pal
Soman Yadav
Sourabh Asharma
Staveta Parashar
Sudhanshu Kumar Lodhi
Sura Karthikeya
Syed Naved Akhtar
Tanvi Narkhede
Tulika Arun
Tushar Malhotra
Uday Som
Utkarsh Nagar
Vaasu Sohee
Vaibhav Gangaram Shelar
Vasu Dev Mishra
Vatsal Bajaj
Vishal Sahu
Vishesh
Vraj Patel
Vujjini Rohith Rao
Vutukuru Sai Kumar
Yash Nehra
Yoga Bhavagna Jonnala
Master of Science (Integrated) in Computer Science
Chaitanya Chaudhry
Jasoswini Panda
Gabrial Weion Fancon
Piyush Kalyani
Surya Deep Das
List of Medal Winners - 2023
Dr. Karan Singh Gold Medal-2023
Ram Rajindra Malhotra Medal-2023