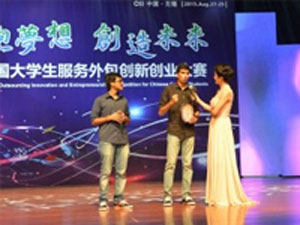 NIIT University students outshine at the 6th All China University Software
Recognized for developing "Astra" – a unique product to protect web sites from hackers
New Delhi September 3, 2015: Students from NIIT University (NU), Shikhil Sharma and Ananda Krishna of B Tech Computer Science, emerged as winners at the 6th All China University Software Innovation & Entrepreneurship Competition, hosted at Wuxi, China. Shikhil and Ananda received top honours for their unique software product "Astra" designed to protect web sites from hackers, real time. The product was developed by them at NIIT University. Astra generated significant interest and received many partnership enquires from the Chinese Software industry.

Over 300 Chinese Universities participated in the 6th All China University Software Innovation & Entrepreneurship Competition that was organised by the Govt. of Wuxi and the Ministry of Education, Beijing. The competition was attended by dignitaries from Academia, Industry and Government bodies in China.

Speaking on occasion, Dr. Rajendra Pandey, President, NIIT University, said, "It has been a continuous endeavour at NIIT University to set global standards and encourage Research and Innovation in higher education. The achievement of Shikhil and Ananda indicates that we have been advancing in the right direction. I heartily congratulate them for developing such a unique product. NIIT University is very proud of their success in the international arena."Established with a vision to bring about innovation in higher education and learning in emerging areas of the knowledge society, the not-for-profit NIIT University is dedicated to building great careers and ensuring excellent job opportunities to all its students. Nestled in the foothills of the Aravali range in Neemrana, Rajasthan, the picturesque 100-acre fully residential green campus of NIIT University is equipped with state-of-the-art technology-enabled methodology that is backed by a strong research-focused curriculum for facilitating a continuous process of learning and development. Since its inception in 2009, NIIT University has made significant progress in research and innovation in curriculum development and design. Conceptualized as an institute of excellence, NIIT University provides exceptional education based on the four Core Principles that make learning industry-linked, technology-based, research-driven and seamless.

About NIIT University
NIIT University provides B.Tech programme (4 years) & the B. Tech – M. Tech Integrated dual degree programme ( 5 years) in Computer Science Engineering, Electronics and Communication Engineering and Biotechnology. The University imparts knowledge in technologies of the future through a cutting edge curriculum using the core principles of providing industry-linked, technology- based, research driven and seamless education. The students from the University have bagged internships in prestigious organizations in India & abroad. B. Tech students also get the opportunity of a 6 month work experience before they pass out.

NIIT University also offers a 2 year full-time MBA programme full-time MBA Program whose concentration areas include Digital Marketing, Business Analytics, e-Commerce, Management of Technology and Banking.

The MBA Program at NU demands and encourages the students to explore and connect with the multiple dimensions of today's business environment. NIIIT University recently has been awarded with the title of e-GOV Campus during ET E TECH Summit.

NIIT University has also entered into an academic collaboration with University of Missouri, Kansas City, USA, which enables students to complete their B. Tech from NIIT University and M.S in Computer Science Engineering in 5 years. NU is notified by the Government of Rajasthan u/a 5 of 2010 and covered u/s 2(f) of UGC Act.

Contact us at: 1800-1035050
Visit: www.niituniversity.in

For media queries, please contact:
Sumana Bhattacharya / Puja Shalini
Candour Communications
Ph: (Cell) +91 98105 97176/ +91 9654850909
Email: sumana@candour.co.in / puja@candour.co.in