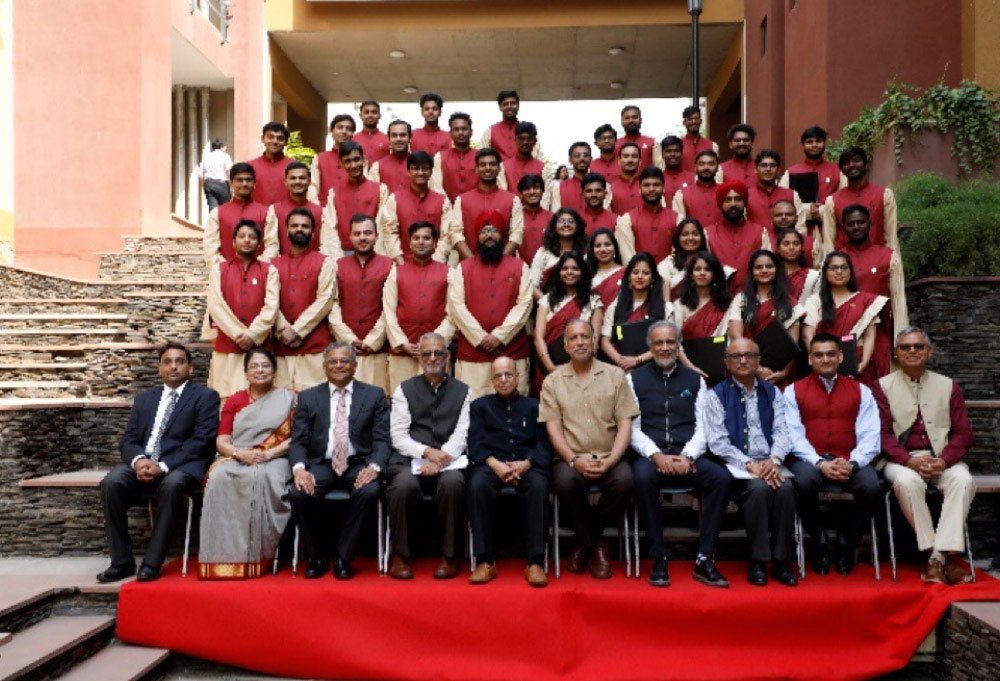 NU Holds a round table on Solid Waste Management as part of Swachh Bharat course under AOC
NU held its 8th Convocation ceremony on Saturday 6th October 2018. 517 students were awarded degree certificates for successful completion of various programmes, including BTech, MTech (Business Analytics) MBA, PG Diploma (Banking & Finance) amongst others. These fine young professionals have done NU and their parents immensely proud and will carry forward the NU legacy wherever they go.
The 8th Convocation was special in more than one way. Dr K Kasturirangan, Former Chairman, Indian Space Research Organisation, graced the occasion as the Chief Guest. The University awarded its first honorary doctorate to Shri F. C. Kohli, 'Bhishma Pitamaha of the Indian Software Industry' and the first CEO of Tata Consultancy Services (TCS). Ms. Debjani Ghosh, President, NASSCOM and Mr Arvind Thakur, Vice Chairman and Managing Director, NIIT Technologies were our esteemed invited guests. Mr Rajendra S Pawar, Founder, NU and Chairman, NIIT Ltd. and Mr Vijay Thadani, Co-founder, NU and Vice Chairman and MD, NIIT Ltd. were also present on the occasion.
Congratulating the students on their success Dr K Kasturirangan, Former Chairman, Indian Space Research Organisation said, "I find that the academic programs of NU are very thoughtfully strategised in terms of its industrial linkage, being technology driven with appropriate focus on research coupled with seamlessness. I have no doubt that NU is moving in the direction of becoming a world class Centre of learning and erudition".

Shri F. C. Kohli, Founder, Tata Consultancy Services gave his heartiest congratulations to all the students and wished them success in the years to come. Shri F. C. Kohli is a renowned Indian industrialist. He has been conferred with various distinguished awards and honours. In 2002, Mr Kohli was awarded the Padma Bhushan for his contribution to the Indian Software Industry. Speaking at the convocation, Mr Rajendra S Pawar, Founder, NU and Chairman, NIIT Ltd. said, "By honouring Mr FC Kohli, the Father of the Indian Software Industry, NU honours itself." "Established in 2009, NU has perfected and internalised the tradition of 100% placement, 5th year running", added Mr. Pawar.

Prof V. S. Rao, President, NIIT University, said, "This is a proud moment for all us to witness our students take the first step successfully in the real world. NIIT University is playing a leadership role towards building competencies for the future to meet the requirements of the industry. I heartily congratulate all the students and wish them a very successful career ahead."