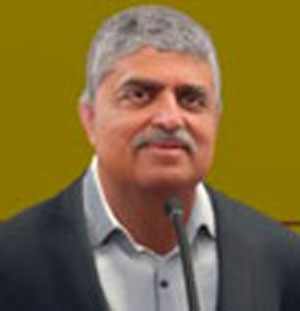 NU Holds its Tenth Convocation Ceremony Virtually using first of its kind Cutting-Edge Technology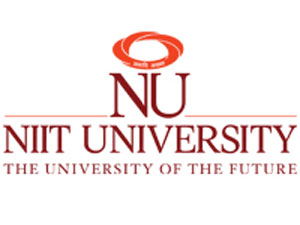 Saturday 17th October, 2020 It is that time of the year again when some of the brightest and ambitious young minds of the nation step out into the corporate world as graduates from NIIT University. NIIT University celebrated its 10th Convocation Ceremony on Saturday, 17th October 2020 at 11 AM. Mr. Nandan Nilekani, Co-Founder and Chairman of Infosys, graced the occasion as Chief Guest and delivered an inspirational Convocation Address. What set this ceremony apart was that it was hosted virtually using first-of-its-kind cutting-edge technology. The graduating students received their degree virtually in their avatars created using tools of Virtual Reality. Using proximity sound technology the graduands were able to interact with their batch mates, faculty and staff just as they would do in the real world. They were conferred degrees from the virtual avatar of NU's President, Prof Prabhu Aggarwal. Dr. Karan Singh Gold Medal and Ram Rajindra Malhotra Medal for 2020 were given by the virtual avatar of our chief guest, Mr. Nandan Nilekani. Degrees were awarded to 298 students from 5 programmes offered by the university – B.​Tech. | MBA | M.​Design | M.​Tech. | Ph.D. The ceremony was broadcasted live on YouTube, Facebook and Twitter.
| | |
| --- | --- |
| Programme Name | # of Graduated Students |
| Bachelor of Technology | 215 |
| Doctor of Philosophy | 1 |
| Master of Business Administration | 51 |
| Master of Design | 22 |
| Master of Technology | 9 |
| Total | 298 |
Convocation Programme
Lamp Lighting
Saraswati Vandana
Welcome Address by Mr. Rajendra S Pawar, Founder, NIIT University
Convocation Ceremony
Introduction of Chief Guest – Mr. Vijay Thadani, Co-Founder, NIIT University
Convocation Address by Mr. Nandan Nilekani (Co-Founder and Chairman of Infosys)
Vote of Thanks by Prof Prabhu Kumar Aggarwal, President, NIIT University
National Anthem
Graduation Messages
Dr. K Kasturirangan, Chairperson, NIIT University
Dear NUtons, let me warmly congratulate all those of you who have the proud privilege of graduating from this esteemed institution. My best wishes go with you, for your success and for achieving what you have been aspiring and dreaming. The spirit of competition and determination with which you met the challenges of the demanding ecosystem of this alma mater of yours will help you move ahead to realize your ambitions and aspirations with confidence. To have had the opportunity to study at this institution of higher learning is a matter of privilege to each one of you. I am fully aware that the challenges that the pandemic has placed on each one of you; that you successfully completed the target you had set for yourself in the beginning of the academic year speaks volumes of your courage of conviction, resolve and determination. I am also aware that the entire Management led by the redoubtable Mr Rajendra Pawar, came forward with innovative and novel approaches to deal with this challenge, so that none of you are handicapped in terms of fulfilling your commitment. May the value system that NU has instilled in you inspire you to set high standards in all your future endeavours. High and noble aspirations are indeed the guiding stars in your journey, towards, achieving perfection and realizing your true potential. In all that lies before you, may God grant you wisdom, success and true sense of fulfilment of your cherished ideals and goals. I wish you all the very best in your professional and personal life.
Shri Rajendra S Pawar, Chairman & Co-Founder, NIIT Group and Founder, NIIT University
Today against all circumstances and fighting through a pandemic I see a generation of brave, fearless graduates. I wish I could have done it in person but nonetheless I heartily congratulate each one of you for your unwavering determination and all the fruits of your hard work. I hope you carry this strength and determination into your future pursuits and may luck always be in your favour. Outside is a new world waiting for you, a world full of dreams, opportunities and possibilities. It's a world which can get overwhelming at times. Remember to stay rooted to your goals and let yourself grow and explore. Spread your wings as you embrace your passions but never fly away so high that you forget your own values. Take pride in who you are, in where you are and of what you've made of yourself. Take guidance from your past and learn from your mistakes. This journey will lead you through many paths and across various people. You may face many setbacks or struggles along your road. Never let that adversity win. Fight hard and smart to achieve your goals. Learn from those learned influences that might cross your paths. Always stay open to learning new things. Use your skills to provide similar guidance to those in need. The fruits of your labour will always be sweet. Stay focused, stay happy and make NU proud!
Shri Vijay Thadani, Co-Founder, NIIT University, Vice Chairman & Managing Director, NIIT Limited
My dear Graduating NUtons, Heartiest Congratulations to you on this unique milestone that denotes a critical achievement in your life's journey. The world that you will experience after graduation, perhaps represents the maximum volatility, uncertainty and complexity that humankind has experienced so far, While your contemporaries elsewhere would be nervous, I am confident you are looking forward to the prospect of traversing the journey ahead of you, of boldly exploring areas which no one has attempted before. Your companions in this journey will be the repertoire of diverse competencies that you developed as a NUton, of rich multidisciplinary learning with a strong foundation of human values; of innovative problem solving with collaborative project work; research assignments at the campus coupled with the real life experience of working in the industry on one hand and underserved communities on the other. Do remember that you have a responsibility on your shoulders. You have to help rebuild this world and make it a better place than it was before the current pandemic. Quoting Mary Kay Ash: "Don't limit yourself to what you think you can do. You can go as far as your mind lets you. What you believe in, you can achieve" And finally, cherish the moments you were on campus, cherish the relationships that you built many of which will be lifelong bonds. Keep innovating and make NU proud!
Prof Prabhu Kumar Aggarwal, President, NIIT University
My heartiest congratulations to the graduating class of 2020.0n this very special day, I take this opportunity to wish each and every one of you a very successful and full filling journey in the years ahead. Enjoy today, celebrate your achievements, cherish the memories … you have earned it! As you transition from College to your next phase in life, you will face many challenges, as well as also get many new opportunities; I am confident that time years at NU has well equipped you to face them both with intelligence, hard work, and empathy. I hope you will remain forever curious, never give up your quest to learn, follow your passions, be humble and embrace humanity as your religion, and always work to help the less fortunate than you. Finally, I wish that you all leave your individual marks in society and make NU proud by becoming not just the best citizens OF the world, but best FOR the world.
About The Chief Guest
Dr. Nandan Nilekani, Co-founder and Chairman of Infosys
Nandan Nilekani is the Co-Founder and Chairman of Infosys Technologies Limited. He was the Founding Chairman of the Unique Identification Authority of India (UIDAI) in the rank of a Cabinet Minister from 2009-2014. Most recently, Nandan has co-founded and is the Chairman of EkStep, a not-for-profit effort to create a learner centric, technology based platform to improve basic literacy and numeracy for millions of children. Born in Bengaluru, Nilekani received his Bachelor's degree from IIT, Bombay. Fortune Magazine conferred him with "Asia's Businessman of the year 2003". In 2005 he received the prestigious Joseph Schum peter prize for innovative services in economy, economic sciences and politics. In 2006, he was awarded the Padma Bhushan. He was also named Businessman of the year by Forbes Asia. Time magazine listed him as one of the 100 most influential people in the world in 2006 & 2009. Foreign Policy magazine listed him as one of the Top 100 Global thinkers in 2010. He won The Economist Social & Economic Innovation Award for his leadership of India's Unique Identification initiative (Aadhaar). In 2017, he received the Lifetime Achievement Award from E &Y. CNBC- TV 18 conferred India Business leader award for outstanding contributor to the Indian Economy-2017 and he also received the 22nd Nikkei Asia Prize for Economic & Business Innovation 2017.He has been inducted as International Honorary Member of the American Academy of Arts and Sciences in 2019.
Nandan Nilekani is the author of "Imagining India" and co- authored his second book with Viral Shah, "Rebooting India: Realizing a Billion Aspirations".
List of Graduates
Bachelor of Technology
Deepika Tripathi
Mihir Sharma
Sandeep Kumar
Anand Kumar Panigrahi
Anupam Nagpal
Arnab Ghorai
Ch Pavan Sai
Harshit Budhraja
Jazmyn Singh
Julakanti Harshitha
Prakhar Chaurasia
Shobhit Kumar Dutta
Shourya Sengupta
Shria Devarakonda
Suraj Gupta
Tushar Ghildiyal
Vinay Kumar Singh
Vuppala Pranay Bharadwaj
Yash Saxena
Abdemanaaf Ghadiali
Abdul Arshiya
Abhijit Singh
Aditi Singh
Adya Mahlawat
Aetukuri Srinath
Ajinkya Bedekar
Akshaye Khanna
Aman Garg
Aman Khandelwal
Amanpreet Singh
Anirudh Sharma
Ankit Gupta
Ankit Kumar Singh
Anshit Saxena
Anubhav Paul
Appanaboina Venkata Ramana
Arnav Ajay
Arpita Sejal
Arshita Batra
Ashish Bisht
Avi Gupta
Batchu Naga Mahitha
Biren Sharma
Bollam Sreekar Reddy
C Purandhar
C Rohith
Ch Eshwar Sai
Chandanala Siva Naga Praveen
Cherla Pradyumna Reddy
Chichghare Disha Avinash
Chimakurthi Venkata Naga Sai Koushik
Chinju Mary George
Chinthalapudi Venkata Sai Vishnuvardhan
Deepak Atreja
Deeptonabho Dutta
Desu Lohith
Devansh Anhal
Dhruva Agarwal
Eagala Hari Venkata
Durga Prasad
Eluri Sriram
Gaddam Sri Sai Kumar
Gangam Rushik Reddy
Gaurav Shankarlal Mundhra
Gauri Sinha
Gavinson B Kharmalki
Gayathri
Gehna Ahuja
Ghattamaraju Sreehari Ajay Sharma
Gnana Harsha Paruchuri
Gopidi Rakshith Reddy
Gottumukkala Rithish Verma
Gourav Thapa
Gujar Archana Sanjay
Gunupati Sravan Rahul Reddy
Guthi Nikhil Kumar
Harsha Deuri
Harshil Sachdeva
Harshit
Hitesh Mittal
Hradyansh Parashar
Hridaya Annuncio
Hrithik Raj Prasad
Ira Mishra
Jaini Rutvik
Jami Venkata Datta Kamesam
Jammu Prem Kumar
Jatin C Ninawe
Jatin Gupta
Javid Akhtar
Jobin Joseph
Kaki Durga Sreenivasa Vivek
Kalith Mohamed Ismail S
Kande Suraj
Karan Inder Singh
Katpally Abhinav Reddy
Kattekola Vaishnavi
Katyayani Agarwal
Kolli Nethre Sai
Kurapati Sarayu
Kushagra Chauhan
Kushal Muktala
Madireddi Praneeth Sai
Mailavarapu Moulika
Majety Mani
Midhilesh Mamidi Lokesh Venkata Sai
Manchikanti Ravi Teja
Mannepalli Vishwajeet
Manoj Kumar
Mayank Mittal
Mayank Tola
Mitul Kumar
Modepally Sree Manasa
Mohit Kumar
Moksh Gupta
Mukul Sachdeva
Muskan Gupta
Naga Ravi Teja Kandepu
Nagabhyru Bhuvanesh Chowdary
Nandini Goyal
Nandini Sinha
Neelapu Preetham Reddy
Neeraj Pandey
Nikhil Butola
Nikhil Gahlot
Nizampatnam Mounish
Oleti Bhanu Prakash
Omkar Vuddanti
Pamidimukkala Dheeraj Chandra
Pandi Koteswara Rao
Paritala Venkata Preetham
Pasumarthi Surya Narayana
Pattapu Sai Vamsi
Peddamallu Yeshwanth Reddy
Peguda Likhitha
Pisupati V N S S K Chaitanya
Piyush Singhania
Pooja
Pothana Nikhil
Potlacheruvu Sai Krishna Vamsi
Pradeep
Prakriti Pritmani
Priya Chaudhary
Purvi Madhusudhan
R Komal
Raghav Gupta
Rahul Ghosh
Rahul Panghal
Rahul Poddar
Rahul Saha
Rajat Srivastava
Riddhi Modi
Rinkal Singh
Rishabh Gaur
Rishabh Shah
Ritik Jangir
Ronak Jain
Ronald Tony
Sabyasachi Mishra
Sachin Kumar
Sagnik Mitra
Sahil Goyal
Sai Gowtham Varma Dantuluri
Saloni Jain
Samantak Mitra
Samir Ahmed Ghouri
Sarthak Tripathi
Shah Smit Sandip
Shaik Faaiz Aarzoo
Shantanu Bahuguna
Shashank Kawatra
Shashwat Shah
Sheena Gupta
Sherry Sharma
Sheshagoni Adithya
Shivam Goel
Shivank Pahwa
Shivendra Singh
Shravan Sridhar
Shreya Nigam
Shreyas Harshant Sanghvi
Shreyash Tiwari
Shruti Varghese
Shubham
Shubham Sethi
Shubham Tripathi
Shubhangi
Shubhra Pandey
Siddhant Shah
Siddharth Bisht
Simran Nitin Wasnik
Simran Singh
Singh Vaibhav Vijay
Soumyadip Ghosh
Sourav Upadhya
Sourish Das
Sparsh Singh Gahlot
Sreemoyee Nag
Sreya Chatterjee
Sumili Dey
Syed Tasleem
Tavva G Nagaranga Sai Narasimha Prudhvith
U L Narasimham
V Nihal
Varuni Agarwal
Vemulapalli Rishika Chowdary
Vintha Sai Vamsi Krishna Reddy
Vishwas Saini
Vobbilisetty Sai Aravind
Vonteddu Jashwanth Reddy
Vontivillu Ashwin Jawahar
Yarlagadda Sai Koushik
Yarramraju Janaki Rama Raju
Yash Agrawal
Yash Rastogi
Yogesh Sharma
Master of Technology
Aditi Singh
Bagde Nitesh Narayan
Deepak Tyagi
Ghariwala Vishnu Pareshkumar
Joydip Datta
Niranjana K P
Sushila Rani
Wale Prasad Balasaheb
Yogit Siral
Master of Business Administration
Gandhi Palak Bhadresh
Manian Geeta Venkatesh
Singh Swastik Ramkrishna
Abhinav Vikram Singh
Abhishek Anand
Akash Bhatia
Anant Golecha
Anil Kumar Pillai
Anjali Vats
Ankit Singh
Anuradha Mohapatra
Arnav Bhargava
Ashish Garg
Bansi Lal Pathak
Bhuwanesh Tripathi
Deepesh Shrivastava
Diyva Gupta
Garishakurthi Siddharth
Garvi Walia
Geetanjali Sharma
Heramb Rai
Hitesh Malhotra
Karan Saini Km
Namrata Yadav
Md Asif Imam
Mradu Payal Sharma
Navaneeth S
Nikhil Goyal
Nilesh Chugh
Niranjan Kumar Gupta
Pathan Anjum Mahebub
Prashant Kumar Rathore
Prayank Kulshrestha
Priya Jha
Priyank Jha
Purambala Vamshi Krishna
Rahul Godara
Raut Smitraj Suryakant
Ritika Yadav
Rohan Das
Sagar Bhardwaj
Sakshi Nijhawan
Srishti Jain
Suneyna Bansal
Suprit Deepak
Suraj Kumar
Tushar Sethi
Vaibhav Mangla
Vipul Garg
Vivek Kumar
Yogita
Master of Design
Amjad Ahmad
Bhavya Verma
Biswadip Mitra
Divyanshu Sharma
Garima Chawla
Gaurav Bhardwaj
Gauri Mishra
J. Shibu.
Jitesh Kumar Chaubey
Kajal Bhatia
Krishan Rohilla
Kunal Rewani
Laxmi Kant Singh
Lokesh Sachdeva
Mohit Ranjan
Puneet Saini
Rajeev Pathak
Saleem Shah
Sanya Bhargava
Suleman
Sumedha Mishra
Vishnu Kumar Kashyap
Doctor of Philosophy
List of Medalists – 2020
Dr. Karan Singh Gold Medal-2020
| | |
| --- | --- |
| B.Tech. 2016-2020 | Ronald Tony |
| M.Tech. GIS 2018-2020 | Joydip Datta |
| M.Des. 2018-2020 | Gauri Mishra |
| MBA IDS 2018-2020 | Suneyna Bansal |
Ram Rajindra Malhotra Medal-2020
| | |
| --- | --- |
| B.Tech. 2016-2020 | Shreyas Harshant Sanghvi |