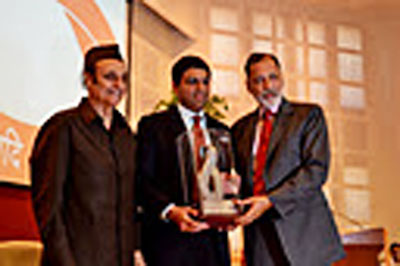 The Third Annual Lecture by Dr. Karan Singh
November 12 was a significant day at NIIT University, where the Third Annual Lecture by the Honourable Chairperson, Dr. Karan Singh was celebrated with much esteem and fervour. The Chief Guest for the occasion was none other than the legendary Grandmaster of Chess, World Champion, Mr. Vishwanathan Anand. Another milestone on this day was the first Convocation Ceremony of the students of Master of Technology in Educational Technology.

NIIT University was privileged to be blessed by the Chairperson, who is the personification of intellectual grace, wisdom and divinity. His talk on Vedanta was awe inspiring and left the audience spellbound. Dr. Karan Singh spoke about Vasudhaiva Kutumbakam and how the essence of the whole world as one single family needs to be reinstated in today's changing global scenario.

The Super Champion, Mr. Vishwanathan Anand spoke on : "Building a Beautiful Mind" that empowered the audience with the quintessential power of the mind and the courage of the heart to achieve the impossible!

The prestigious occasion of the Third Lecture was well attended by distinguished luminaries whose presence on this day made it even more special. Parents who were also a part of the ceremony got the fantastic opportunity to be part of the great occasion on the beautiful campus which was a spectacle of majestic Rajasthani culture.