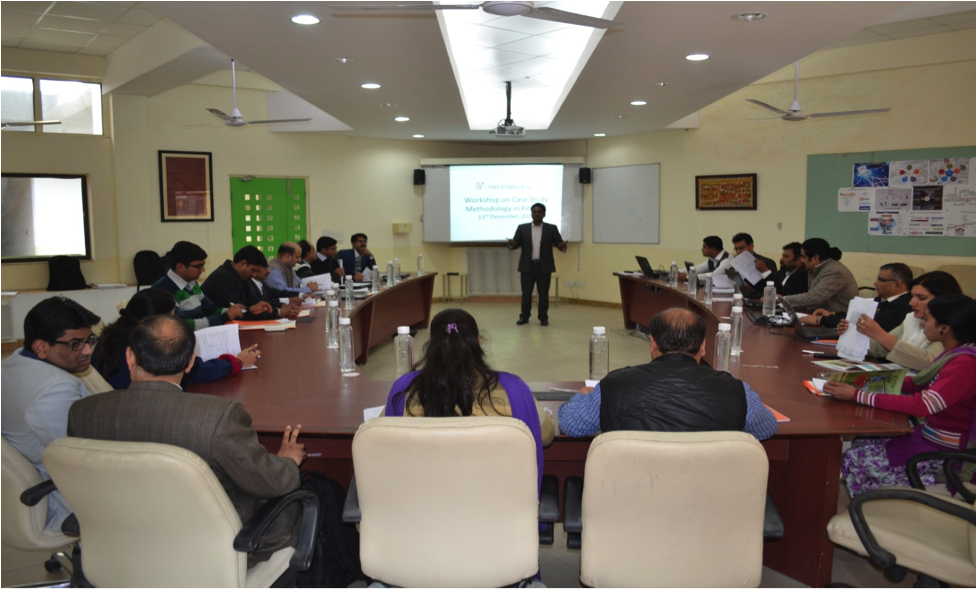 Workshop on Case Study Methodology in Finance 13 December, 2013
The Management Area of NIIT University organized a workshop on Case Study Methodology in Finance on 13th December 2013 which was widely attended by faculty members and research scholars from different institutions. This workshop was one among the series of such events organized by NU to help faculty members develop the requisite skill set for effective teaching and also to offer a platform where they can share their experiences and learn from each other. The case study method has been widely accepted as a powerful pedagogical tool for effective teaching-learning in management but using case studies in finance courses throws up its own unique challenges. The workshop tried to address these issues which faculty members teaching finance courses have to face during their classroom interactions.

The facilitator for the workshop, Prof. P. C. Biswal of MDI, Gurgaon, has earlier held ICICI Bank BFSI Chair in T. A. Pai Institute of Management. The lively discussions led by him gave useful insights for using the same cases for different types of audiences by first zeroing in on the objectives. The facilitator illustrated through examples how to first define the problem contained in a case and then identifying and dealing with the linkages. The workshop provided new perspectives even for case studies with which the participants were familiar and this was an entirely new learning experience for many of them.

During the workshop, the participants shared their experiences including how to use supporting reading material and excel sheets to supplement case studies. They actively debated on different approaches and techniques for using cases in class room such as board plan, open-to-all discussion, and case analysis presentation. There was good discussion on how to adapt the case method while dealing with diverse groups of learners such as graduate students and corporate executives at different levels. One session was also devoted on how to write and publish cases in good journals.