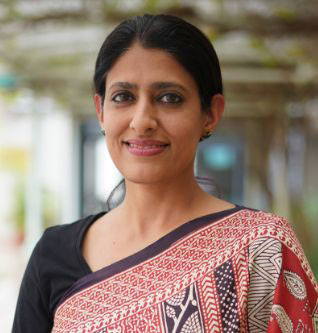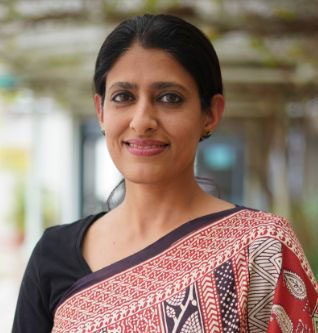 Dr Neha Tiwari is a Senior Member, IEEE, and is currently working as Associate Professor in the Area of Electronics and Communication Engineering. She has more than 15 years of teaching experience in which she has guided one PhD candidate and twenty MTech students. Her research Interest lies in Design and Fabrication of Nano Devices and Nano Communications. She has delivered Invited talks at various international conferences and has published several research articles in reputed journals. She serves as Master Trainer for  AICTE's UK – India Higher Education and Research Initiative. She was the recipient of the M.P. Young Scientist Fellowship Award in 2015.
Qualifications
PhD (Electronics Engineering) Barkatullah University, 2015
MTech (Digital Communications), Barkatullah University, 2008
BE (Electronics and Communications Engineering) Rajeev Gandhi Proudyougiki Vishwavidyala Bhopal
Read more
Experience
19+ years
Teaching: 15+ years
Courses taught
Undergraduate
Television and RADAR
Antenna and Wave Propagations
Advanced Communications
Digital Communications
Basic Electronics
Optical Networks
Optical Fibre Communications
Satellite Communications
Information Theory and Coding
Computer Networks
Post-Graduate
Digital Communications
Information Theory and coding
RADAR Engineering
Antenna Engineering
Optical Fibre Communications
Research areas
Nanodevice Fabrication
Nano Communications
Selected Publications
M. K. Ram, N. Tiwari, D. B. Abdi and S. Saurabh, "Drain Induced Barrier Widening and Reverse Short Channel Effects in Tunneling FETs: Investigation and Analysis," IEEE Access, vol. 09, pp. 150366-150372, 2021.
M. K. Ram, N. Tiwari, D. B. Abdi and S. Saurabh, "Effect of Drain Induced Barrier Enhancement on Subthreshold Swing and OFF-State Current of Short Channel MOSFETs: A TCAD Study," IEEE Access, vol. 09, pp. 141321-141328, 2021.
N. Tiwari, K. K. Nishad and R.K. Pandey, "Hybrid Heterostructured LEDs Based on Superstrate Architecture of ZnO and ZnS Quantum Dots," IEEE Journal of Quantum Electronics, vol 55, no.2, pp. 1-7, 2019.
K. K. Nishad, N. Tiwari and R.K. Pandey, "Synthesis and Characterization of Ferromagnetic Fe3O4–ZnO 4 Hybrid Core–Shell Nanoparticles," Journal of Electronic Materials, vol 47, no.7, pp. 3440-3447, 2018.
N. Tiwari, V. R. Mehto, K. K. Nishad, R.P. Singh and R.K. Pandey, "Vertically aligned ZnO and ZnS quantum dot based hybrid white LED," Journal of Nanoelectronics and Optoelectronics, vol.10, no.1, pp. 28-34, 2015.
Research papers
aK. K. Nishad, J. Joshy, N. Tiwari, R. Kurchania and R. K. Pandey, "Investigation on Size Dependent Elemental Binding Energies and Structural Properties of ZnO Nanoparticals and Their Correlation With Observed Photoluminescence Behaviour," Science of Advanced Materials, vol.7, pp. 1368-1375, 2015.
N. Tiwari and A. Potnis, "Iris Template Matching by Motion estimation," International Journal of Electronics and Computation, vol. 2, pp. 227-232, 2010.
Neha Tiwari and Anjali Potnis, Implementation of Robust system for Non Ideal Iris Recognition, International Journal of Computational Intelligence and Health Informatics, vol. 2, no. 55-59, 2009.
Conference papers
N. Tiwari, R.K. Pandey, "Futuristic Nano LEDs For Display Applications," in International Conference on Advanced Materials, 2019, pp 45-45
N. Tiwari and R.K. Pandey, "Non Cadmium Quantum Dot Based Hybrid Structures For Display Applications," in 30th Annual Congress on Nanotechnology and Nanomaterials, 2018. pp 51-51.
N. Tiwari, R.P. Singh and R.K. Pandey, "Review of synthesis and applications of low dimensional ZnO Semiconducting Nanoparticles," in International Conference on Emerging Trends in Science and Technology, ICETST-14, 2014, pp 23-23.
N Tiwari, R.P. Singh and R.K. Pandey, "Fabrication of Light Emitting Nano Devices using Low Dimensional Semiconducting Materials," in International Conference on Recent Trends in Applied Sciences with Engineering Applications, RTASEA -13, 2013, pp 18-18.
N. Tiwari and A. Potnis, "Implementation of Robust System for Non ideal Iris Recognition," in International Conference on VLSI and Communication, ICVCOM 09, 2009, pp 71-71
N. Tiwari, P. Sinha and A. Potnis, "Mobility Management in B3G Networks," in Advances in Wired and Wireless Communication, AWWC 08, 2008, pp 17-20.
N. Tiwari, "Biometrics: A new combatant in the arena of Personal Identification," in Emerging Trends in Signal Processing and Communication, ESTPC 07, 2007. pp 23-27.
Professional Activities and Achievements