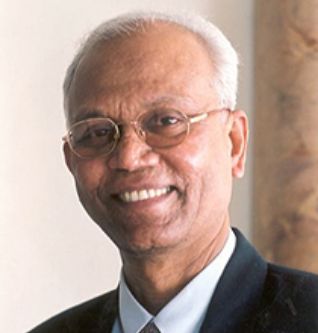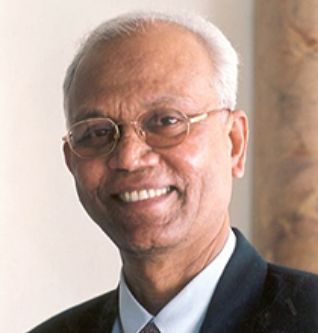 President, Global Research Alliance
F.R.S
CSIR Bhatnagar Fellow
Dr Raghunath Anant Mashelkar, National Research Professor, is presently the President of Global Research Alliance, a network of publicly funded R&D institutes from Asia-Pacific, Europe and USA with over 60,000 scientists.
Dr Mashelkar has served as the Director General, Council of Scientific and Industrial Research (CSIR) and President, Indian National Science Academy.
Dr Mashelkar has played a critical role in shaping India's S&T policies. He was a member of the Scientific Advisory Council to the Prime Minister set up by successive governments. Deeply connected with the innovation movement in India, Dr Mashelkar is currently the Chairman of India's National Innovation Foundation, Reliance Innovation Council, KPIT Technologies Innovation Council, Persistent Systems Innovation Council and Marico Foundation's Governing Council.
Dr Mashelkar has been widely recognised for his scientific contributions. His research interests are in the area of Non-Newtonian fluid mechanics, Polymer reaction engineering, Gel science and Polymer rheology. His work elegantly combines experiment and theory and provides a conceptual framework for understanding many physical phenomena in complex fluids.
His scientific work has been described in over 250 publications in peer reviewed journals. Thirty-seven universities, including the Universities of London, Salford, Pretoria, Wisconsin, Swinburne, Monash and Delhi, have honoured him with honorary doctorates.
Born in 1943, Dr Mashelkar obtained his PhD from Bombay University in 1969. Later, he occupied various academic positions in Europe and USA, namely, Lecturer, Chemical Engineering, University of Salford in England (1969-76); and Visiting Professor, University of Delaware (1975), USA, prior to returning to India. In 1976, Dr Mashelkar joined NCL as a scientist. He rose to the position of Head, Chemical Engineering Division in October 1978 and became the sixth Director of NCL in 1989.
Dr Mashelkar took over as Director General (DG), CSIR, in 1995. His sustained efforts, spanning over a decade until his retirement in December 2006, has brought about significant transformation in CSIR as a user-focused, performance-driven and accountable organisation.
Dr Mashelkar was a pioneer in crafting the first major public-private partnership in R&D (NMITLI) and provided leadership in creating the first ever comprehensive Traditional Knowledge Digital Library. He also articulated the value of IPR in competitive research. CSIR emerged as a major creator of IP during his tenure as DG. He is a CSIR Bhatnagar Fellow.
Dr Mashelkar has assisted the Govt. of India in numerous scientific committees, dealing with science and society in such diverse areas as auto fuels policy, higher education and drug regulatory systems. His recommendations have been path breaking. He has also been a member of many global bodies, dealing with intellectual property rights set up by WIPO and WHO. He was also a member of a three-member committee set up to examine the status of chemistry & chemical engineering research in the UK.