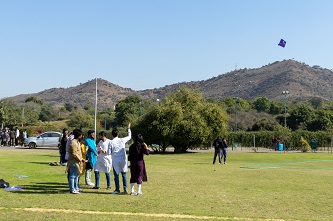 10th Annual Kite Flying Festival to celebrate Makar Sankranti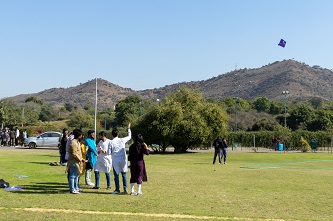 Date : 13-16 January 2023  
Time: Morning and Evening
Venue: The Bowl, Senate Room

The Makar Sankranti festival is dedicated to worshipping the sun and marks the beginning of the harvest season. It is universally celebrated across the country under different names but with the same intent and spirit – welcoming the harvest season and celebrating the sun's journey back into the northern hemisphere as perceived from Earth which marks the beginning of a new cycle of revolution. Makar Sankranti marks the first day of transiting of the sun into constellation of Capricorn, called Makara in Hindi and most Indian languages.

The Makara Sankranti celebrations began at NU on 13th January with Lohri and had NUtons dancing and singing around a bon fire while feasting on peanuts and ravedee, a sesame & jaggery based dessert.

The 10th Annual Kite Flying Festival, a tradition at NU, was celebrated on the 15th morning by NUtons, faculty and their families. Around 22 teams descended on the Bowl and adjacent lawns 11 am onwards to fly their kites with the objective to last the longest. Each team was a mixed team with both male and female NUtons. The kites were distributed beforehand. The teams were given the required thread to make the 'kanni'. 'Charkhee' with ~ 900 yards 'sadda' and ~ 200 Yards "manjha" was provided on the spot. The teams had to fly their kites as high as possible and bring down the kites of other teams. The mesmerizing event was managed by Vaansh Sengupta and Tanya Singh of NSS under the guidance of NU's fitness trainer, Ms. Sapna Saini and Prof. Deepak Khanna from the Management Area.

Deliberations on the Makara Sankranti Festival took place on 16th January at 5 pm in Meeting Room 301. Prof Rajesh Khanna, President, NIIT University, faculty and students discussed the significance, origin and evolution of various customs and traditions followed during Makara Sankranti in different states.