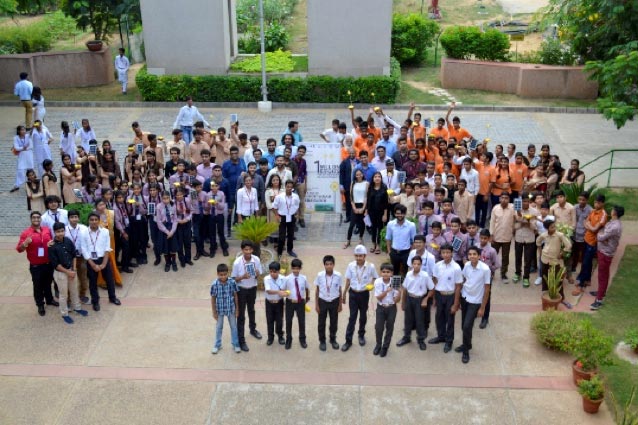 150th Birth Anniversary Celebrations of Mahatma Gandhi - 2nd October 2019
October 2nd 2019, the 150th Birth Anniversary of Mahatma Gandhi saw a series of activities conducted both on and off campus. While the NURuns (Running Club of NU) members participated in the Territorial Army Marathon, the Unnat Bharat Abhiyan & Swacch Bharat Abhiyan members organized the Gandhi Global Solar Yatra on campus. There was also a Poster Making Competition by the Vividha Arts Club followed by several cultural activities by other NU clubs. Given below is a brief report.
Participation in Territorial Army Marathon
NURuns Team (Running Club of NU) participated in a Mass Marathon Organised by Territorial Army at New Delhi. As their first event, 14 members (consisting of 9 boys & 5 girls) of NURuns participated in the Marathon on 2nd Oct. Distance covered was 21kms and 5kms respectively. All members completed the marathon successfully which marked a great success for the club as their first event.
Gandhi Global Solar Yatra - GGSY
GGSY is an initiative by IIT-Bombay with the objective of promoting self-sufficiency in energy to achieve sustainability. It aims to sensitize the youth across the globe to climate change and how to mitigate the same using renewable energy, in particular solar energy. It plans to provide hands-on training to 1 Million Student Solar Ambassadors (SSA) on 2nd October 2019. It also aims to sensitize the key governmental and non-governmental officials towards solar energy. Read more at https://ggsy.in/about.php
The GGSY event at NU was organised under the banner of NU 'Unnat Bharat Abhiyan' and 'Swacch Bharat Abhiyan' led by Dr. Gurendranath Bharadwaj. Four hundred (400) students registered for the program. Of them, 125 were from 6 neighboring schools who were invited as "Solar Ambassadors".
The event started in the auditorium where President NU Prof VS Rao welcomed all participants and reminded us of the Four Principles of Gandhiji. NU Vice President Prof Parimal Mandke apprised the participants about the initiatives taken by NU towards environmental sustainability and energy conservation measures adopted on the campus. Prof S N Sharan and Mr. Jetendra Joshi introduced the participants to the origin of solar power and about agenda of the program.
The Solar Ambassadors were then taught and were made to assemble Solar Urja Lamps by the Master Trainers (NUtons). The Solar Ambassadors visited Astachal. A session on 'Community Connect' was conducted by Maj Gen A K Singh, Dean Student Affairs. Finally, the 'Vote of Thanks' was delivered by Dr. Vivek Srivastav.
Poster Making Competition
A poster making competition was organised by NU Vividha Club. The main aim of the competition was to bring out the creative expression of the students and to gauge their awareness. The student displayed their artistic skills through an array of posters. NUtons sketched different pictures, slogans related to Mahatma Gandhi on. While all the posters were recognised and appreciated, the best three were given special awards.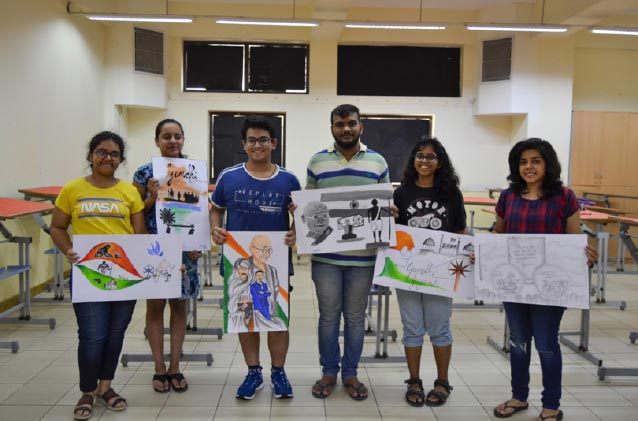 After an active day of competitions and light assembling, a series of cultural performances followed. The cultural events were hosted by Dr. Deepak Khanna. The performances included solo and duet songs, dances, poem recitations as well as speeches from some of the NUtons.
Then followed a special Speed-Art act. Next, an oath taking session was held by NU Vice Captain Shubhra Pandey in the auditorium. Everyone in the auditorium including students, faculty and staff, pledged to live a life based on the the principles of Gandhiji.
This was followed by Garba Night organised by team IngeNUity'20, followed by a DJ Night which marked the end of an active but beautiful day.