INNOVATION MARATHON AT NU
NIIT University is hosting a massive national INNOVATION MARATHON in association with MHRD on 15th January 2019. The INNOVATION MARATHON was launched by Hon'ble Shri Suresh Prabhu ji.
Interested participants can register at https://goo.gl/forms/ONGEPgMHtKFxK3p02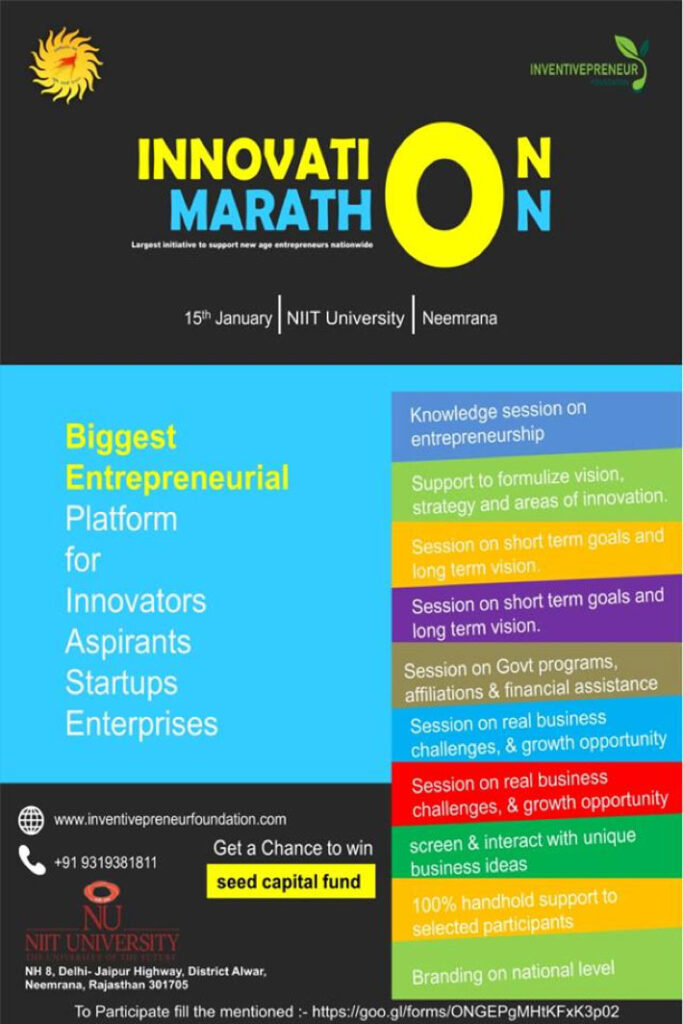 About INNOVATION MARATHON
The INNOVATION MARATHON is a nationwide initiative by Inventivepreneur Foundation that promotes government programs and supports governments' efforts to spread entrepreneurship nationwide.
Innovation Marathon is designed to search and enroll 1,00,000 Innovators, Aspirants and Startups nationwide. Innovation Marathon is a biggest entrepreneurial platforms for academicians, new-age entrepreneurs, eminent business personalities, venture capitalists and students to gather at one place and share their entrepreneurial endeavors and experiences, and to pledge to take entrepreneurship to greater scales. This initiative will encourage and guide participants on entrepreneurship. Innovation Marathon will help Innovators, Aspirants and Startups in formulization their vision, strategy, identify areas of innovation.
This program will create awareness on various ways to achieve imminent short term goals and simultaneously build the competencies to fulfill the long term vision. Participants Innovators, Aspirants and Startups will be educated on different Government undertaking programs launched for entrepreneurship development, affiliations & licencing procedures, project & resource management and financial assistance for their business or business ideas. Innovation Marathon will provide information on real business challenges, Networking, Mentorship and Business tie-ups opportunities, Access to credit and loan preparation.
Objectives
Innovation Marathon will cover and enroll 1,00,000 Innovators, Aspirants and Startups from 23 States/ UTs nationwide. To complete this mission 50 awareness seminars will be organized in various parts of country. On completion of Innovation Marathon data of enrolled participants will be handover to Hon'ble Prime Minister Shri Narender Modi. Short listed businesses or business ideas will be broadcast nationwide to 2 billion viewers through videos, tweets, banners, word-of-mouth publicity, web based promotions, press releases, etc. This initiative will add half million new business in country and will create 10 million new job opportunities in India under VISION 2022.
Participating Dignitaries
State Cabinet Minister (Expected)
Chairperson, Inventivepreneur Foundation
Government Officials from – MSME, DIPP, NBCFDC, SIDBI
State Government Beneficiaries
Local Industry Leader
Innovation Marathon Calendar (November 2018 – January 2019)
Phase I: Haryana, Himachal Pradesh, Jammu and Kashmir, Uttar Pradesh, Uttarakhand, Delhi
Phase II: Goa, Maharashtra, Gujarat, Orissa, Karnataka, Tamilnadu
Phase III: Bihar, Chhattisgarh, Rajasthan, Jharkhand, Madhya Pradesh
Phase IV: Arunachal Pradesh, Assam, Manipur, Nagaland, Tripura, Meghalaya
Supported By
Ministry of MSME, Ministry of Social Justice and Empowerment, Ministry of Minority Affairs, Ministry of Science and Technology, Ministry of Commerce and Industry, Ministry of Skill Development and Entrepreneurship, Department of Biotechnology, NIESBUD, SIDBI, Atal Innovation Mission, MyGov