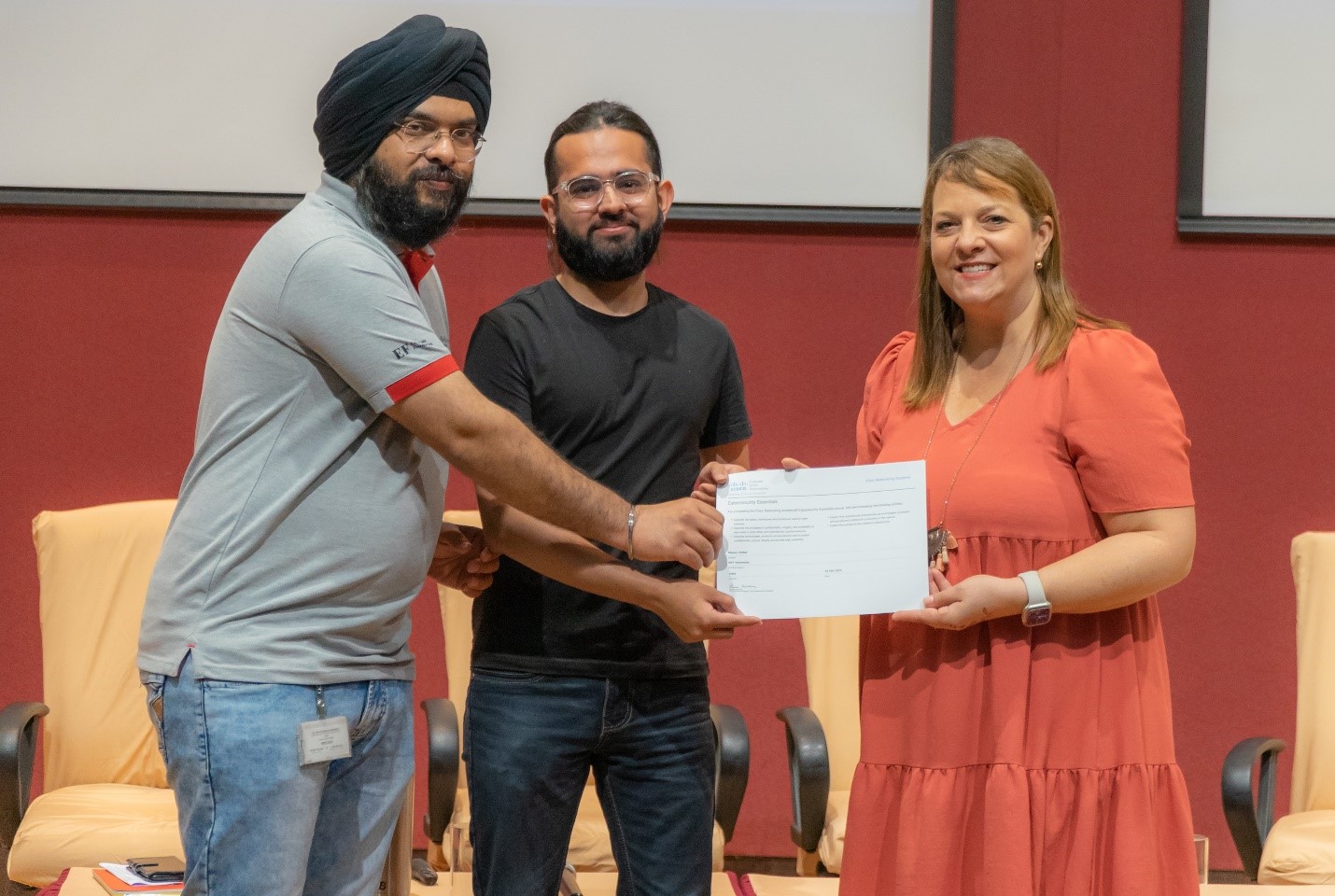 Invited Talk – Marcella O'Shea & Ishvinder Singh from CISCO on Cyber Security – From Present to Future
Date :
Friday, March 03, 2023
Time:
10:00 – 11:00 am
Venue:
Auditorium

Ms Marcella O'Shea and Mr. Ishvinder Singh from Cisco delivered a talk on 'Cyber Security – From Present to Future' in the Audi on Wednesday March 03, 2023. Cyber Security is of great importance in today's data and information driven world. The speakers, both industry stalwarts, shared their vast experience with NUtons. The guests were welcomed by NUtons and NUrturers. After the talk, Marcella and Ishvinder gave away certificates to NUtons who had successfully completed courses offered by CISCO NetAcad.

Marcella O'Shea (Corporate Affairs APJC Manager – Cisco)
Marcella O'Shea is Corporate Affairs Regional Manager for APJC. Corporate Affairs leverages Cisco's technology and unique expertise to develop innovative solutions to address social concerns across the region, with a strategic focus on building human capital in critical ICT & 21st century skills; fostering economic empowerment through a focus on workforce development, digital inclusion and Technopreneurship; and enabling communities by leveraging the Network for community connectivity, education, and access to opportunity.
Marcella has worked in the IT Education field for the past 17 years. Before her current role, Marcella was responsible for the North Asia Region for the Social Innovation Group, and the Alumni Program Manager, Asia Pacific, for the Cisco Networking Academy Program, the cornerstone of Cisco's Education and Corporate Responsibility. This educational initiative is offered through partnerships in 190 countries, reaching more than 3M+ students each year. In the Asia Pacific region, the program is operational in over 30 countries, educating more than 800,000 students each year and is the largest e-learning program of its kind in the world.
Ishvinder Singh (India Lead for skills and Cisco NetAcad)
Engineer by Education, Evangelist by Profession, Strategist by Passion!
Firmly believe – "Think Big, Execute Well, Create Value"
Ishvinder is a Trustworthy, Process Oriented and Outcome driven leader working towards bringing positive changes in India's Education and Skilling Ecosystem. Lead various end-to-end programs by translating insights to brilliant execution. Currently work for Cisco as India lead for skills and Cisco NetAcad. Key responsibilities include strategic alliances, government relations, marketing efforts, metrics, and measurement, managing priorities and execution of workflow across NetAcad programs. He is an active learner with ability to mentor and manage diverse teams. Known to be a self-starter with proven ability to successfully kick-start new initiatives and to drive complex issues through analysis. He always keep up looking for emerging technology and the latest traditional/digital marketing trends.
Some photos from the talk…