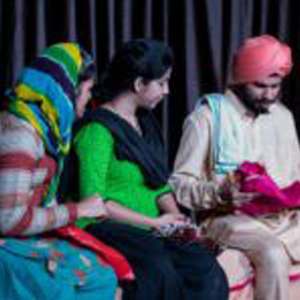 KANGYARI – A Play in Hindi from Rangmanch
Kangyari, a play written by Trilochan Singh, was staged in the Amptihtheatre to a full house. Under the able direction of Dr. Anshima P Srivastava, NUtons put up an absolutely stunning performance. The play received a standing ovation from the audience.
Cast:
Swarno: Muskan Rathore (B.Tech CSE 2015-19)
Bhagwan Singh: Hritik Raj (B.Tech CSE 2016-20)
Deep: Deepti Singh (B.Tech CSE 2015-19)
Preet: Rithesh Verma (B.Tech CSE 2016-20)
Mall Singh : Anshul Sharma (B.Tech CSE 2014-18)
Chachi : Nandini Sinha (B.Tech CSE 2016-20)
Dharmesh : Prasad Badgujar (B.Tech CSE 2015-19)
Sadhu: Asit Shrivastava (B.Tech CSE 2015-19)
Music: Debanshu Majumdar and Gaurav Malhotra (B.Tech CSE 2015-19)
Kangyari, a play written by Trilochan Singh, deals with the issue of exploitation of women in our society. Swarno, a single mother with two children is trying to earn a livelihood and along with it fighting everyday with the prejudices of society for survival. Her husband convicted for committing a rape and is in prison. In the play, Swarno comes across various men, a Sadhu, a filthy rich landlord, and in the end her own husband. All these men are respectable god-fearing members of society but the moment they come to know about the plight of Swarno their masks come off and then each of them tries to fulfil their desires. First comes the Sadhu, who forces himself on Swarno but here she fights back and makes him run away. Then comes the landlord, he humiliates her, mocks her and when he senses that she won't be able to protect herself, he decides to take her advantage but just then her children come to her rescue and seeing them fight she gets the courage. Not only she supports her children, her children also give her strength to face the world. After all the suffering when her husband finally comes back, she finally thinks her sufferings have come to end but her husband, after living in prison for nearly a decade, has lost his mind. He believes that every man in the street is a rapist and eventually his daughter will also be a victim. Living in constant turmoil, he chokes his daughter to death and when his son sees it, he too gets the same fate. When Swarno comes to know about this, she tries to make sense of everything, but she finds her husband a very relieved man saying that now nothing bad can happen to them as their daughter is no more. Swarno, kills him in a fit of rage. This play attempts to show that a single woman is seen as an opportunity by outsiders and as a threat by her own family members. The prejudices run so deep in our society that a woman is seen either as an object to be possessed or controlled or as a liability.