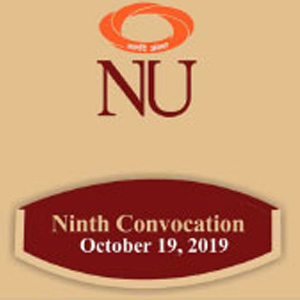 NU Tenth Convocation, October 17, 2020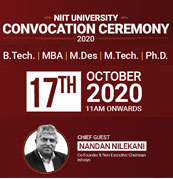 The 10th Convocation is being held on 17th October 2020 and will be hosted virtually using first of its kind cutting edge technology. The graduating students will be receiving their degree virtually in their avatars created using tools of virtual reality.

Using proximity sound technology the graduands will be able to interact with their batch mates, faculty and staff just as they would do in the real world.

Mr. Nandan Nilekani, Co-Founder & Chairman, Infosys is the Chief Guest and will deliver the Convocation Address.
Lamp Lighting
Saraswati Vandana
Welcome address:

Mr. Rajendra S Pawar, Founder, NIIT University

Convocation Ceremony
Introduction of Chief Guest:

Mr. Vijay Thadani, Co-Founder, NIIT University

Convocation Address:

Mr. Nandan Nilekani, Chairman and Co-Founder of Infosys

National Anthem
Vote of Thanks:

Prof Prabhu Kumar Aggarwal, President, NIIT University
Goodbye Graduating Class 2020