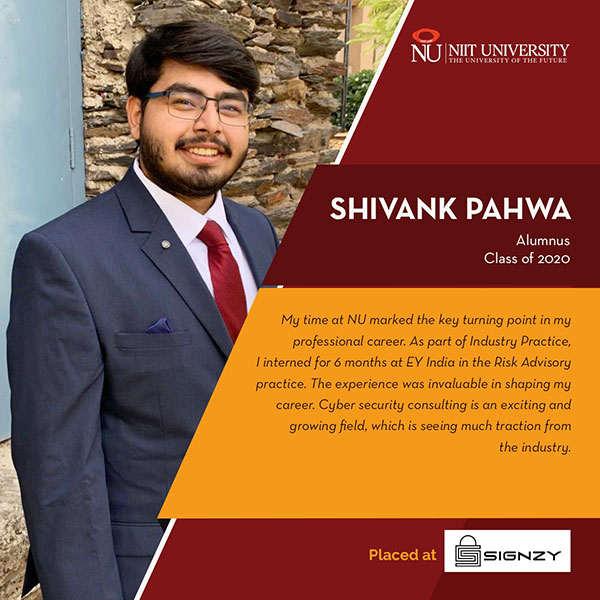 My time at NU also marked the key turning point in my professional career - Shivank Pahwa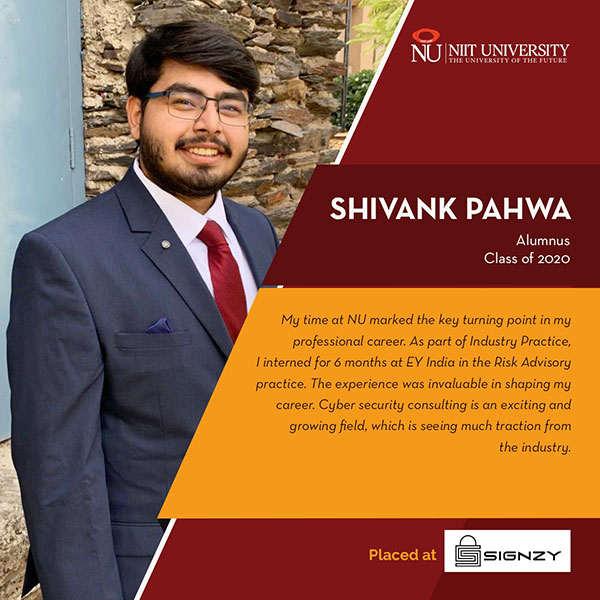 Hi! I am Shivank Pahwa, an alumnus from NU's Class of 2020, B.Tech. CSE. I regard all my time at NU as an amazing life experience, even if much of it was demanding. The rigour, the workload, the deadlines … all of them shaped me into the professional that I am today. My activities as a Core Team Member organizing IngeNUity, Running Night Canteen, organizing blood donation camps, and as a member of the Student Advisory Committee also went a long way in broadening my skill set, network, and confidence.
It wasn't all work and no play though. My best memories of campus life are of spending time with friends in Bowl Area, Night Canteen, and Spine Area. These social interactions created bonds that persist long after I left campus.
My time at NU also marked the key turning point in my professional career. As part of Industry Practice, I interned for 6 months at EY India in the Risk Advisory practice. The experience was invaluable in shaping my career and I am happy to say that I am currently working with the same team, offering cybersecurity expertise to clients. I am part of two GRC tracks – Audit & Compliance and Vulnerability Management – for a telecom giant. Cybersecurity consulting is an exciting and growing field, which is seeing much traction from industry.
With my limited internship and professional work experience in the industry I realized that there are a few critical success factors that NU enables in its students:
Striving to learn and grow in every situation
Stakeholder and people management for effective teamwork
Creativity and critical thinking in dealing with complex problems
The streamlined curriculum is a key enabler for this and includes choice of specializations in 3rd Year, hands-on experience, options for a Minor, and an entire semester dedicated to internship. The curriculum and pedagogy allow students to explore their interests and find their true calling.
Remaining connected with NU through news, email, and social media posts feel great. I am both proud and thrilled to see NU and its students grow, expand, and thrive.