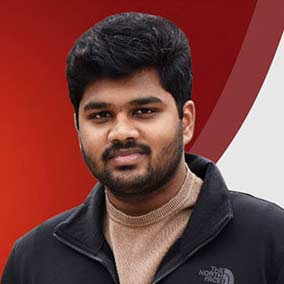 NIIT University alumnus Prashanth Manji reveals why he picked his Master's at George Washington University over placement with an international tech giant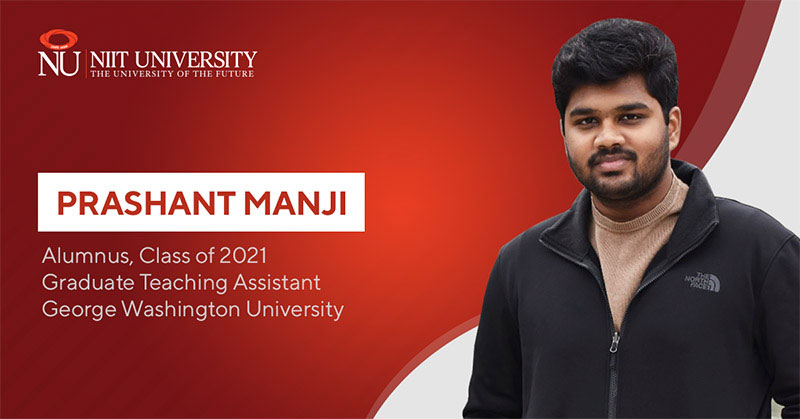 "NIIT University (NU) helped me prove myself and be the person I was capable of becoming while hopefully being an inspiration to others," says alumnus Prashanth Manji. The BTech Computer Science and Engineering (CSE) Class of 2021 student is certainly serving up that inspiration on many levels. From making the most of his student years working on research projects to internship and placement opportunities with industry powerhouse IBM, he did everything to prove himself. But he opted for the Masters' programme at George Washington University (GWU) in the US where he was awarded Dean Scholarship and is also working as a Graduate Teaching Assistant. He is going places and takes us along on the journey that began when he enrolled for his programme at NU.

As a young aspirant, who had never left his home before, Prashanth was aware that his college experience would not just be his first step towards his career but also a way to learn crucial life skills. He looks back and explains, "It was not like any other life experience and initially it was more of a test for me to see what I was made of. There were many assignments and projects that were difficult for me, but NU taught me how to handle situations, especially when the outcome is not in our hands. It helped me set my career goals, develop communication skills, and adapt to situations. I also must mention the efforts our faculty members took, going out of their way, to make things easier for me."

Prashanth mentions Prof Surender Singh in particular for his mentorship while working on research projects. During his highly productive stint at NU, he published 'A Review on-Machine Learning-Based Model for Secure Data Analysis' in the Turkish Online Journal of Qualitative Inquiry. He also had several other projects under his belt including the one on 'Blockchain Technology to prevent Counterfeit of Drugs'. "Working on the projects helped me get comfortable with the most sophisticated technologies. I was part of planning and organizings tech events on campus quite frequently, and it brought me the opportunity to network with like-minded people as well as experts in the field," he says of the years that have shaped him.

Through Industry Practice with Veda Info and IBM, Prashanth could put his campus learnings into practice. His role as Security Analyst with IBM was particularly enriching but it also brought him the dilemma of having to choose his master's programme over a career path with the industry giant. "It was actually my manager at IBM who encouraged me to pursue the programme. I am grateful to NU faculty members who helped me secure admission. I chose the programme over placement with IBM because I want to do so much more in life and learn. Studying at GWU and working as Technical Student Support Assistant and a Graduate Teaching Assistant is allowing me to do that and is building on the platform NU gave me," he concludes.