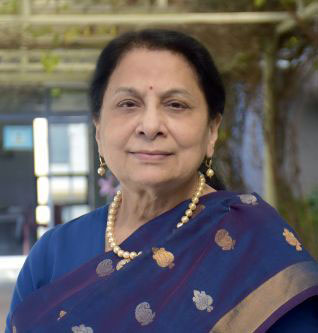 Prof Parimal Mandke has been an educator for over 40 years and brings this vast knowledge and experience to ably manage the affairs of NIIT University as its Vice-President.
Prof Mandke has a double masters' degree, having first done her MSc from Bombay University and then acquired an MSc (Tech) from BITS, Pilani. She followed this up with a PhD from BITS, Pilani.
In the first 15 years of her career, Prof Mandke was a member of the faculty and then Dean, Educational Consultancy, at BITS, Pilani. She led the development of innovative new on- and off-campus study programmes during her years at BITS. This included the noteworthy off-campus programme, MS (Science & Technology), which was developed in collaboration with the Council of Scientific & Industrial Research (CSIR) for scientists in CSIR.
As Chief, Higher Education, at NIIT Limited from 2001 to 2007, Prof Mandke became known for her valuable contribution in designing the innovative GNIIT/ANIIT/FNIIT programmes as well as the industry-linked Professional Practice. She also developed educational alliances with over a dozen Indian and international universities.
Prof Mandke began work on establishing NU from 2002, and when the university became operational in 2009, she held the office of Dean, Academic Affairs, for 10 years till 2019. She also served as Registrar of NU from 2012 to 2015.
Prof Mandke has presented papers and co-authored books on science & technology, R&D management, and education. She has taught courses in Technology Management, R&D Management, Scientific Methods, and History of Indian Science & Technology, apart from designing and teaching innovative research-driven courses such as Contemporary Issues at NU.
Her areas of expertise include the development of and partnerships at universities as well as the academic discipline of Science & Technology.